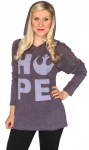 Fangirls Around the Web is a post series that spotlights amazing fangirls and their heroines around the web.
June 22nd marks FIVE years for our favorite fangirl fashion company, Her Universe. It's been a privilege to work with Ashley Eckstein through the Year of the Fangirl initiative, which is still running over two years since it started. Even Lucasfilm president Kathleen Kennedy is wearing Her Universe, sporting the Lightsaber Star Wars Logo t-shirt during The Force Awakens panel at Celebration Anaheim. To celebrate their milestone, Her Universe is celebrating all day Monday, June 22. From the company's blog:
1) Every order placed on June 22nd at Heruniverse.com will receive a FREE gift (randomly inserted in a purple envelope with their order and personally autographed by Ashley) of $5 up to $500! Will YOU be the lucky one to win $500?
2) We're re-releasing three of our original and most popular Star Wars pieces launched years ago for all of you who might have missed out on these Force-ful fashions! You will be able to find them here on the 22nd.
3) We're throwing a 5th anniversary party on June 22nd at the Her Universe offices with live stream segments all day via the social media app Meerkat. We'll post the link on our Her Universe Twitter and you can watch the live stream segments throughout the day. Here is the tentative schedule for the . . . → Read More: Fangirls Around The Web: Her Universe 5th Anniversary Bash Special Edition