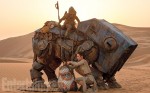 A long time ago, in a galaxy far, far away…
…Cole Horton, co-author of the upcoming Star Wars: Absolutely Everything You Need To Know, and I sat at the DK Publishing booth at Star Wars Celebration Anaheim after watching BB-8 roll out on stage during The Force Awakens panel and pondered how the droid worked. I guess this is my contribution to #ILookLikeAnEngineer, a viral online campaign to combat STEM stereotypes. The above picture is my contribution, because I really am a licensed engineer, in addition to an award-winning author, blogger, podcaster, dancer, and equestrian who has competed at the national level.
The founder of the #ILookLikeAnEngineer talked about the inspiration behind the movement in the Washington Post:
Gender diversity challenges seem to be what mainstream media has picked up on the most. While I think that it is absolutely wonderful that this has sparked so many positive discussions about the way that women are treated in STEM, I want to clarify that #iLookLikeAnEngineer is intentionally radically inclusive.
It's not just about me and it's not just about women.
#iLookLikeAnEngineer is about anyone and everyone who wants to pursue STEM, regardless of their external appearances.
Labeling this as a "campaign for women" is very limiting, and will only further separate us from everyone else in the community.
We see ourselves as equals, so we must also recognize others as equals, starting with our own actions and words.
From the moment I first saw BB-8, . . . → Read More: BB-8 Inspires STEM For Everyone