Fandom Fashion Finds: August Picks
Another month, another set of fashion finds related to some of the biggest fandoms. This month's a big one for Disney both with a Disney Villains push and the upcoming 90th birthday of Mickey Mouse. But don't worry – we've got some new picks in this roundup from some other interests too. Plus a lot of pins – because they're an easy way to add some love for something you love to lots of outfits.
Support my geek fashion reporting at no additional cost to you by visiting these retailers through the banners in this post.
Disney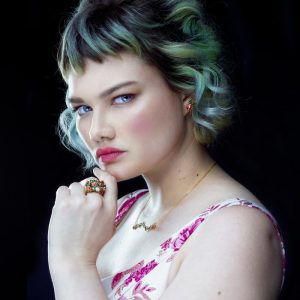 Rock Love has a brand new Disney Villains jewelry collection focusing on The Little Mermaid, Alice in Wonderland, and Snow White. My favorites are the Snow White & The Seven Dwarfs Poison Apple Ring ($99), the Snow White & The Seven Dwarfs Dagger Heart Ring ($85), and the Alice In Wonderland Painting the Roses Ear Climber and Stud ($45).
You can find even more for Disney Villains in apparel and bags over at Shop Disney: Disney Villains Moto Jacket for Women ($69.95) which is also available in plus sizes ($84.95), Disney Villains Dress for Women ($54.95), Captain Hook Wallet for Adults ($19.95), Evil Queen, Ursula, and Maleficent Wallet ($19.95), and silver Maleficent Backpack ($49.95). You'll also find on the site an Alex and Ani Maleficent Bangle ($44.95). Plus Merchoid has a Sleeping Beauty: Spread Your Wings Maleficent Handbag ($56.99) for pre-order.
Mickey's 90th birthday is coming up. Prepare with a Mickey Mouse Ruana ($49.90) or Mickey & Minnie Collection Patch Bomber Jacket ($68.90) from Torrid. Forever 21 has a whole new Mickey's 90th collection too. I'm a sucker for tiny Mickey print so their Mickey Mouse Print Skinny Pants ($24.90) is an automatic pick. 4 new Mickey-themed shoe designs became available through Vault by Vans on August 25th. 
Allison of Rock Love also introduced a Christopher Robin jewelry collection which includes this cute Tigger Necklace ($115).
Give a tribute to Lilo or Hawaii or hibiscus flowers with the Lilo & Stitch Hair Clip Set ($10.90) found at Box Lunch. Dress like Tinkerbell with Torrid's Tinkerbell Skater Dress ($64.90) or fly away with the Peter Pan Tote Bag ($77.95) by Danielle Nicole.
The latest Oh My Disney collection is pretty hit or miss. I don't know why it took so long for the consumer arm to realize people want to wear prints that are associated with their favorite characters but yay! Check out the Oh My Disney Minnie Mouse Skirt ($29.95) and the Jack Skellington Blazer ($69.95).
Harry Potter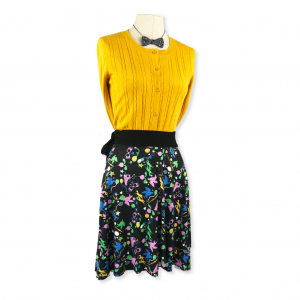 Olivander's Wand Shop Hat ($18.90) might make some muggles do a double take. Or wear this enamel pin of a Quidditch snitch and ball case ($9.90). If your sympathy for Snape runs high, Torrid has a Baroque Snape Chiffon Kimono ($64.90).
Dress like Ron and Harry with their Ron Weasley Marled R Sweater and Harry Potter Marled H Sweater ($58.90 each). Those are a cotton/acrylic blend. If you'd prefer a wool/silk blend like in the movie, Universal Orlando's online shop has both the Ron and Harry ($89.95 each).
Prophecy Girl has some new magical apparel as well including their first skits: Itsa Kinda Skirt (£30) and the Lovely Loony Wrap Skirt (£38).
Marvel & DC Comics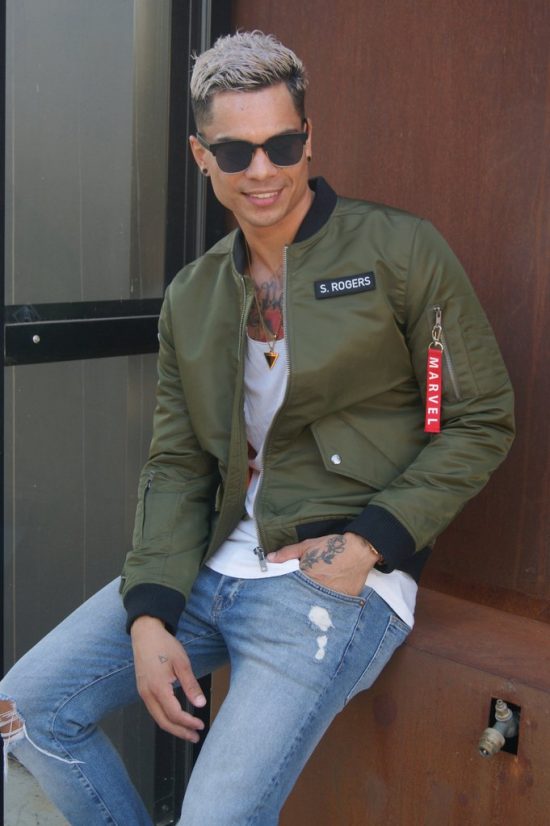 May you have better luck (or Domino-level luck) than most of the X-Force with this enamel logo pin ($8.90). Mondo has some (comic book) Deadpool accessories too. You'll find Deadpool, Cable, and Domino enamel pins ($10 each). I'm going to still wait on someone making a movie Vanessa one.
Mondo also opened the pre-orders for their Okoye, Shuri, and Killmonger Black Panther pins ($10 each). And they are beautiful.  
FiGPiN and Marvel teamed up for a 3-pin Spider-Man enamel pin set to celebrate the new game Marvel's Spider-Man. You can pre-order the Marvel's Spider-Man FiGPiN ($14.99) on Amazon before its September 1st release. The Spider-Punk "Marvel's Spider-Man" FiGPiN will be available at Target on September 4th. And Spidey swinging in his advanced suit is only available through pre-ordering the deluxe edition of the game. The previously released Iron Spider FiGPiN is still available.  
In non-pins, Hero Within's Avengers collection – first shown at SDCC – is now available for order or pre-order on their site. My eye is squarely on the Avengers Bomber Jacket ($179) with swappable name badges. I also want to check out the Thor Wool Knit Puffer Jacket ($109) and the Black Widow Crop Hoodie ($59). You'll find 4 more coat designs too on their website.
This Batman Logo watch ($39.99) at ThinkGeek is very Batman-y aka it looks like it has gadgets and is mostly monochromatic and tough-looking.
Star Wars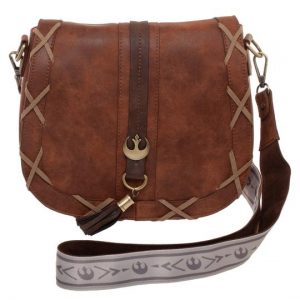 This usually isn't my style by it's so artfully done: The formerly SDCC-exclusive Loungefly Porg Backpack* ($64.99) is available on ThinkGeek's website. It's even lined in a cute monochromatic porg print. I want my regular bags lined with it.
(*affiliate links: Use these when you buy to support the monthly fashion roundup at no additional cost to you.)
Bioworld's Heroes & Villains brand was also introduced at SDCC and now you can buy items from the first collection off their website. The Princess Leia handbag ($70) is a tribute to her Ewok Village ensemble. There's also the Princess Leia Women's Bomber Jacket ($100) in a light blue with some nice quilting, but the real treat is the Ewok print lining. Yep, I'll all about Star Wars linings right now. 
Po-Zu's back with a spin on one of their original Star Wars sneaker designs. Now there are two monochromatic Rebel sneakers* (£145) in all-white or all-black chrome-free leather. Both women's and men's sizing is available. 
Terez now has more Star Wars activewear leggings designs on their site. There's a black and white galactic print available on leggings, joggers, and shirts ($60 – $125). You may recall Linda reviewed a pair from Terez's first Star Wars collection.  
Also take a look at Shop Disney for the Loungefly Star Wars Rebel Alliance Wallet ($36.95), the Our Universe version of the popular Darth Vader Racer Jacket ($69.95), and another Leia jacket – the Our Universe Princess Leia Varsity Jacket ($69.95) featuring Ashley Taylor art.
Further Adventures in Fandom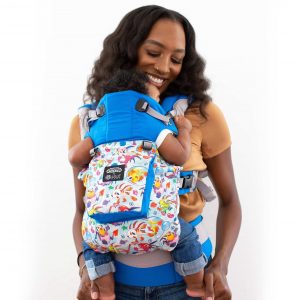 If you know the power of happy little trees perhaps you'll want this Bob Ross enamel pin ($8.90)  from Box Lunch.
Let you friends know you're all about The Legend of Zelda with this metal pin ($8.90).  And in case you haven't had enough pins yet – Mondo has Adventure Time enamel pins with 4 designs available individually ($10 each) and those 4 included in a 5-pin set ($40).
The My Neighbor Totoro Anniversary t-shirt design contest winners are up at Hot Topic. I especially like this Our Universe Studio Ghibli My Neighbor Totoro Raindrops T-shirt ($20.90 – $24.90) from finalist Isabella.
This month launched the Converse x Hello Kitty collection. I'm amused by the design mashup on the Converse X Hello Kitty One Star Suede Low Top ($100). Meanwhile the shirts of Sanrio x Megology ($20 – $35) apparel combines motivational phrases with adorableness.
ASOS has a The Simpsons collection and these The Simpsons x ASOS DESIGN denim shorts with cloud burnout ($64) are actually kind of cool.
And Lillebaby has teamed up with World of Warcraft to make licensed baby carriers ($35 – $170), which is technically a thing you wear so I'm considering it fashion.  
---
Thanks for reading this month's roundup! Is there a fandom you'd like me to keep an eye out for fashion for? Let me know in the comments.
Looking for more fashion finds? Check out my July and June picks.