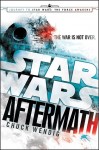 by Priya Chhaya
In eighth grade science class my friend Tracy slid me a folded piece of notebook paper. Scrawled across the top were the words "Star Wars Expanded Universe and Ratings" or something like that. On this paper she had painstakingly written out the name of each of the books marking each in turn with a series of stars. One for Children of the Jedi. Five for The Last Command. A blueprint for a newly inducted fan.
Soon I found myself devouring each book as it came along. Wanting to stay current, and let's be honest, to know everything. In 1995, the internet was in its infancy, and my sphere of conversation on this topic was limited. But, boy, did I read.
I read regularly until the end of the New Jedi Order. Then things took a turn towards darkness. bugs, strange adventures, twisted Solo children. So I moved on, returning occasionally for a book by Timothy Zahn and to read about Mara's demise firsthand. I felt like I owed it to her to read about her death, to pay my last respects.
Despite all this the internet kept me informed and it was enough. A single toe in a larger pond.
Enter Disney.
Let's get this out of the way: I am hopeful. Cautiously optimistic. Filled with anticipation. Even thrilled now that we have three films in three years.
Seriously all — ROGUE ONE. Even if it isn't linked to Michael Stackpole/Aaron Allston, the idea alone… Whew.
Then . . . → Read More: Aftermath of Losing the Star War Expanded Universe