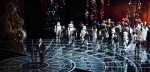 The end is near.
Lady Gaga proved herself to be a stellar contender for the lead in what is now an inevitable contemporary remake of The Sound of Music. In a formidable triad with Lupita Nyong'o's fabulous dress (adorned with six-thousand-handsewn-pearls) and Patricia Arquette's rousing acceptance speech, three women were prominent in salvaging the 2015 Oscar telecast from utter disaster. The male standout, in my opinion, was The Imitation Game's Graham Moore speaking so honestly about suicide and feeling out of place in society.
This year's self-congratulatory motion picture awards/fashion show will otherwise be remembered for extended lulls, failed comedy, and Neil Patrick Harris embarrassing himself and the celebrity-filled auditorium by appearing in his underwear. That was almost as unfunny as it was lacking in class for a show that likes to think of itself as the stylish global celebrity affair of the year.
Dozens of media sources are reporting today that this Oscar show's ratings were significantly down, with drops ranging from 10% to more than 15%, definitely the smallest television audience in the last four years. With some variances, the downward trend seems persistent.
This year, it occurred to me that the Fireplace Channel might be more interesting and yet there is vicarious pleasure in watching Hollywood's old guard get it wrong—again.
The Academy Openly Dismissed Popular Movies
Liam Neeson's presentation speech was a surprise, whether the words were his own or provided by Academy writers:
"Hollywood is often criticized for making too many movies based on toys, . . . → Read More: Oscars: Free Us Or Die