Her Universe Fashion Show Celebrates Its 5th Year at SDCC With a Parade of Geek Fashion
Thursday evening of San Diego Comic Con 2018 brought the self-proclaimed biggest version of the Her Universe Fashion Show yet in celebration of the event's 5th anniversary. In a ballroom of the Manchester Grand Hyatt Hotel fans packed in to see models displaying the Destination Disney collection designed by last year's winners, a presentation of the new Star Wars: The Clone Wars 10th Anniversary line that featured appearances by voice actors Matt Lanter and Dee Bradley Baker, a segment where fans got to walk the runway, and a special surprise materialization of Doctor Who's new 13th Doctor, Jodie Whittaker.
In what was possibly the best way possible to show off Her Universe's upcoming version of the 13th Doctor coat, a hooded Whittaker charged down the runway, stopping to reveal herself much like the official BBC video reveal from last year as the crowd roared. She then went back upstage to talk with Her Universe founder and fashion show host, Ashley Eckstein. Whittaker mentioned how the Doctor's new costume design was founded on comfort with her coat meant for the outside gray to represent the sky and the darker color inside standing for outer space.
Last night's #HerUniverseFashionShow was a huge success full of amazing #geek #fashion & surprises! The audience erupted when #JodieWhittaker (the new 13th Doctor) made a surprise appearance & walked the catwalk in the new HU #DoctorWho inspired line for the show! #DoctorWhoSDCC pic.twitter.com/tRsgIwgJ4x

— Ashley Eckstein (@HerUniverse) July 20, 2018
Eckstein herself was decked out in a dress designed by 2014 Her Universe Fashion Show winner Andrew MacLaine in honor of the 25th anniversary of The Nightmare Before Christmas. With 500 Funko Pop Jack Skellington heads the dress weighed in at 40lbs. Disney Style has the exclusive on the making of the dress.
The Her Universe Fashion Show also featured the announcement of the winners of the event's first-ever Junior Designer Showcase for those ages 6 to 17.  In partnership with Cartoon Network, the winners will get to design an apparel piece inspired by The Powerpuff Girls to be sold at Box Lunch in Spring 2019.
UPDATE: You can now watch the winners of the Junior Designer Showcase walking in their designs on YouTube!
Then of course there was the main event.  24 designers showed off their creations with inspirations ranging from Star Wars and Tangled to Gilmore Girls and Overwatch. There were three winners again this year and they were brilliant. But before we get to them, let's look at a few more cool designs.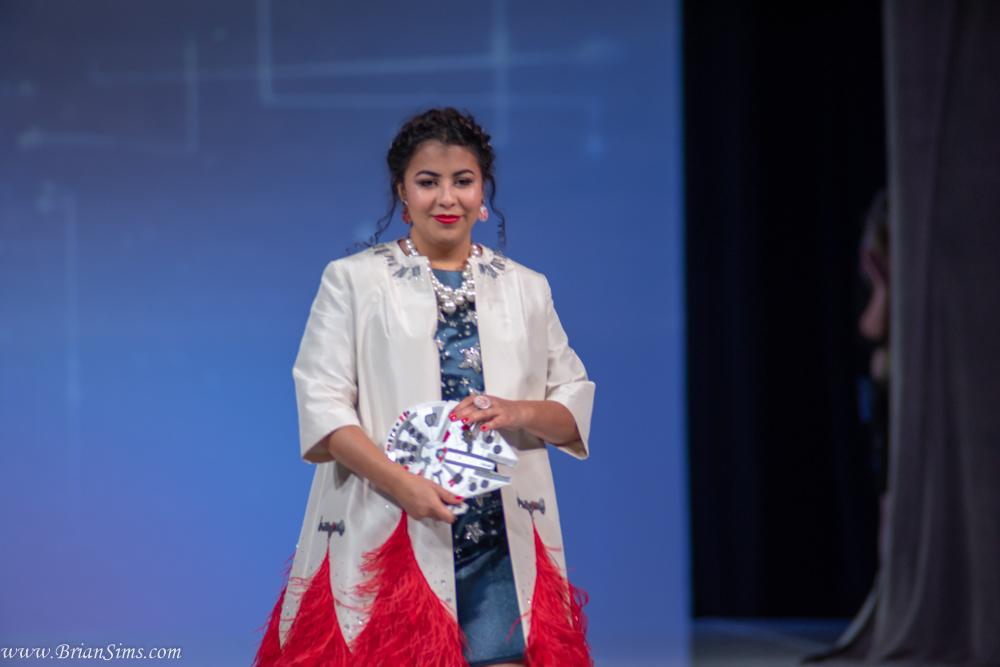 Adria Renee was one of the Star Wars entries with her tribute to The Last Jedi's Battle of Crait. You might remember her transforming Wonder Woman dress or her Moana-inspired dress from previous years. This year red marabou brought movement to her boxy retro coat while also standing in for the minerals below Crait's salty surface. It's a beautiful representation of the striking imagery from the film, smartly accessorized with a Millennium Falcon purse. You can see the detail of the ski speeders on her Instagram.
Kelsey Michele may have had the first Disney Parks attraction-inspired design with her "Style on Space Mountain". The dress manages to be sleek, modern, and retro all at the same time and the light-up earrings are a great touch. She's made a building wearable. Plus that space print on the under layer isn't a print at all. You can see her painting it on her Instagram.
Harmony Leiker was inspired by the movie Tangled with her "Best.Dress.Ever!" There's a lot of joy in this design, which is very fitting. She's taken Rapunzel's color palette and mixed it with the iconic lantern scene from the film, making it look like the evening sky met up with a Mucha goddess. You can see a close-up of the ombré layer on her Instagram.
Also be sure to check out Tanya Apuya's "Godzilla, Queen of the Monsters", Skyler Barrett's "Subject 89P13″ aka a Rocket Racoon-inspired outfit, Candice Miller's "Convor Couture", and Phoebe Ping's "Directive…?" inspired by WALL-E's EVE.
At the end of the night there were three winning categories. Audience members chose Kristi Siedow-Thompson as the Audience Winner for her Alien-inspired "Ripley in the Powerloader", which featured an amazing full-length graphic jacket that opened up to reveal the arms of the powerloader with a sporty tank and cargo pants. On Siedow-Thompson's Instagram account you'll find the original sketch for the outfit as well as details on those boots.
The panel of Cindy Levitt (Sr. VP of Licensing for Hot Topic), Todd Keller (Loungefly Merchandising Manager), Joanna Fogt-Sohn (Cartoon Network Sr. Creative Director for Licensing and Merchandising), Olivia Mears (SINGER® Sewing Ambassador), Jane Francisco (Good Housekeeping Editor-In-Chief), and 2017 Her Universe Fashion Show winners Rose Ivy, Grace Duval and Lindsay Orndorff selected Cynthia Kirkland as the Judges Winner for "The Couture of Water". The gown featured a bevy of pleating and colors found predominantly in the color palette for the film The Shape of Water. And to top it off – there was an egg purse. Kirkland's Instagram account has an up-close look at the wonderful detail found in the skirt as well as another behind the scenes look.
And finally Jane Burson was awarded the new SINGER® Sewing Award for construction in honor of "Howlin' for You". I wasn't at the show but when I first saw photos come in of Burson's design I was immediately awed. Inspired by the Miyazaki film Howl's Moving Castle, the designer created not only a dramatic tribute to the title character, but also constructed it in a way that when she turned to the side she recreated a moment right out of the movie. On Burson's Instagram you'll find a look at all the colors of the feather cloak as well as a time-lapse of patterning the corset.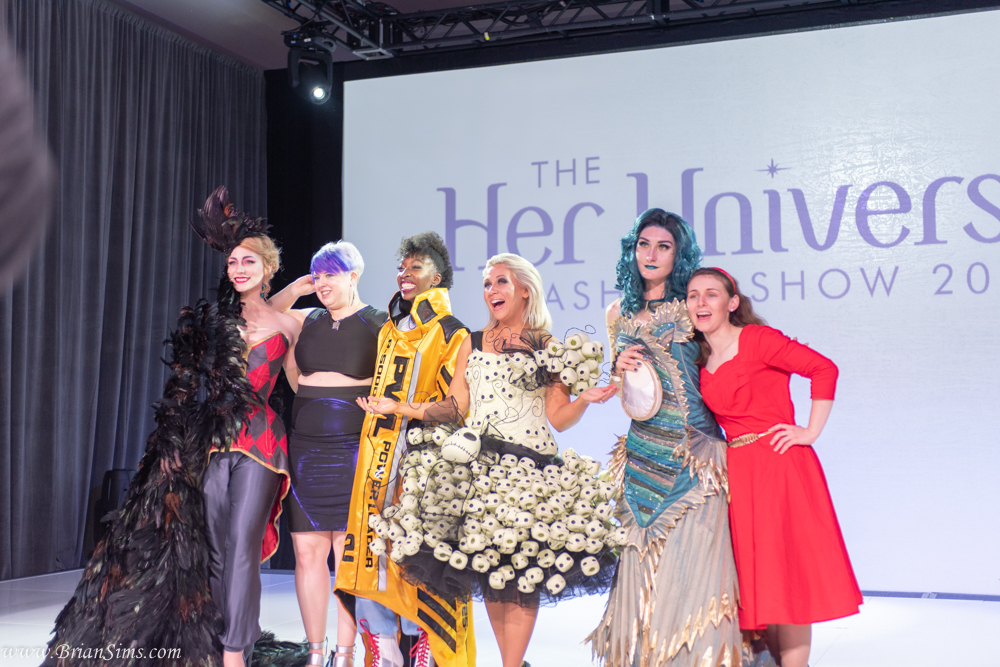 While it isn't clear if technical issues played a role, the online coverage was sparse during the event. But the good news is a representative from Her Universe confirmed a video of the whole show will be online in the next week. We'll post an update here when it is.
UPDATE: Here's the video from Hot Topic –

Congrats to the winners and cheers to everyone who worked so hard to share their passions at this show.
Are you inspired or what?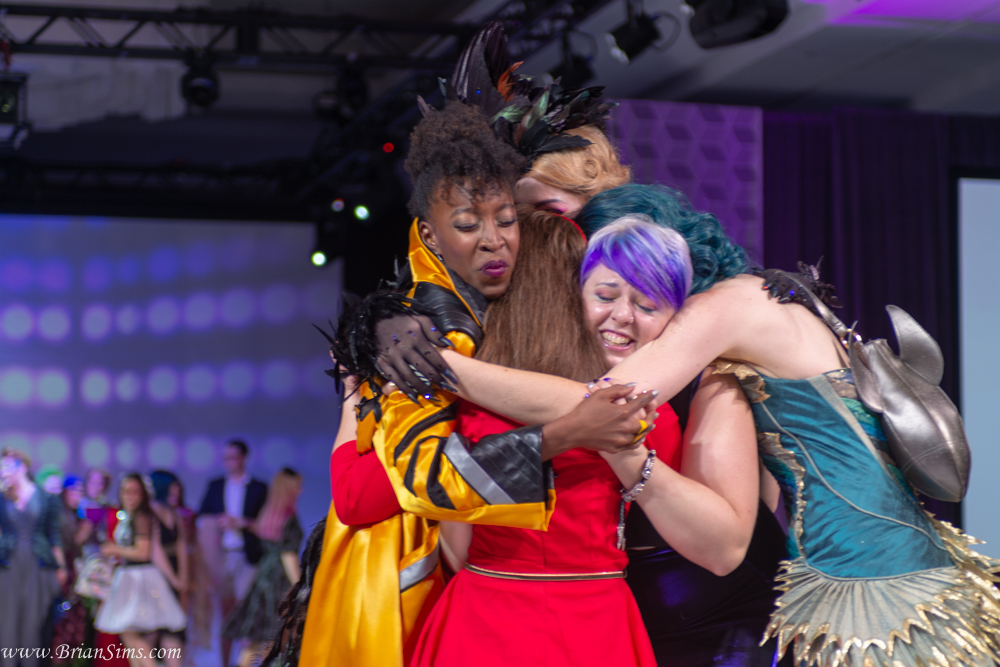 Thank you to Brian Sims for allowing FANgirl to use his photos.

She grew up wanting to be an astronaut. After seeing Star Wars, she wanted to be Princess Leia, Han Solo, and an astronaut. Life's taken her on a bit of a different path, but she's okay with that.

Kay is FANgirl's resident geek fashion expert and co-host of the Hyperspace Theories podcast. She reviews books and movies for the site with a heart for storytelling and a mind that likes to analyze. Kay's been a guest on various podcasts sharing her love and knowledge of storytelling, film-making, fashion, and of course, Star Wars.

Most days are filled with her work as a creative services professional - designing websites & branding, photographing, voice acting, editing, and more. Kay spends the little bit of free time she has reading, costuming, and, of course, making pew pew noises. She would pick up more jobs and hobbies if she was a Time Lord.