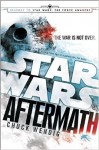 In the weeks since Lucasfilm announced its ambitious publishing program "Journey to The Force Awakens" for this fall, a lot of individuals have asked about my opinion. Additionally, many friends and acquaintances who quit reading Star Wars books have stopped by FANgirl over the years to see if things have changed. Now that some writing commitments are out of the way, I've had time to pull together my thoughts.
It appears that one good outcome from the Expanded Universe purge is I'm now seeing a bit more recognition for the fact that some Star Wars fans found their niche in published material. Last week, Priya Chhaya offered a bittersweet farewell as she welcomed the new Star Wars stories. As she noted, we will all get to experience the rollercoaster ride of discovering characters, places, and events together, and that's exciting!
Here are some details on the 20+ book plan revealed on StarWars.com:
Novels for young adults, focusing on Luke Skywalker, Han Solo, and Princess Leia, will be published by Disney-Lucasfilm Press in North America and distributed internationally. The young adult novels have notable talent attached, including Cecil Castellucci (Boy Proof, Tin Star), Greg Rucka, New York Times bestselling author (Detective Comics and 52), Jason Fry (The Clone Wars: Darth Maul: Shadow Conspiracy, Star Wars Insider contributor) and New York Times bestselling author Claudia Gray (The Firebird trilogy and Evernight series).
Some book and comic titles have been revealed, and they offer fans a fun glimpse into the possible stories within: . . . → Read More: Journey to The Force Awakens: The Books You're Looking For