Fandom Fashion Finds: December Picks
December was The Last Jedi month, so heads-up this is going to be an especially Star Wars-heavy round-up with only a few other pop culture pieces. Maybe the Star Wars dust will settle next month, but who knows?
Star Wars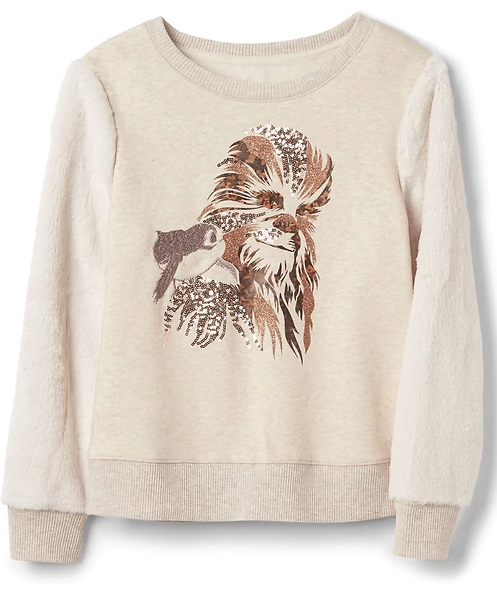 GAP released a whole bunch of Star Wars pieces for men, women, and children. Although the kids may have gotten the best designs. Stand-outs include:
Boys' Jersey-Lined Chinos ($39.95)
Girls' Leia Sweater ($44.95) or Women's Leia Tee ($34.95) both with a fab rendering of Carrie Fisher's head in sequins
Kids' BB-8 or Rey Embellished Handkerchief Shirt ($29.95)
(possibly the best piece) Chewie & Porg Sweater!! ($39.95)  
Women's Star Wars™ embellished graphic hoodie ($79.95) 
Earlier this month Columbia came out with three Empire Strikes Back tribute coats that immediately sold out.
And Clarks released their Force of Nature shoes for women and girls inspired by Rey.
Nixon debuted their new watches and bags ($80-$275) in honor of The Last Jedi's release. Designs focus on Luke, Rey, a Praetorian Guard, and the Executioner Stormtrooper. I reviewed the Rey watch.
There are some new leggings featuring emojis, symbols, helmets, and the like from Terez ($48 – $82). Linda will be taking a closer look at a pair for us next month.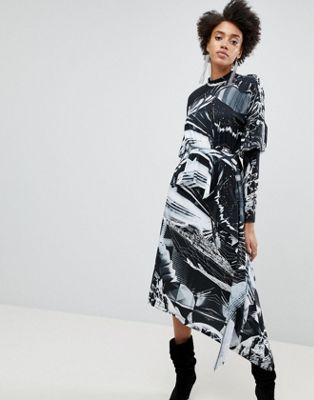 The ASOS x Star Wars collection ($29-$95) has some really cool pieces with strong style for both men and women. The ASOS x Star Wars Scuba Printed Mini Dress ($79) makes a very fancy-looking use out of the X-wing black and gold pattern that's been featured on a few other companies' apparel and accessories. There's a more abstract use of what appears to be a Dreadnaught, Star Destroyer, and TIE Fighter on the Printed Long Sleeve Hanky Hem Dress ($76). (If leggings ($35) are more your style the same pattern seems to be used on them.) And it's especially exciting to see the Funnel Neck Burnout Dress ($79) use a pattern that looks like Lovey's from The Last Jedi's Canto Bight sequence. If only it was fully lined.
Shop Disney has three new black and gold X-wing print Dooney & Bourke bags ($178-$308). You'll also find some character faces in the print.
The much teased Kylo Ren Motocross Jacket by Her Universe has also shown up on Shop Disney.
A few new juniors' Star Wars apparel pieces popped up at Macy's too. Some of the pieces have no obvious Star Wars connection except maybe their style would fit in in Canto Bight? But this Colorblocked Peplum Dress ($59) is very much in line with what I was going for back in my The Force Awakens Stormtrooper Everyday Cosplay.
Looking for a subtle long Darth Vader coat? Hot Topic has this one for $79.90-$83.90.
Sperry released three more Star Wars shoe designs. Each is available in men's and women's sizing. The Cloud Slip On Star Wars Sneaker ($84.95) and Cloud Slip On Duel Sneaker ($74.95) are the same style as the McQuarrie art Sperry shoes I reviewed earlier this year.  There's also a new style in the Darth Vader Boat Shoe ($109.95). (Also as of this posting all Sperry's Star Wars shoes are on sale for significantly less than retail.) Check out the 3 new Star Wars styles with the rest of the collection here. (affiliate link)
Possibly my most sentimental find this month was the replica of the ring worn by General Leia Organa in The Force Awakens and The Last Jedi. I found it in-store at Box Lunch, but it's not up on their website yet. Stay tuned to my Instagram and Twitter for updates.
Also on the bag front, I've found:
Loungefly's monochromatic R2-D2 with C-3PO Charm Debossed Faux Leather Tote Bag ($69.99), bold Princess Leia Rebel Tattoo Ladies' Wallet ($35.99), and fun Admiral Ackbar Coin Bag ($23.99) all at ThinkGeek. Loungefly's websiteThe R2 and Leia designs are also on along with a Rebel Convertible Crossbody/Waist Bag ($64) that looks a lot like Rey's belt bag from The Force Awakens.
Honorable Mentions from Other Fandoms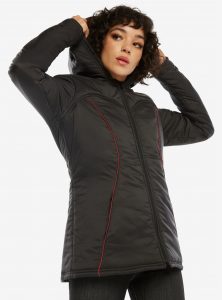 ThinkGeek's Spiral Galaxy Meteorite Pendant Necklace ($49.99) features a piece of real meteorite in the center.
Box Lunch has new enamel pins for Nintendo's The Legend Of Zelda ($5.90) and Wonder Woman ($6.90).
You'll also find this clever Harry Potter Marauder's Map-themed earring set ($18.90) at Box Lunch.
Her Universe has a Black Widow Puffer Jacket ($79.90). And you can pre-order this Black Panther purse ($68) from Entertainment Earth. 
Shop Disney has a whole Art of Princess designer shirt collection in a few different styles. I especially like this Tiana Tank Top ($24.95).
In Geek Fashion News:
I checked out the Musterbrand Sith Apprentice Cardigan while Linda took a closer look at Rag & Bone's Star Wars collection.
Speaking of… Mark Hamill wore a custom Rag & Bone Razor suit to the L.A. premiere of The Last Jedi.
Louboutin made 4 custom heels celebrating the characters of Rey, Phasma, Holdo, and Rose in The Last Jedi. All were auctioned off to benefit Starlight Children's Foundation on behalf of Star Wars: Force for Change. Check them out in StarWars.com's article.
Laura Dern was in the December issue of Porter. 
Nikkie Plessen showed at Disneyland Paris to mark the release of her DISNEY X NIKKIE range. Disney Style has the details.  
Support my ability to keep sharing more fashion content like this by clicking on the corresponding ad banner below when you're ready to buy your new Star Wars x Po-Zu shoes.


Looking for more? Check out my November and October picks.