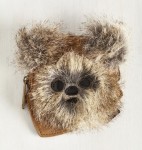 On our previous Fandom Fashion Friday, we covered new items from Her Universe as well as collector's items and I said next time we'd focus on accessories, so let's do it!
STAR WARS
Starting off with some pieces that lean toward the subtle fandom side, only a few people will mistake these for a moon: Death Star Jewelry ($14.99-$29.99 at ThinkGeek) A ring, necklace, and earrings are available in this style, so take your pick.
Or if Rebels are more your thing, there's a Rebel firebird Insignia Ring ($22.50, Hot Topic). Now we just need one in blue for the Resistance.
You can keep your fandom in your pocket or purse as well with wallets whether you support the Empire, wish you flew an X-wing, have a fondness for droids, ($16.50 each at Hot Topic) or are a bounty hunter from Mandalore ($19.99 at SuperheroStuff).
If you need something smaller, check out these next two. This C3P0 faux leather coin purse ($22.99, SuperheroStuff) or Ewok the Walk coin purse ($19.99, ModCloth) would be happy to hold small items for you. Although I don't know if I could handle opening that Ewok's head to store pennies.
If those are too small of a bag, Loungefly's Luke & Leia Poster Art Tote is lined and can be found over at Modern Pinup for $56. There's also a Darth Vader/Dark Side Tattoo Tote that's embossed ($69.50, Hot Topic). The Disney Store has several . . . → Read More: Fandom Fashion Friday #4 – Accessories Edition