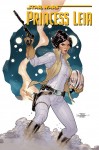 Writing last week about Princess Leia and the context surrounding her character as an empowered female in storytelling resulted in some of the highest hits this site has seen. "Slave Leia Sells? Amy Schumer, Boy Toys and the Star Wars Fandom Double Standard" was tweeted by Bitch Media and acknowledged on Full of Sith. On that podcast, Bryan Young noted that Twitter user @tonks17's motion to rebrand Slave Leia as Leia the Huttslayer had over 10,000 notes after it was posted on Tumblr. And despite the reported "ire" from Disney|Lucasfilm over the GQ cover, John Boyega noted on Instagram that he was finishing up a photo shoot for the magazine.
Prior to the Huttslayer attire controversy, I joined a fantastic group of women on Mos Eisley Comicport to discuss the conclusion of the Princess Leia miniseries from Marvel.
Today's episode is a series wrap-up for Princess Leia, with some extremely special guests! Tricia Barr (Co-host of Fangirls Going Rogue, Co-Author of Ultimate Star Wars), Sarah Rodriguez (Author of Agent Carter: Season One Declassified, Co-Host of Woman Up! Podcast) Aarthi D (Co-Host of Back in the Field), and Kelsey Marquart (Editor-in-Chief of Nerdy But Flirty, StreamFriends Co-Host) chime in with their thoughts on Marvel's first canon Star Wars miniseries!
Back in October 2014, FiveThirtyEight conducted a deep-dive statistical analysis into the gender composition of characters and creators in the comics from Marvel and DC. The number-crunching in "Comic Books Are Still Made By Men, For Men And About Men" reveals that . . . → Read More: Tricia Talks Marvel's Princess Leia on Mos Eisley Comicport