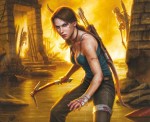 Dark Horse Comics' Year of the Horse started out with a bang with their record number of wins in the Diamond Gem Awards. From their news feed:
Last week, Diamond Comic Distributors announced the 2013 Gem Awards, boasting a record number of accolades for Dark Horse!
While DC Entertainment topped the list with six awards, Dark Horse dominated among the independent publishers, with Dark Horse Presents winning Anthology of the Year for the second year in a row!
This year's Dark Horse wins are as follows:
   Licensed Comic Book of the Year: The Star Wars #1 (SEP138217)
   Anthology of the Year: Dark Horse Presents #26 (MAY130015)
   Trade Book of the Year: The Legend of Zelda: Hyrule Historia (SEP120055)
   Original GN of the Year: Hellboy: The Midnight Circus (JUN130031)
   Manga TP of the Year: Lone Wolf & Cub Omnibus Vol. 1 (JAN130124)
Over at Newsarama, Brian J.L. Glass talks about FURIOUS, out now from Dark Horse. It's a fabulous discussion of female characters, superheroes as a means to explore the human condition, tropes, and darker storytelling.
First, if I can address your observation about FURIOUS as a character—the point you made about her resisting a trope forced upon her is one of the ways this story does resonate directly with the issues the female audience is currently expressing displeasure about. This woman is unique, with her superpowers truly setting her apart from every other human being on Earth (at least for now), yet a media system labels her. She wants to be "The Beacon" yet a male reporter saddles her with what could be considered a negative title: she's "FURIOUS." It's an observation, but more . . . → Read More: Dark Horse Wins With Tomb Raider, Buffy, and Serenity