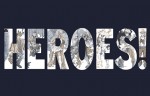 Stories by Timothy Zahn, Aaron Allston, and Michael A. Stackpole? Heck yeah, I backed this project! From the Kickstarter page:
Silence in the Library Publishing is excited to bring you our latest anthology, HEROES!, a collection of short fiction about superheroes, not-so-super heroes, and everyday people who find the hero within.
Like our anthology Time Traveled Tales, HEROES! developed from the talent assembled by Origins Game Fair for their 2013 limited edition convention anthology.
Inside the pages of HEROES!, you'll find stories from authors like Aaron Allston, Michael A. Stackpole, Timothy Zahn, Maxwell Alexander Drake, Aaron Rosenberg, Janine Spendlove, Bryan Young, and many more.
As part of this Kickstarter, you'll also be able to purchase the companion anthology, A Hero By Any Other Name, featuring stories about sidekicks, off-beat superheroes, and hapless villains by Aaron Allston, Michael A. Stackpole, Maxwell Alexander Drake, Jean Rabe, Janine K. Spendlove, Bryan Young, and many of the other authors in HEROES! Several of the stories in these two anthologies are directly tied to each other.
This is more than just your normal collection of tights and capes. Oh, you'll find those stories between the covers of HEROES!, but we've also included a wide range of works that capture the entire spectrum of heroism in speculative fiction. Some of the protagonists have superpowers, others survive purely on their wits and sometimes dumb luck. Some of the stories focus on the battles between costumed crusaders and their enemies, and others focus on battles against the demons within.
Our goal in this anthology is . . . → Read More: Kickstart HEROES! The Anthology