While You're Waiting For Episode VII, Check Out Star Wars Legacy
A look into Ania Solo's prison-camp past reveals a secret connection to the brutal bounty hunter who is desperate to bring her to justice—dead, not alive!

But bounty hunters are only part of Ania's problems!

* The answer to "Who is Ania Solo?" is at hand!

~ Dark Horse Comics preview of Star Wars: Legacy #14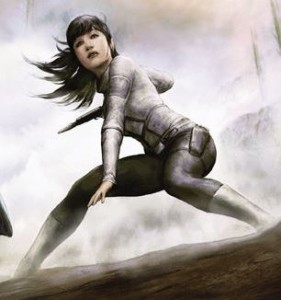 Star Wars: Legacy #14 by Corinna Bechko and Gabriel Hardman is out today. FANgirl's policy is to review comics at their conclusion, but so far both B.J. and I are loving the unfolding mystery around the descendent of Han and Leia. This series has also featured another favorite character of mine, Marasiah Fel, a Force user, Imperial Knight, and great-granddaughter to Jagged Fel, who married Han and Leia's daughter Jaina Solo. So perhaps Ania and Marasiah are related, or perhaps not. Either way, it's two great female characters. If you haven't read the original Legacy comics by John Ostrander and Jan Duursema where Marasiah Fel is introduced, I highly recommend them.
With Episode VII on the horizon, it is fun to consider how they will visually cue the audience into a character's identity or past. From the first film, color has been one of many visual clues George Lucas used to tell the audience things about the character. Marasiah and Ania were introduced with the color white worked into their costume, which essentially screams Princess Leia. Early artwork for Brian Wood's Star Wars series depicted X-wing pilot Leia in a white flightsuit that was later darkened up in the comics.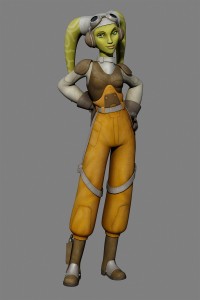 Perhaps Dave Filoni's recent tips to potential Hera cosplayers is indicative of an understanding that costume design is about more than what happens onscreen. While Hera's attire is new, it is reminiscent of the iconic orange flightsuit with a dash of pilot flair in the vein of Han Solo. There are quite a few touches of green in the Rebels color palette that blend into Hera's skin color and give a bounty hunter/Boba Fett vibe. For many new fans their first experience with a franchise is seeing a character or characters cosplayed. If you look at Sabine, Kanan, Zeb, Ezra, and Chopper, each has a familiar style but also a sense of the unknown.
After seeing what's in store for Rebels, I'm excited to see the new look of Episode VII, and even more so excited to see fans bringing them to life through cosplay. At Celebration III, I recall a fabulous Revenge of the Sith Anakin cosplayer – that was a month before the movie premiered.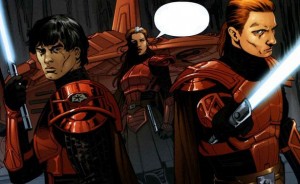 Much ado has been made about Simon Kinberg's comments to IGN about the movies at WonderCon. Kinberg didn't suggest anything differently than what fans have been told previously, but he did use a fandom trigger word several times. For reasons I've expressed previously, Lucasfilm should put "canon" on the list of words to be avoided at all costs (and under penalty of Sith lightning).  He did, however, use a couple key words – "inspiring" and "honoring" – that fans can get behind. I have my fingers crossed that the Legacy comics' Imperial Knight armor is inspiring enough to bring that idea into the cinematic universe.
---
For updates on all things FANgirl follow @FANgirlcantina on Twitter or like FANgirl Zone on Facebook. At times she tries the Tumblr.