Up Close with Nixon's Rey Watch for The Last Jedi
Just in time for The Last Jedi, Nixon has released a capsule collection of watches and bags integrating unique elements that pay homage to the new movie's characters. After releasing various Star Wars pieces last year and adding limited edition Diplomatic line watches as well as some exclusives with ThinkGeek this year, the latest from the accessories company known for their watches focuses on the Praetorian Guard, the Stormtrooper Executioner, Luke Skywalker, and Rey.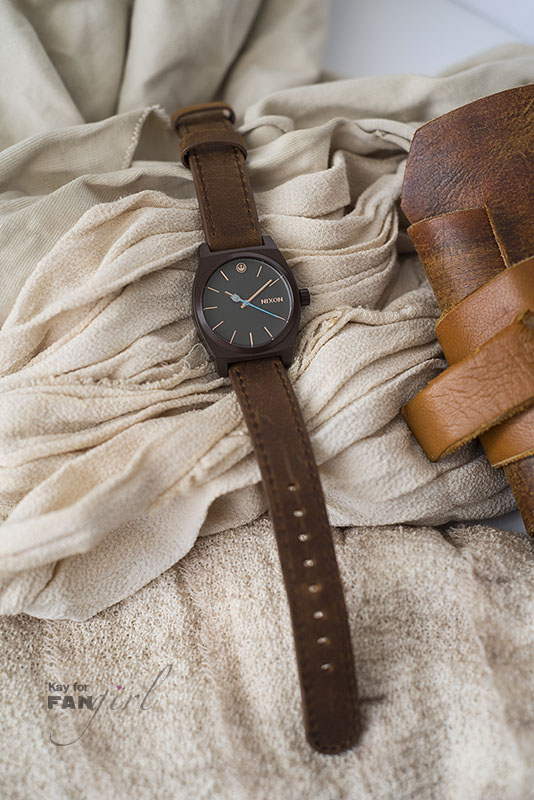 If you've been around these parts for a while now, it should be no surprise that I was drawn to the Rey watch. Nixon was kind enough to send one along for my review.
This Medium Time Teller is a 31mm case sized down from their best-selling design. Its brown leather band is reminiscent of both Rey's belt and wrist cuff with a double strap keeper that's standard to the Time Teller model but feels like another nod to the scavenger. The more obvious Star Wars reference details include a Rebel Alliance symbol for the 12 marker and a Millennium Falcon second-hand. Hidden on the caseback for your eyes only is an engraving of Rey's face with the word "resistance".
I haven't been wearing a watch all that often lately so I really appreciated how seamless wearing this one was. The Rey Medium Time Teller has a decent weight to it – substantial enough to feel like it's a quality timepiece without being heavy. Even with the stitching down each side the strap was comfortable to wear for hours on end.
I was a little hesitant about the colors at first because I don't wear brown quite as often as Rey does (except when I'm in costume of course). The dark browns and the black watch face though really go well even if you're wearing a lot of gray or black. (I guess Rey already had that figured out too.) The gold tint that borders on rose gold for the stainless steel buckle make it feel even more fashionable. Together it all feels a bit sleeker than Nixon's two other Rey watch models.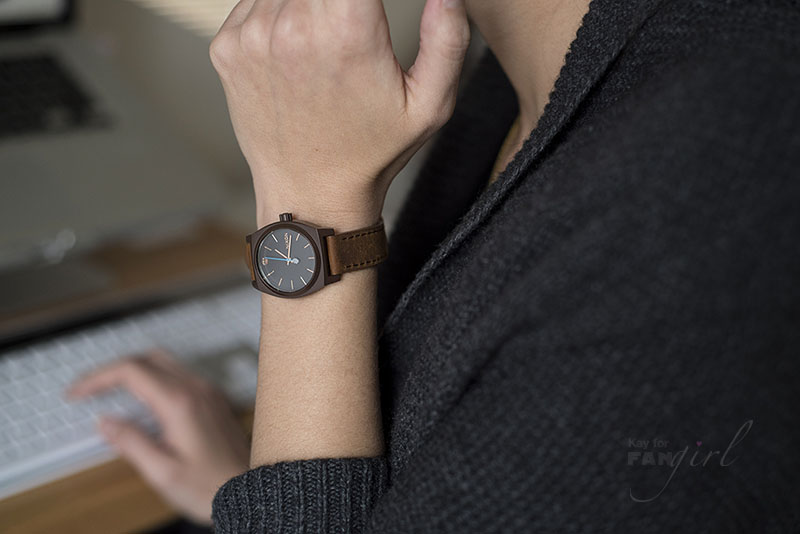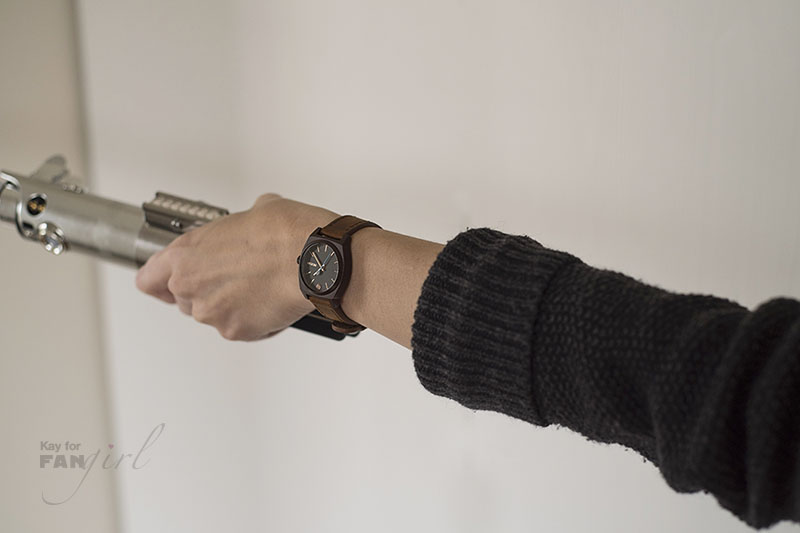 The size of the watch face is a great fit for my wrist size — adding to the subtleness of the whole piece. Overall that's what I really love about this watch – the subtlety of it. It's a stylish accessory regardless of the Star Wars influences but those same influences make me smile when I catch sight of them. It's a great way to carry a little Rey inspiration with me no matter what I'm wearing.
You can find Nixon's Star Wars collections on their website. Each of the four featured characters get a watch and bag dedicated to them.
The Rey Medium Time Teller SW retails for $125.  The Rey Crossbody Bag ($80) is on my wishlist.
Check out more photos in the gallery below.
Thanks again to Nixon for providing this watch for my review. They did not require a positive review and as with anything, I give my honest review of items regardless of how they're sourced.
All images in this post were art directed, styled, and photographed by Kay Serna with photography assistance from Toby. Please do not repost any of these photos without Kay's permission.