Checking Out the Rag & Bone x Star Wars Line
Space themes have been big on the runway for the past couple of seasons. Chanel featured astronauts, rockets and silver. Valentino had a recent collection with stars and planets. Gucci has a set of print ads based on Sci-Fi classics with the solar system and UFOs on clothing, accessories and handbags. Even the relatively staid house of Hermes had a spaceship tie this season.
Star Wars, especially with the 40th anniversary this year, has had collaborations with multiple fashion brands—I managed to pick up sweats from the GAP and UnderArmour and Kay has reviewed multiple other brands—rather temptingly—throughout the year.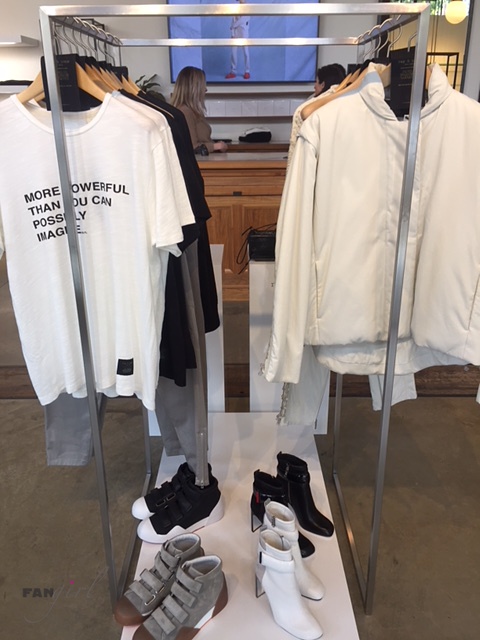 Rag & Bone, the New York based clothing company, has been one of my favorite brands for easy, well-made and stylish clothing. Their boyfriend jeans, "The Dre" is a classic style and their t-shirts, dresses and cozy sweaters are in constant rotation in my closet. And I've been in good company—Kathleen Kennedy is also a fan. So it seems natural that this year, their lead designer, Marcus Wainwright, a long time Star Wars fan himself, did collaboration with Star Wars with Mark Hamill as the current face for Rag & Bone.
The Rag & Bone x Star Wars launched on December 1 and quickly sold out most items online. The clothes are Star Wars, but mostly understated. The collection features a men's "Lightspeed" jacket and cargo pants, an Obi-Wan hoodie, a women's outfit based on Leia's Hoth costume, the "Echo" jacket and pants, the "Hope" sweater, either "Empire" (black) or "Rebellion" (off-white) and a unisex Stormtrooper sweatshirt.
Limited edition t-shirts ranging from Rag & Bone in Aurebesh to X-wings were released between December 1-4. There are accessories including black and silver wristlets, wallets, and card cases.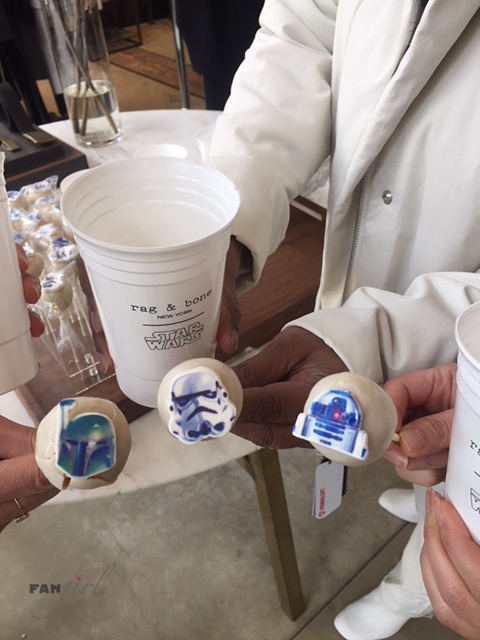 Have I mentioned the shoes? For men, there is the RB1 Force sneakers and for women, the Ellis Force Boot. Rag & Bone makes amazing booties, the Harrow being one of their most iconic styles. So I was particularly excited about the Ellis Force boot. The Ellis Force boot comes in Empire (black) and Rebellion (off-white) and there only 180 of them in each size, the serial number and the edition number printed on the inside of the strap.
On Friday, December 1, the collection opened at a random time—I had checked the website at 12am EST and 12am PST, but to my frustration, the collection wasn't for sale. By 8:30 PST, a significant number of items were sold out online.
I had an invitation to the Rag & Bone Fillmore Street, San Francisco store's launch party on December 2. The store was the way to go. Besides cake pops with Stormtroopers, R2, and Bobba Fett as well as free flowing champagne, they had every size in all the styles available with a fun and enthusiastic staff to help. There was also a really nice, substantial tote bag with every purchase. And what's more fun than trying out Star Wars clothes with fellow fans?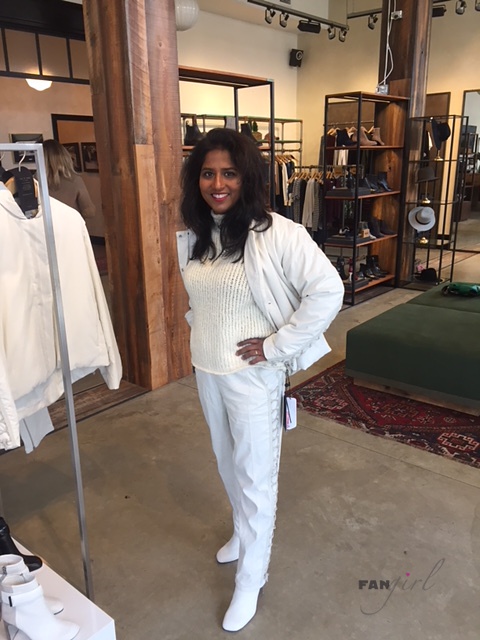 I tried on everything except the men's Lightspeed jacket and cargo pants. I was glad to have the opportunity to try things on in person. The t-shirts, in men's sizes, are pre-washed and had a soft feel and good fit, like all their other t-shirts. The Stormtrooper sweatshirt was a boxy, but not oversized fit. The Hope sweater was cozy and relaxed, but ran large. The small fit well. In the Dre's, I wear a 28 (size 6), for a slouchy boyfriend jean look, but in the Echo pants, the size 4 is what fit. The pants have a super soft, utility feel and the lacing on the side with its tonal bungee style cording really make them unique. But tall women, beware—I'm 5'2" and they stopped at my ankle.
What surprised me the most was the Echo jacket. The sides have the same lacing as the pants and the sleeves zip off so you can wear it as a vest. It was lightweight and incredibly cuddly in feel. I didn't want to take it off. Like last year's Columbia Jyn Erso jacket, I fit in the XS, with plenty of room, and I'm normally not an XS. (For reference, I usually wear a medium in HerUniverse tops.) Unlike many of the other pieces, though, there is nothing that says anywhere on it that it's Star Wars. You have to be in the know to know what it is, which is something I loved about it.
The boots were the my favorite part of the collection. Despite having a 3 6/8' heel, they were well balanced and comfortable. I would classify them in the "wear all day" category—maybe not "walk all day"—but certainly to go to work or run errands they would be fine. They ran true to size, though with that heel height, I went up half a size to ensure my toes have plenty of room. The leather was soft and supple and the workmanship was beautiful. I loved the silver metallic "starfighter" sole. In person, the Rebellion color won out, being a surprisingly wearable off-white which is so in style this season. Though if you are looking for black booties, the little flash of the red on the Empire bootie was also really cool.
Wearing the whole Hoth outfit, from the jacket to the boots left me feeling like a princess. The pieces really embody the feel of Star Wars and carry the effortlessness of Rag & Bone style. There was nothing costume feeling about the outfit. I could see myself swapping out the white sweater for a black one and wearing it out.
So what didn't I like about the collection?
For one, to wear the whole outfit probably requires the clothing budget of a princess. The whole outfit was over $3,000.  It's well above the cost of regular Star Wars merch, and even priced above the usual cost of Rag & Bone items. For example, the regular Ellis Boot is $595. The limited edition Force Ellis boot is $695. While the price point is not at designer level like Gucci or Valentino, it's up there in terms of Star Wars wear, on level with Stuart Weitzman.
Still, for well-crafted, subtle, effortless Star Wars style, it's hard to beat this collection and the pieces are ones that will be enjoyed for a long time.
Check out the gallery below for more photos from the event. Do not republish without permission. 
Linda has been a Star Wars fan from the time she saw Episode IV in the theatre with her parents and insisted on being Han Solo while playing with the neighborhood kids. She's now a fangirl who splits her time learning to twirl a bo staff like Ray Park, jumping horses, writing fanfic she dreams up on her commute to work, and spending time with her husband and their own feisty Padawan version of Ahsoka.