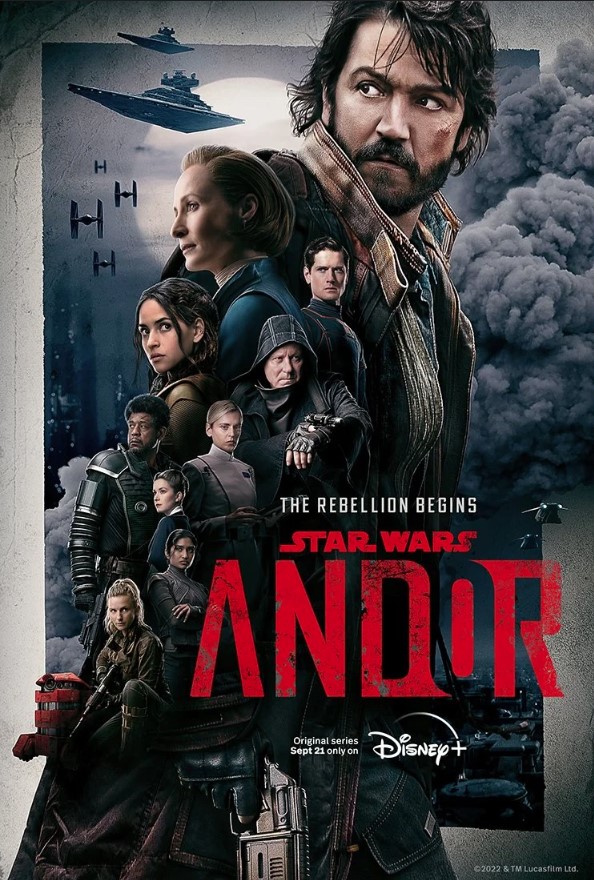 The long-awaited prequel to the blockbuster movie Rogue One: A Star Wars Story hits Disney+ on Wednesday, September 21st. Andor showrunner Tony Gilroy, best known for his work on the Bourne movies, was brought on board Rogue One to supervise edits and significant "reshoots that tackled several issues, including the ending" (per The Hollywood Reporter). Gilroy's contribution was significant enough that he earned a screenwriting credit on the final film.
A few years later, Gilroy was asked for input on a Lucasfilm treatment for a Disney+ series focused on Rogue One's leading man, Cassian Andor (Diego Luna), on an adventure with his robot sidekick K-2SO (Alan Tudyk) in the vein of Butch Cassidy and the Sundance Kid. Rather than briefly sharing his thoughts, as presumably was expected, Gilroy "wrote 'a long forensic manifesto' back to Lucasfilm that not only outlined why he thought that approach wouldn't work, but what he thought the studio should do instead." The result of that feedback is a 24-episode, two-season series set to shake up Star Wars in the best possible way.
Ever since Lucasfilm embarked on the post-Lucas Disney era of Star Wars storytelling, it has leaned heavily on declarations to the audience that a Star Wars fan has been tasked with whatever movie or television series is currently being rolled out, as if "Star Wars fan" is a necessary prerequisite for telling a good Star Wars story. What a good story needs is a strong handle on story structure, character motivations, and the continuity framework within which the story is being told. Because Rogue One is a prequel (to A New Hope) in which Cassian and the rest of his team die, Gilroy wasn't beholden to years of character development around the Andor protagonist, much less all of the new characters introduced for the series. Instead, he could focus on storytelling fundamentals first, and situating the tale within the details of the Star Wars galaxy second. For the longtime Star Wars fans, though, fear not: despite the noise in some circles, Andor nevertheless has plenty of Easter eggs to be found, hidden in plain sight as they should be.
The look and feel of the series' production is akin to a period piece. What's smart about Andor so far is that all the foundational storytelling is on new worlds with new communities, allowing the show to develop a backstory for Cassian that makes sense to the character journey he will undertake in the series. Both Gilroy and Luna have emphasized that Cassian begins Andor as a very different person than the man who ultimately willingly makes a heroic sacrifice to steal the Death Star plans that are delivered to Leia Organa, who flees to Tatooine in search of aid from her old friend Obi-Wan Kenobi. The world-building around this different Cassian, his homeworld Ferrix, and the corporate security agents throwing their authority around creates the slow burn of the first two episodes. In fact, one has to wonder if the powers that be didn't realize this, as the original premiere was slated for just the first two episodes. When the premiere date shifted, they added the third episode, which rounds out the show's first distinct arc and much more kinetically propels Cassian on his path toward the Rebellion.
Fortunately, Andor avoids the aimless flashbacks of The Book of Boba Fett. Like its predecessor Obi-Wan Kenobi, the third episode of Andor uses intercut scenes back to Cassian's childhood to profound effect. In some ways, the man Luthen recruits into his proto-Rebel Alliance is still the scared boy who walked onto a ship where he didn't belong. The rage shown as he wails against the ship's interior is still there, molded by the years on Ferrix with Marva and Clem Andor, a couple of salvagers who rescue the child fearing he might be executed if discovered.
Each character crafted by Tony Gilroy, who penned the first three episodes, feels whole and fully realized. From Bix Caleen (Adria Arjona), a friend and confidant of Cassian's, to Imperial Security Bureau supervisor Dedra Meero (Denise Gough), you get the sense very quickly of the underlying motivations. Even minor characters like Sergeant Linus Mosk and ISB lieutenant Blevin pop, and none of them need existing lore to make them remarkable. Instead, the strength of the writing and performances make the characters effective, similar to the way Giancarlo Esposito's turn as Moff Gideon captivated audiences when he first appeared in The Mandalorian. Kyle Sollar's portrayal of Syril Karn is unlike anything we've seen in Star Wars. Where typically the franchise characters sit strongly into mythic archetypes, Syril drips with the ego and ambition of a real-life ladder climber who has sworn fealty to the high purpose of corporate greed. Fancying himself a mover and shaker, his motivational speech to his underlings feels raw and uncomfortable. He's not even a charismatic high-achiever like Director Krennic; he's just an unexceptional cog in a system that holds a powerful mirror up to real-world capitalism.
In the fourth episode, Mon Mothma (Genevieve O'Reilly) enters the picture. Like Cassian, she is different than we have seen before. In Andor she is a member of the Imperial Senate, not the somber leader of the Rebel Alliance in Rogue One and Return of the Jedi. Her role pivots around a new character, Luthen Rael (Stellan Skarsgård), and develops her relatively sparse backstory. The plight of a married woman coming home to a politically divergent husband will strike a chord with many in the audience.
By the fourth episode, it is also obvious that Gilroy went into Rogue One with limited time and could only fix so much before the movie had to be locked for release. What he had to make work was the ending. He couldn't fix that they had a war movie mashed up with a heist, without the pieces really lined up correctly. So he stitched together a beautifully shot event movie about sacrifice that never really dug too deeply into why any of those heroic members of the Rogue One strike team made the choices they did. In Andor, Gilroy has the opportunity to tell a story with those same core story elements, but execute them with the skill and craft of his full creative effort. Notably, the fourth episode kicks off a heist storyline for Cassian in tandem with explorations of the broader galactic struggle, as Luthen heads back to Coruscant to meet up with ally Mon Mothma.
Unlike anything else Lucasfilm has put out in its new era of Star Wars contributions, Andor feels like it has returned Star Wars to its political roots. Gilroy and his creative team not only expressed that messaging in their media run-up to the show's premiere, but you can also feel the imperative desire of the story to express real-life perils in the fictional galaxy far, far away. Nothing highlights that more than the townspeople of Ferrix clanging the warning bells as the corporate security agents hunt down Cassian. Insurgency and noise, whether it is literal sound or news cycle nonsense, go hand in hand no matter where it happens in history.
Watching Andor is refreshing in another way, too, because it checks a lot of boxes we've found missing in much other Star Wars over the years at FANgirl Blog. You will see mothers matter, a whole bunch of women with agency, tons of diversity, really well-written storytelling, and something unique. By the time the fourth episode ends, without a doubt this series is yelling that the rebellion is being carried on the backs of many determined women.
Related Links:
Andor Episodes 1 – 3 Storytelling Breakdown on Hyperspace Theories (coming 9/21/22)