Ten Things You Need To Know Before Going On Star Wars: Galactic Starcruiser
If you're planning to trip to the Star Wars: Galactic Starcruiser or even considering it, here are ten things you need to know before going:
1. Remember when Obi-Wan told Anakin, "This weapon is your life"? Well, the same goes for the Play Disney Parks app while you're on the cruise. You'll use the same login and password as My Disney Experience. Have both loaded on your phone and have your login email and passwords ready for EVERY guest at the time you board.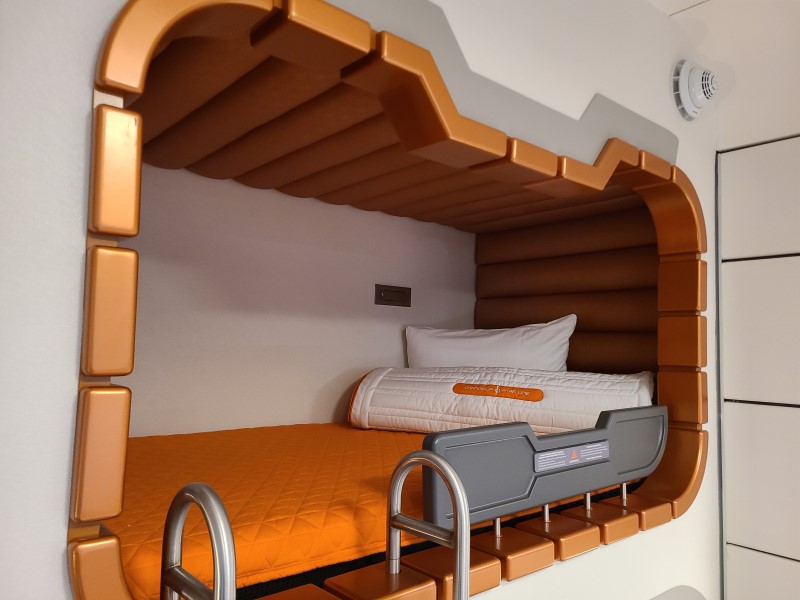 2. While the Galactic Starcruiser is widely known as the "Star Wars Hotel," that label doesn't do the experience justice. This is a three-day, two-night cruise. You embark just like a cruise and disembark like a cruise. As a long-time cruiser, I'd make the same recommendation for an ocean or river cruise: arrive as early as possible and start exploring the ship. If you can arrive in Orlando the day before, do so, and don't hit the parks that day, either. Take a relaxing day beforehand. When you're done with the voyage, you'll understand why.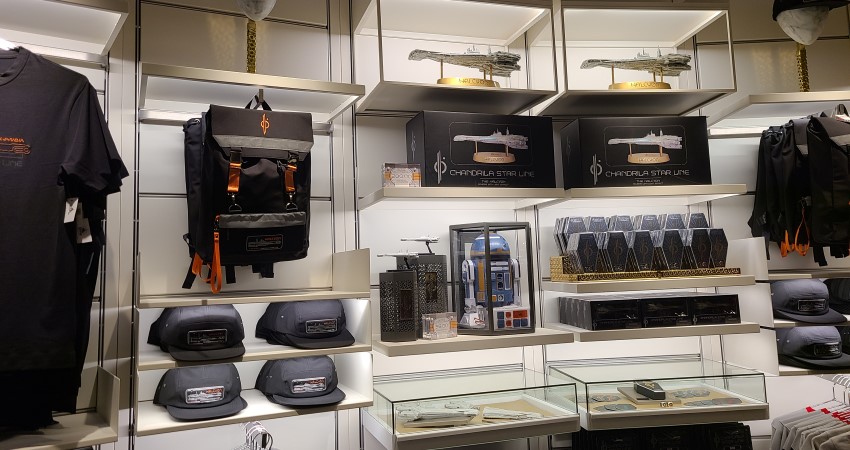 3. When you cruise, it feels like shopping is integral to the experience. If you need attire for your adventure or memorabilia, the Halcyon's store has everything from sabacc cards to formal attire. I'd recommend the grey/off-white casual jacket for men and women. It's lightweight and works well for everyday geek chic. There is also a black women's top emblazoned with the Starline's logo that is made of a luxurious material that would do well for dinner or the Batuu excursion on Day Two. Annual pass discounts apply, and there are secret pins for those who know to ask. Also, the Halcyon's store is not open on disembarkation day, but there is a gift shop at the exterior exit plaza with memorabilia using the name Star Wars: Galactic Starcruiser, which you can't buy in the in-universe store onboard. For more merchandise information, check out this awesome video from Skywalking Through Neverland.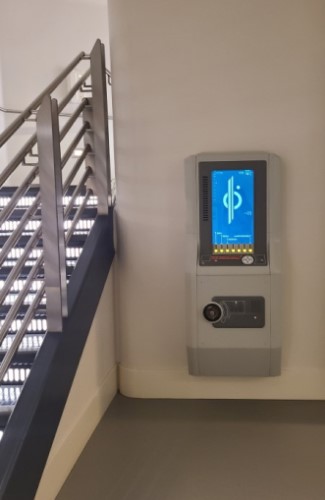 4. Starting with your cabin tour, you'll be introduced to one of the unique ways to interact with the story of the Halcyon. You'll be shown how to interact with D3-O9, sort of the Amazon Alexa for your room. She'll give you advice on where to explore. This interaction is also an early hint that the ship itself is a character. Once you leave your cabin, take a look around at the design aesthetics that blend visuals from the Original Trilogy, Prequel Trilogy, and Sequel Trilogy. (For more on the design, check out our interview with Lucasfilm's Doug Chiang.) In addition to the water dispenser by the Bridge in the Atrium, you will find data ports that have a familiar tap point like MagicBand kiosks. Tap your special Halcyon-themed MagicBand and give yourself "permission to play" as executive producer and creative director Anne Morrow Johnson told us before we started our adventure during the media pre-launch voyage.
5. Don't miss out on the Lightsaber Training and Bridge Ops Training. Wear comfortable shoes and clothing, as both will get your pulse up. Both trainings also pay off later in the story. While it doesn't seem intuitive, try to get in different rows from others in your party so you can watch (and cheer!) your family and friends on in the Lightsaber Training. For Bridge Ops Training, on the other hand, keep your party all on the port or all on the starboard side of the bridge at the beginning so that you'll stay near each other while it continues.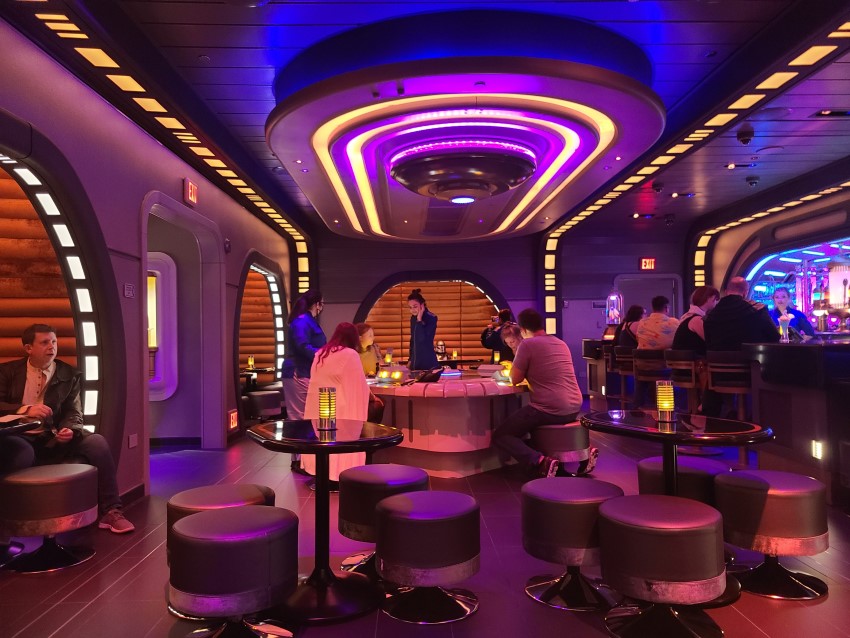 6. So much is happening in the Sublight Lounge, take every opportunity to chill out and grab a snack or drink. You can learn sabacc or observe Sandro and Ouanni. The First Order shows up from time to time. Snacks are included at no charge, and we highly recommend the Smoke Cheese and Freeze-Dried Green Beans! Also, you can purchase souvenir glasses, so be sure to ask your server about various options.
7. The Crown of Corellia Dining Room is where you will eat until you just can't eat anymore. Lunch is comfort food, and dinner has a chef's table vibe. While muster on the first afternoon kicks off the overarching story, dinner that night is where the murder mystery dinner theater parallels can be drawn. Twi'lek diva Gaya tells her story and that of her people. I encourage you to listen to the lyrics because there is a tale of sadness and hope beneath the catchy songs. Be prepared to get out of your seat after dinner because a lot of things are happening in the Atrium, the Sublight Lounge, and even in the corridors.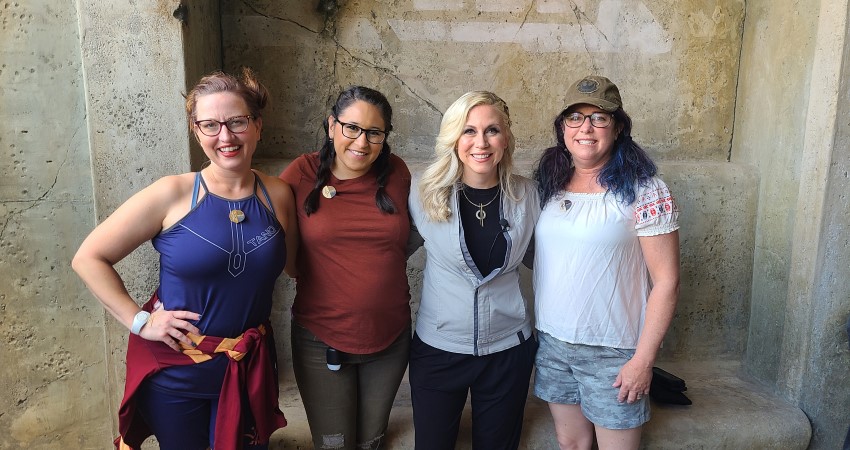 8. Batuu – should I stay or should I go? Here's a few pointers I'd like to make as a Walt Disney World Annual Passholder. First, if at all possible, explore Batuu and Hollywood Studios on a separate day from the cruise. Do all the things like Droid Depot building and Savi's Workshop lightsaber building on a non-cruise day. There are so many things to do as part of the choose your own adventure of the Halcyon that you'll want to focus your excursion time during the voyage on those experiences. Hack, scan, and nab some coaxium. When Galaxy's Edge was first announced, Disney Parks promised an interactive experience in the land, and the cruise delivers it. Go back and enjoy lunch on the cruise; it's worth it. Hang in the Sublight Lounge, participate in the Sabacc tournament, or attend the mixology class.
9. Enjoy the VIP experience that the cruise affords. You'll be able to walk right on the rides in Black Spire Outpost and find cruise staff eager to help. If you do need to make adjustments or haven't been able to do droid building or lightsaber building, Passenger Services are there to help. And if you do shop in Batuu, all you have to do is drop your bags at the shuttle transfer point and they will be delivered directly into your cabin.
10. I don't think this trip is for everyone. For people with babies, I wouldn't recommend this experience. For toddlers, especially ones that need naps, the day is long and parents are going to miss out of some of the experience. Many exciting and potentially frightening things happen, so consider what your child can handle with scary storytelling elements. Lightsaber Training is for age 7 and older. If you have trouble with crowds and being over-stimulated, this may not be for you either. At times you are in a sea of people, similar to large convention floors. If you're an introvert, find an extrovert friend to help you along in the adventure, but I have to say the story will draw you out of your shell.
For more on the Galactic Starcruiser experience, check out our coverage here and at Fangirls Going Rogue.
Related Links