Star Wars: Galactic Starcruiser – First Impressions
Reported by Tricia Barr and B.J. Priester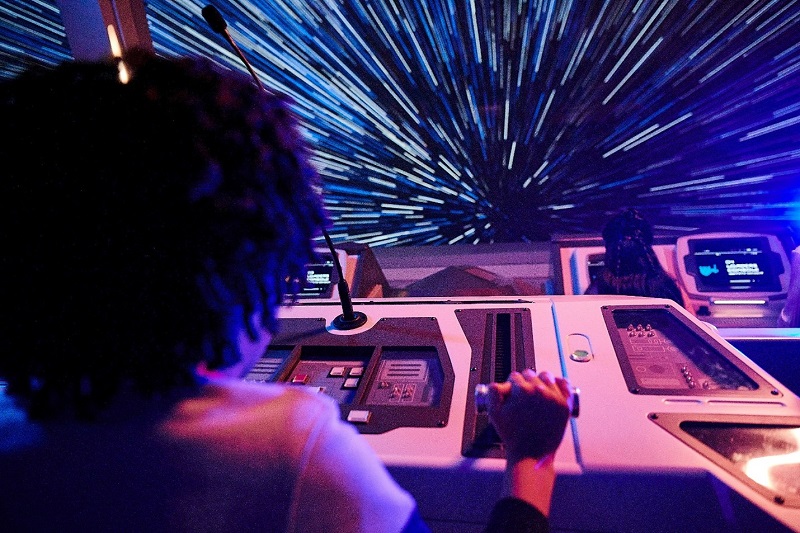 The long-awaited official maiden voyage of the Star Wars: Galactic Starcruiser experience at Walt Disney World launches on March 1, 2022. FANgirl Blog was honored to be invited to participate in the media preview voyage on February 21-23, as well as press interviews with key project leaders and designers from Walt Disney Imagineering and Lucasfilm. We'll share our reactions and analysis in the days and weeks ahead, but we begin with something that's always important: first impressions.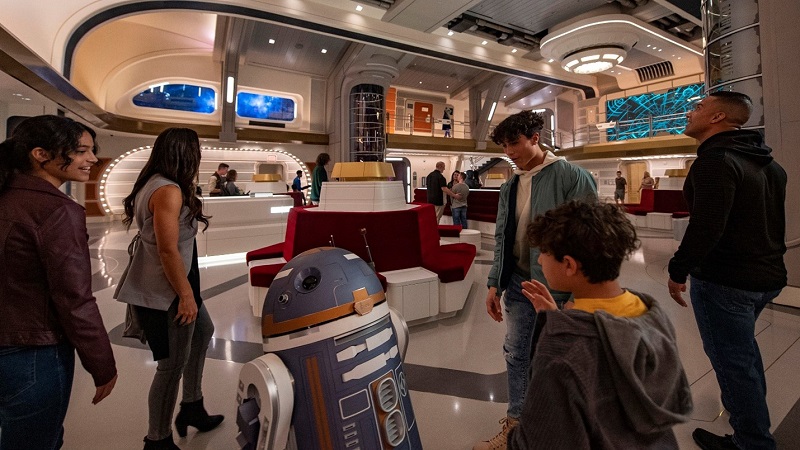 Luxury Cruise. The Galactic Starcruiser is most definitely an immersive Star Wars experience – but it also hits all the notes of a luxury cruise. Bellhops take your luggage to and from your room. The cruise staff is sharply dressed and attentive. The excursion off the ship is logistically smooth, and the cruise director's local connections give cruise passengers priority access that regular tourists on Batuu lack. The concierge can even arrange customized extras, like a hard-to-get spot at Savi's Workshop. The food and drink is excellent, ranging from the comfort food-inspired yet out-of-this-galaxy self-serve breakfast and lunch buffets and all-hours snacks, to luxury table-service dinners. Not only do the Crown of Corellia Dining Room and Sublight Lounge serve as places to nourish travelers, they also provide the setting for the rich storytelling to unfold in a way that pays homage to lavish productions found on cruise ships.
The Story. What makes the Galactic Starcruiser different from an Earth cruise, of course, is that it takes place in the Star Wars galaxy. When it's at its best, Star Wars isn't about place or time, or setting or lore, but about story. The Galactic Starcruiser delivers a whole lot of story in less than 48 hours. Officially, the story told aboard the ship takes place between The Last Jedi and The Rise of Skywalker on the in-universe timeline, but the vast majority of the adventure relies upon new characters, familiar archetypes, and classic themes to tell a Star Wars story that is both entirely new and fully resonant with what's come before. Loyalty and love, right and wrong, light and dark, lightsabers and the Force, scoundrels and military officers, droids and space battles – and making your own choices. By the climactic events at the end of the Galactic Starcruiser story, the passengers were completely invested in the characters and how their fates – and choices – would resolve. Of particular interest to our readers, the story reflects a commitment to diversity, inclusion, and representation in the best way possible. Throughout the journey, we experienced fellow cruisers who were brought to tears of joy for feeling seen within the experience and because of the positive messages imparted by the story.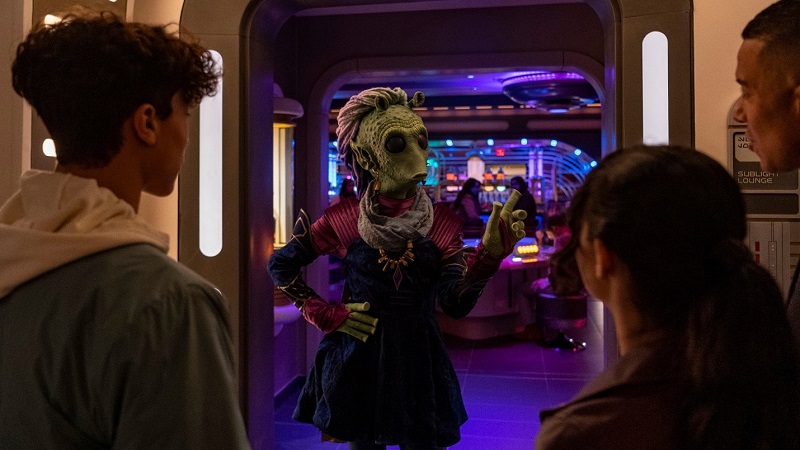 Cast Members. Disney Parks did an amazing job in filling the cast for the Galactic Starcruiser. The featured performers are outstanding. In particular, their skill at improvisational responses to the words and actions of the passengers were especially impressive, whether playing off the unpredictability of children or the boos and jeers directed at an arrogant First Order lieutenant. All the cruise staff were in character, with personal backstories to share and eagerness to guide passengers through their cruise experience and its adventure. On the Galactic Starcruiser, all of the Disney employees truly are playing their roles in a theatrical cast.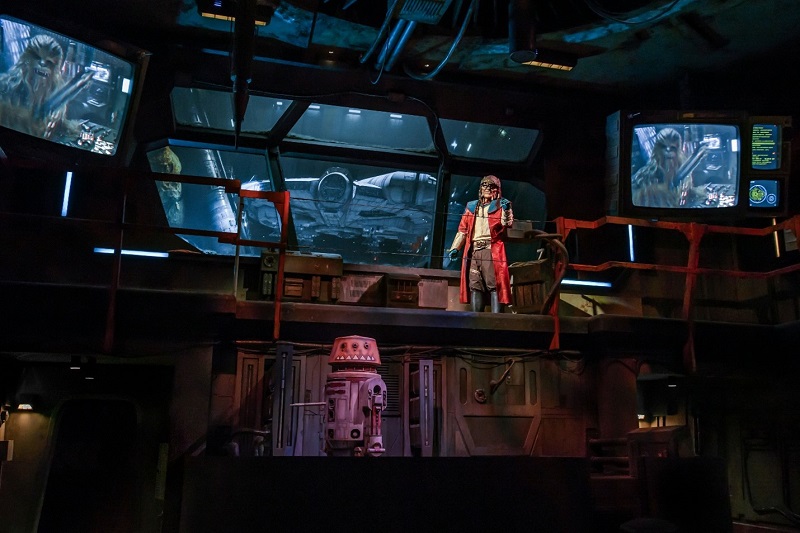 Batuu Excursion. We've visited Galaxy's Edge at Hollywood Studios many times before, so we were curious to see how the excursion during the Galactic Starcruiser experience compared – and it very much offered something new. Before disembarking the ship for the excursion, you receive a Halcyon logo pin to wear that signifies you as a passenger. Throughout Batuu, numerous cast members treated us differently because of it, from the greeter at Oga's Cantina and the staff at Droid Depot to the special access to bypass the line to ride Rise of the Resistance. In addition, the story told aboard the Halcyon is directly linked to the already established events in the story occurring on Batuu. When you're a Galactic Starcruiser passenger, the mission for Hondo Ohnaka on Millennium Falcon: Smuggler's Run and the presence of a First Order Star Destroyer in the system have new significance. Other aspects of the Galactic Starcruiser experience make connections both before and after the Batuu excursion that pay off aboard the ship. We don't want to spoil some of the bigger surprises in this review.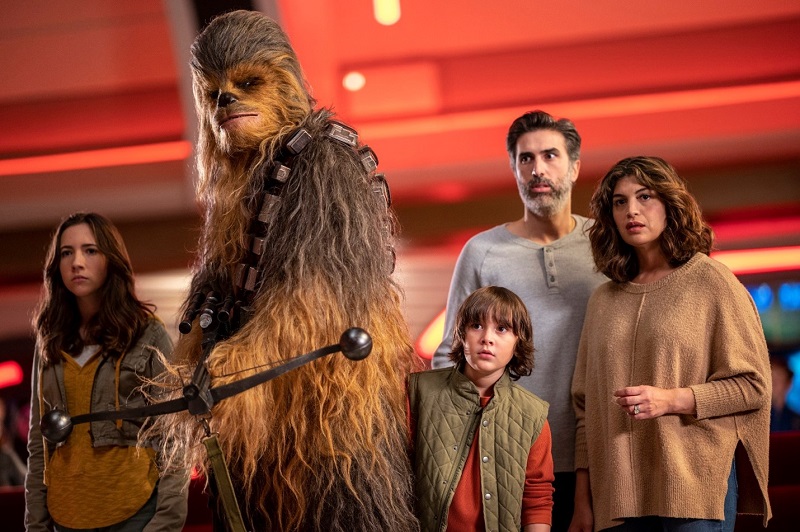 Is It Worth the Money? The Galactic Starcruiser undeniably carries a hefty price tag. But much of the experience is comparable to staying in a club level room at one of Disney World's luxury resorts, which include extras such as concierge services, parks perks, and complimentary snacks and treats. Likewise, the dining experiences are similar to the breakfast and lunch options at restaurants in the luxury resorts, while the dinners are on par with the most expensive high-end dining on property. For a party of two or three, that type of two-day stay would cost several thousand dollars. The Sublight Lounge and Atrium serve as one part character dining experience and another part theater in the round, and they operate for a fair share of the afternoon and well into the evening. You will train with a lightsaber and operate all stations on a starcruiser's bridge. While we were a bit concerned from early press on how those would play out, both experiences took ideas from Jedi Training Academy and Smuggler's Run and dialed them up to a higher level. The Galactic Starcruiser adds a highly immersive and deeply interactive experience with cast members who are as much performers in character as employees of a luxury vacation cruise – and who cannot be readily swapped out for another worker, as would be the case with most Disney World staff, like the steward of a theme park ride, the cashier in a store, or a Guest Services attendant. As the saying goes, you get what you pay for. The Galactic Starcruiser has a price point that reflects how much Disney Parks put into it, and how much passengers can get out of it.
***
Stay tuned for more coverage from FANgirl Blog, Fangirls Going Rogue podcast, and on our social media.
***
Adventure Awaits as Star Wars: Galactic Starcruiser Launches for a Galaxy Far, Far Away Starting March 1, 2022.
Immersive two-night vacation experience invites Walt Disney World Resort guests to live their own Star Wars stories in an entirely new way.
LAKE BUENA VISTA, Fla. (Feb. 21, 2022) – When "Star Wars: A New Hope" blasted into theaters 45 years ago, the film created a monumental cultural event, setting the imaginations of generations to come ablaze with tales of heroism, villainy, adventure, mysticism and romance. What is it like to travel to a galaxy far, far away? What is it like to fly on a starship? To make friends with an alien? To wield a lightsaber? To engage in a space battle? What is it really like to see, feel and live Star Wars?
The answers to these questions and many more will be answered March 1, 2022, when Star Wars: Galactic Starcruiser debuts at Walt Disney World Resort. This first-of-its-kind immersive adventure is a vacation experience going beyond anything Disney has created before. Guests become the heroes of their own Star Wars stories during a two-night adventure aboard the Halcyon starcruiser, a vessel known for its impeccable service and exotic destinations. Passengers relax in well-appointed cabins, enjoy exquisite dining and out-of-this-world entertainment, experience Star Wars: Galaxy's Edge at Disney's Hollywood Studios in new ways, and explore the ship in search of hidden secrets and new opportunities.
Throughout the voyage, guests' choices determine their personal stories as they interact with characters, crew and other passengers, becoming part of the action and the broader Star Wars saga. They may be asked to keep a secret, deliver a covert message, take part in a high-stakes heist, defend the ship, hide an ally … the possibilities are seemingly endless. Decisions guests make affect how these tales unfold, intertwining with those of other passengers and well-known characters such as Chewbacca and Rey as momentum builds on an action-packed adventure that may determine the fate of the galaxy.
For more on Star Wars: Galactic Starcruiser, visit www.starwarsgalacticstarcruiser.com.
FANgirl Blog attended the Galactic Starcruiser pre-launch voyage as guests of Walt Disney World in exchange for a fair and honest review.
***