Star Wars Celebration Chicago 2019: The Meaning of Community: My First Star Wars Celebration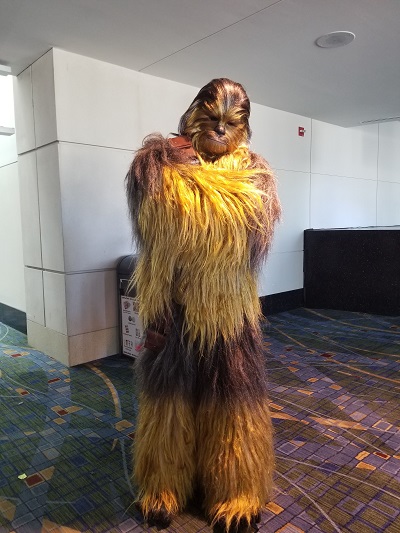 I'm trying to write about my first Star Wars Celebration, but all I can think about today is the loss of Peter Mayhew, and how sad I am to hear about his death.
It's impossible to think about Star Wars without Chewbacca, and in Chicago — he was everywhere.
He was on t-shirts and coffee mugs, on banners and all over the exhibit hall floor. I saw a gathering of Chewies leaning against a BB-8 themed van and a single solitary one surrounded by fans, eager for photographs.
While the men (and women in some cases) inside these costumes were not Peter Mayhew, they stood as an embodiment of his character. Someone who we immediately sensed to be a friend, partner, and fighter. We may not have ever really translated Chewie's words, but we understood his heart, because of the man who played him.
You only had to look around at the show floor to a reflection of his spirit again and again.
I came to Chicago to find my way back to the Force. To remind myself why I loved this franchise so much — and how it changed my world. I met up with strangers and long-time collaborators. Friends who I had known virtually, but never seen with my own eyes. I saw kindness and loyalty (the cheers for Kelly Marie Tran were incredible) and the bubbling excitement that the way we loved Star Wars before is not how we have to love it today.
In my fellow fans, I saw acceptance and so much joy, but also intelligence and an understanding of how this franchise can and should evolve. If Peter's life and his subsequent passing of the baton to Joonas Suotamo tells you anything let it tell you this: time does not stand still. Change is inevitable.
While I spent a lot of my time in Chicago wandering alone, it allowed me to take everything in at my own pace. Consequently, I ran into familiar faces in unexpected places: in front of a session room when trying to rest weary legs, at the Her Universe line (I wasn't in it but everyone else was!), standing under the magnificent banner in the main hall once the final panel was unveiled, on the shuttle bus to McCormick Place as we stood in the bitter cold surrounded by Jedi and Sith alike.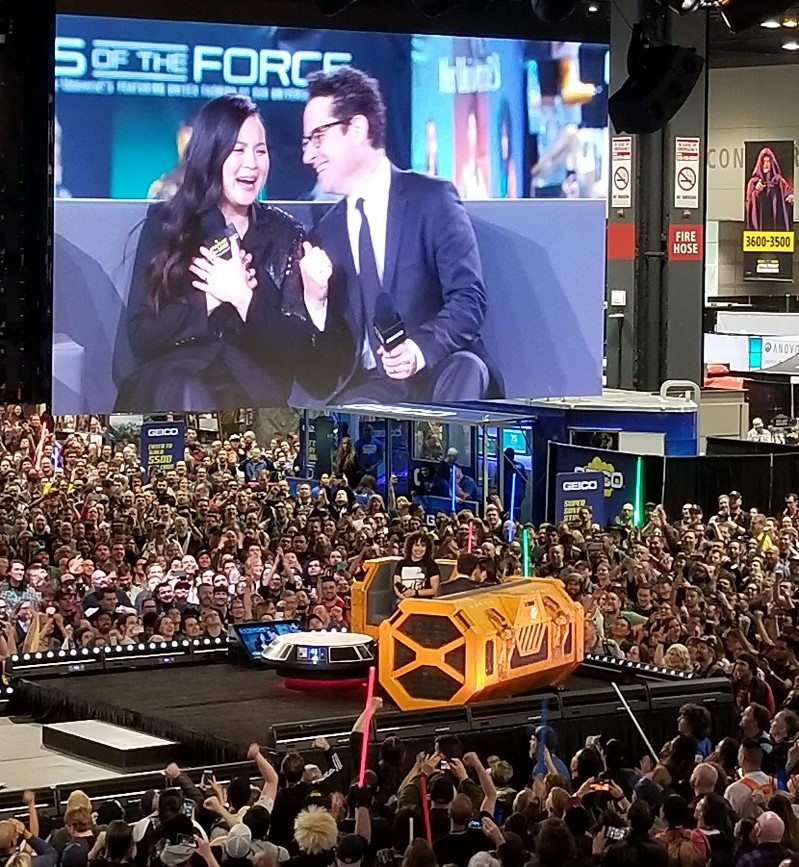 For all our differences we had this one thing in common. Like Chewbacca, even if we didn't speak the same language or come from the same place there was a sense of camaraderie and excitement. A common love.
An example:
One night after leaving the convention I got into a ride share with two other attendees. The guy who sat next to me was celebrating his 30th birthday and we soon lost ourselves in an excited hand wringing, almost giggling discussion over the Episode IX trailer. It was a back-flip, Emperor-cackle induced high.
After listening to us for a few minutes the driver turned around at a light and let out his own little excited laugh. "You're here for Star Wars?" He said, "Let's have lightsabers!"
He flicked a switch and flashing lights started splaying across the car, turning our vehicle into a moving night club complete with Karaoke. As we drove through the streets of Chicago to each of our varying destinations, we found ourselves belting out Billy Joel's Piano Man at the top of our lungs.
It was a completely unplanned and unexpected moment. A reminder that Star Wars is about connection.
While I don't know when I'll be back to Star Wars Celebration, I am so very glad I made it this year.
So thank you, Peter, for bringing us Chewbacca and for all that you represent. MTFBWYA.
Latest posts by Priya Chhaya
(see all)