Imagining a New World at FUTURES
For those of us who immerse ourselves in speculative fiction, it's not difficult to imagine a future filled with new technologies, visions of belonging, and ways to make the world a better place.
But what if it was within our grasp? In November 2021 the Smithsonian's Arts and Industries Building opened up a new exhibition—the first building wide, long-term, exhibition in twenty years—and the result is a literal palace of wonders. FUTURES asks visitors (through four distinct sections) to consider various visions of what is to come, encouraging each of us to become futurists in our own right .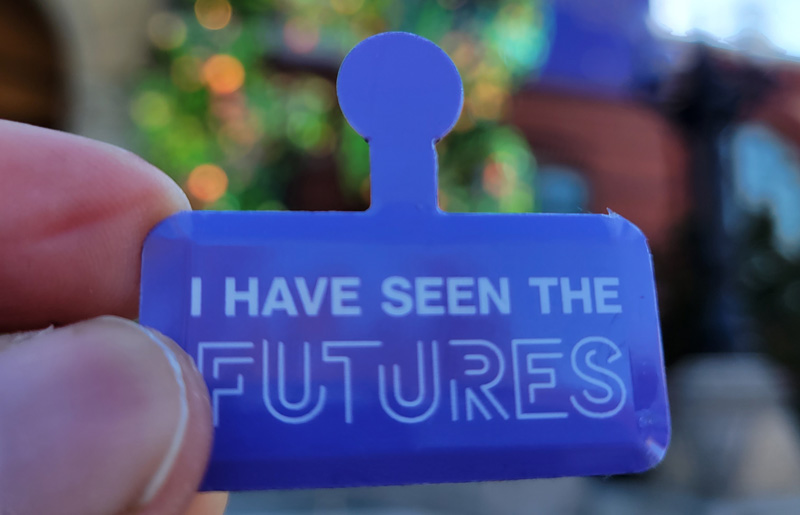 And like any good exhibition, especially one put on in honor of the 175th anniversary of the Smithsonian Institution, FUTURES does not neglect the past, but rather takes those previous ideas and uses them as grounding for what is possible.
These past histories—which sometimes came with consequences, or were based on prejudiced and racist inclinations—are placed in conversation with historical objects, new inventions, inspiring artwork, and ongoing real-time experiments. Collectively they are sure to spark the imagination of anyone who walks through the halls but also asks those attending—who has the power to decide?
In Futures Past the exhibit considers past protests against cities of the future. Where Urban Renewal, pitched as a way to usher forth the American dream, led to devastating communities of color when new developments and highways divided neighborhoods. One object in this space is a promotional pamphlet for Soul City, North Carolina, a community "entirely constructed and administered by African Americans on former plantation land." While the community was never fully realized, Floyd B. McKissick, who conceived the community, sought to create spaces of economic power for Black people.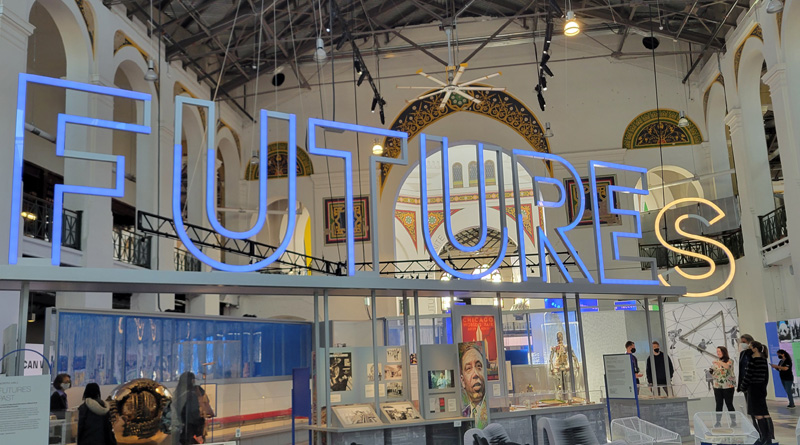 This is just one example in the first hall which recognizes that so often visions of the future leave specific communities out of the equation, leaving them behind in a so-called forward moving march to progress. It is within this grounding that we are asked to approach the rest of the exhibition. To consider what a future looks like when everyone has a say.
In Futures that Work we are invited to explore the ways in which seeds and plants are critical for our survival. Artist Beatriz Cortez' reimagined chultunes (ancient Mayan vaults in the Yucatan Peninsula that were built for the preservation of seeds and plants) as steel space capsules made for the "preservation of all life on earth." (Reminding me immediately of the seed vault on Star Trek Discovery).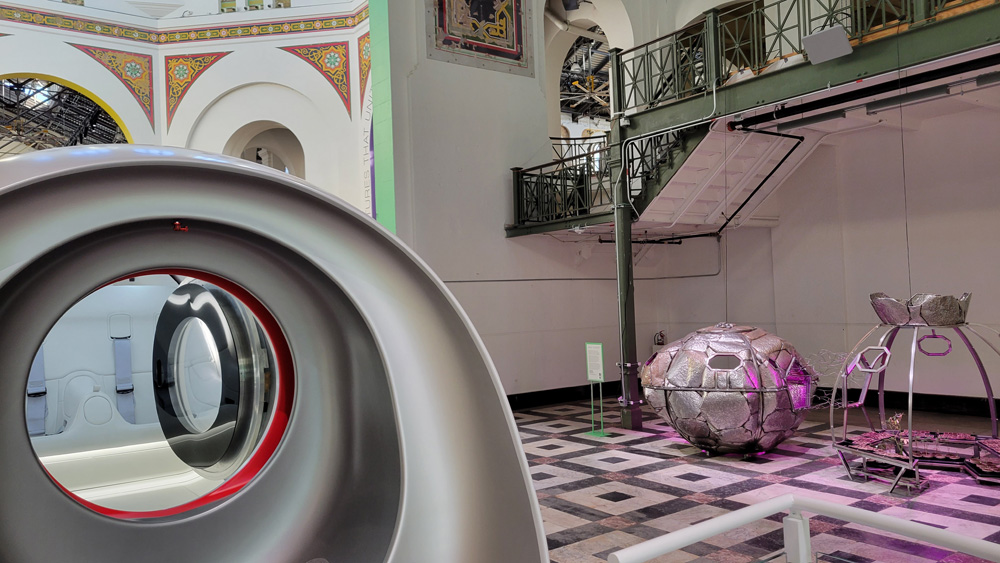 Or considering our current practices with an installation of a "Coin-Operated Wetland" where real laundry will be done until July 2022 and visitors can watch over time as a closed wastewater system is used to grow a garden of wetland plants. In both cases we are asked to dream of a world that considers access or environmental ramifications to things we take for granted.
Futures that Unite asks what "people power" might look like. Here we can design our own neighborhoods using AI, hear from a group of filmmakers about the futures they dream about, or about experiments like Project LOON—which ended in 2021— that used a network of balloons to provide accessible internet from high in the sky to places that are left behind. It asks us to imagine a genderless world with Q, a voice that is "synthesized by combining recordings of people wo identify variously as male, female, or nonbinary." We also get the opportunity to play Minecraft using only our eyes. In totality this is a space that encourages empathy as we build a future for all of us.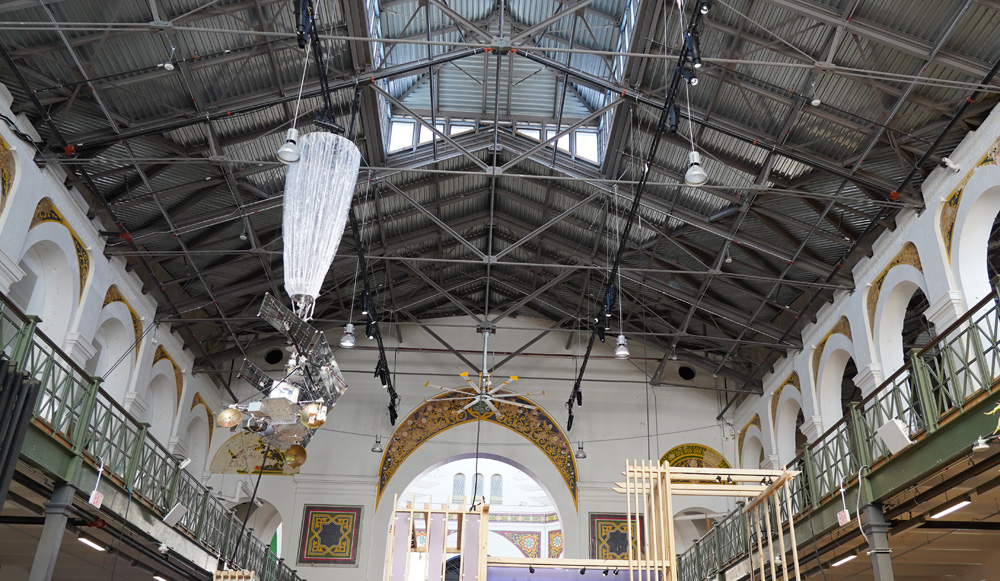 Finally, Futures that Inspire is about dreaming, and is closer to worlds we imagine between the pages of our novels and books.  A gorgeous installation by Tamiko Thiel and /p "re-wilds" the Arts and Industries Building through an 3D overlay. "Their vision is one of sustainable relationships between humankind, city, and nature: a "futurescape" of epic scale and unbridled vibrancy." I was drawn to much in this section, particularly the area describing how video games were used to build an indigenous storytelling community, providing an interactive digital space to protect their intangible heritage.
A more pertinent example for readers of FANgirl though is how it describes the role comic books play in building future worlds. To illustrate this, you can get up close with the costumes of Eternals, a movie that is all about change over time. The costumes look just as cool in person as they do on screen, and juxtaposed next to a conception of a city under water (the OCEANIX City Model) and with the massive Bell Nexus (the hybrid electric, self-driving taxi) overhead it is hard not to see these imagined futures as a possibility.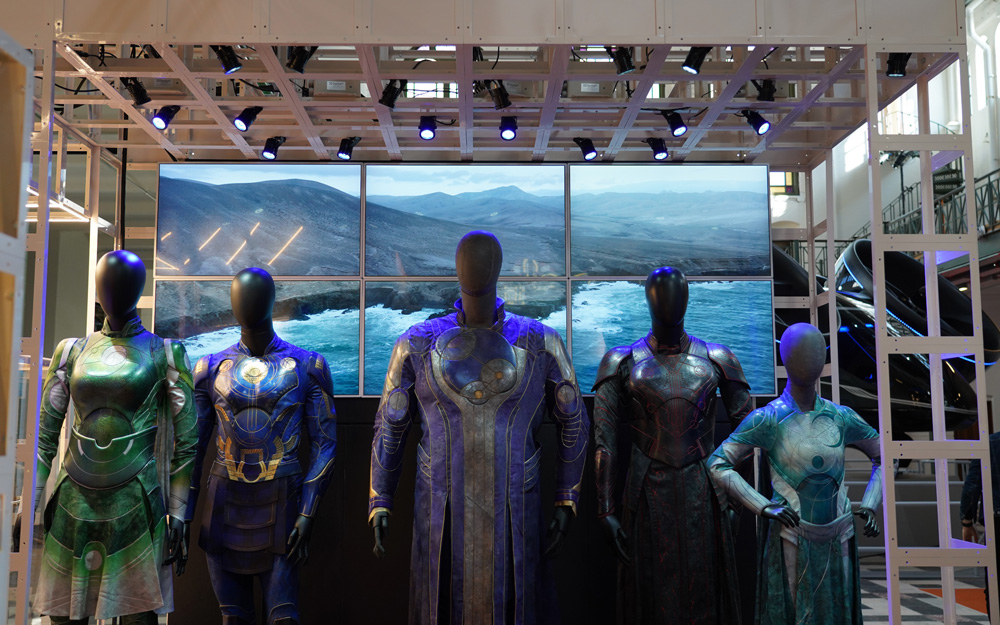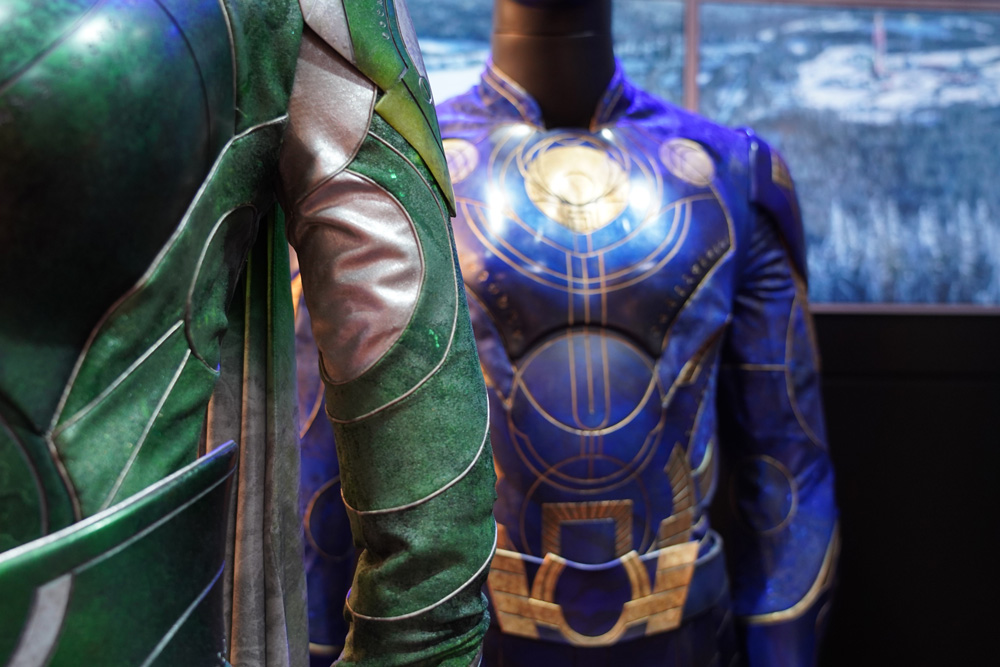 I will say that there is one critical difference in the presentation of the FUTURES against the backdrop of speculative fiction. Most of the time this genre is bleak and filled with dystopian tendencies, often in direct response to current and past events that have led to loss and inequities with no solution in sight. Sometimes, it feels like we have been set up to approach future thinking with a sense of dread.
In contrast, FUTURES is about acknowledging those inequities, but moving forward with purpose and optimism. To encourage us to see a future that is largely dependent on collaboration, community, with an focus on who is doing the imagining, and making sure it is as many of us as possible.
If there is one simple object that exemplifies this sends of problem solving, it is Octavia E. Butler's typewriter which is featured in the section called Futures that Unite. Butler, the incredible author of Afrofuturistic fiction is quoted as saying her stories are "cautionary tales." That, "the problems I write about are problems that we can do something about. That's why I write about them." As a writer myself, standing before the machine that translated her visionary thinking into things we can read I felt like anything was possible.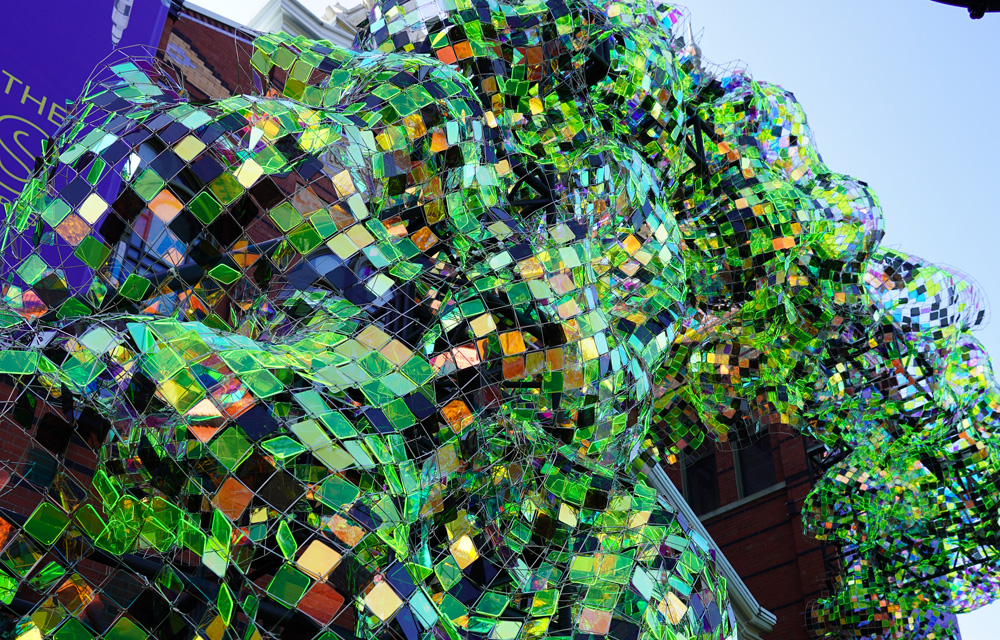 As you exit the exhibition and step out onto the National Mall visitors walk underneath one more installation of art: Expanded Present by Soo Sunny Park. The archway is built with dichroic glass (a material by NASA) that reflects against the light and shadow that surrounds it. In a lot of ways, it illustrates perfectly the broader message of this exhibition. That the future looks different to many people – individuals who come to the table with different life experiences, contexts, and visions of what we need. Pulled together, however, these individual pieces can create something beautiful, and worthy of humanity, and that it is up to us to decide what that future is.
For more on the history of the Arts and Industries Building and FUTURES read this article on SavingPlaces.org.
Marvel's Eternals is available now on Disney+.
---
Latest posts by Priya Chhaya
(see all)