Fandom Fashion Finds: June Picks
Check out my latest round of picks for the best geek fashion that's arrived on the scene this month:
Pixar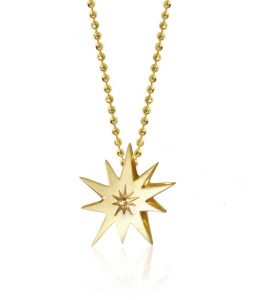 Alex Woo has designed charm necklaces themed to Incredibles 2. There are charms like this Mini Addition Hero Mask ($58) in black, silver, or gold and Little Icon Powerburst ($118-$548) in 14kt yellow gold or sterling silver.
Also for the Incredibles Box Lunch has a Violet Womens Tank Top ($28.90) that has a hidden Violet design.
Meanwhile Stance has Incredibles socks for the whole family ($14-$16) – some featuring the logo, some with minimalist character designs.
And the Torrid Incredibles activewear by Her Universe looks really fun ($34.90-$56.90).
Jurassic Park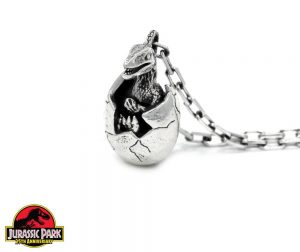 It's the 25th anniversary of the beloved movie and collections continue to pop up.
Han Cholo has two pieces in their jewelry collection. I've got my eye on the Dino Egg Pendant ($175) for tiny raptor reasons.
There's more jewelry to be had with the Dinosaur Skeleton Earrings ($10.90), an exclusive to BoxLunch.
The park vehicles that aren't so great at protecting you from dinosaurs are featured in this Jurassic Park woven button-up ($44.90) also exclusive at Box Lunch.
And UK brand HYPE released their collection this month which features a Jurassic Hawaiian Men's T-shirt (£24.99) and the Blue Jurassic Men's Jacket (£79.99).
DC
Two new Wonder Woman finds this month _ DC Comics Wonder Woman Goddess Snap Wallet ($39.90) and DC Comics Wonder Woman Goddess Kisslock Handbag ($59.90) – are both exclusive to Box Lunch.
You'll find a Wonder Woman Fashion Backpack ($39.99) at Entertainment Earth as well as this Lapel Pin Set ($11.99).
Marvel
The Vans x Marvel collection is here with shirts, shoes, hats, socks, backpacks, and more. Learn more about the collection here. Some of my favorite designs include: Captain Marvel Vans X Marvel SK8-HI sneakers ($75), Vans X Marvel Captain Marvel Crew Sock ($15), Black Panther Vans x Marvel SK8-Hi sneakers ($75), and Vans x Marvel Authentic low-top sneakers ($65).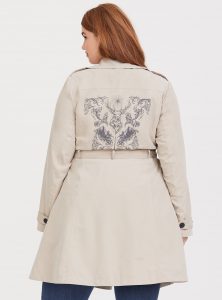 Harry Potter
This Slytherin Sigil Skinny Tie ($28.90) from Box Lunch sports softer colors for summer. (Try saying that 5 times fast.)
Torrid's latest Harry Potter collection features this sophisticated Tan Patronus Trench Coat ($108.90), Embroidered Mesh Romper ($64.90) with symbols of the houses, and a Marauder's Map Scuba Skirt ($48.90) with pockets.
Don't miss some cool black and gold Marauder's Map themed activewear ($34.90 – $56.90) from the collection too.
Take a look at Box Lunch's new enamel pin for Wingardium Leviosa ($8.90) – or is it LevioSA?
Disney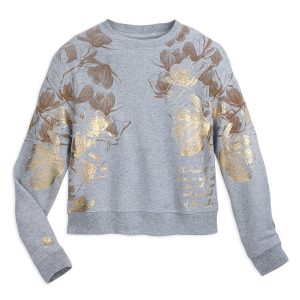 For the 20th anniversary of the film Mulan Shop Disney has some stylish new pieces including: the Mulan dragon necklace ($29.95), a gray and gold floral top for women ($39.95) featuring the movie's quote about a flower blooming, a faux leather lotus flower fashion bag ($29.95), the Mulan 20th Anniversary Limited Edition Pin Set ($39.95), and this wallet with a detachable wrist strap featuring Cri-Kee ($19.95).   
There's some new performance wear for women highlighting a few characters. The bright green of the I Am Tinker Bell runDisney Performance Leggings for Women ($65) and I Am Tinker Bell runDisney Performance Tank Top for Women ($45) is fun. I've never tried out the Shop Disney / runDisney performance wear so if you have, let us know what you think of them in the comments.
Torrid's Lilo & Stitch collection has some great options such as the Lilo & Stitch Short Short ($44.90) and the Starry Jersey Skater Dress ($64.90).
Other picks this month:
Disney Chip N Dale Tonal Allover Print Womens Ringer Tee – Exclusive at Box Lunch ($28.90)
Cinderella TOMS shoes – for women ($64.95) & kids ($54.95)
Chip and Dale Loungefly Backpack ($69.90)
Hercules and Pegasus Enamel Pin Set ($12.90)
Star Wars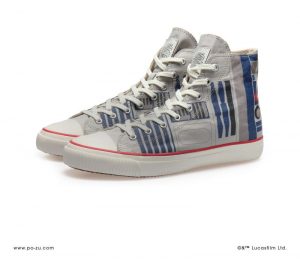 Apparel for the galaxy far, far away has slowed down a bit this month overall but there are a bunch of new shoes for your consideration. Ugg has a special edition Millennium Falcon/hyperspace boot ($130 -$180) available in toddler, kids, and men's sizing. Not entirely subtle but there's some cuteness.
Meanwhile Inkkas has a selection of slip-ons, lace-ups, and boots in their new Star Wars set. Check out the R2-D2 Flex Force ($79) and the Saga Flex Force X ($79).
Last but not least, Po-Zu is back with more Star Wars fun. These cute R2-D2 High-Tops* (£69.00) are unisex, use fair trade rubber, and are now available for pre-order with delivery expected at the end of August.
Plus ICYMI, there's some Kylo Ren helmet-inspired sneakers too. Learn more about them in my article.  
Looking for a bag for your summer travels? Yoox has Coredello's tiny icon Star Wars weekender bag ($102).
*(affiliate link: support these posts at no additional cost to you)
Further Adventures in Fandom
The Sailor Moon Luna Mini Backpack ($59.90) at Box Lunch is cute and minimal at the same time.
OPI has a collection of nail polishes ($10.50-$12.50) for Grease's 40th anniversary. Some colors are salon-only.
A Sesame Street-focused set of shirts is part of Box Lunch's D for Diversity collection.
Prophecy Girl has gotten in their Bugging Me pin badge (£8) that can tessellate together.
In Geek Fashion News:
Nike and Playstation teamed up with the release of the Air Force 1 Playstation '18 QS sneakers at E3.
Bioworld is launching Animepls.com in July to coincide with Anime Expo as an online hub for Anime merchandise.
Disney Style has some ideas for everyday cosplay / Disneybounding looks for The Incredibles.
Looking for more? Check out my May and April picks.
Support my geek fashion reporting at no additional cost to you by visiting these retailers through the banners in this post.