Fandom Fashion Finds: April Picks
Marvel
Last month Besamé debuted their Peggy Carter Field Agent Lip Kit and this month they've followed it up with the cleverly packaged Passport Eyeshadow Palette ($36) and Invisible Dusting Powder ($35). The Agent Carter collection is also coming soon to Box Lunch and ModCloth.
Besamé also introduced Avengers' Infinity War products for pre-order. The Infinity Stones Eye Shadows ($37.50) are influenced by the 80s while the Infinity Stones Rollerball Lip Glosses ($34.80) have a lava lamp look inspired by the 70s.  
Her Universe came out with an athleisure line for focused around the Infinity Stones with a much different aesthetic than any of their previous athletic or athleisure wear. It's nice to see them change things up. Find the collection ($22.90-$49.90) at Hot Topic or Her Universe. I had my eye on the Space Stone Tank ($22.90) but couldn't find a size that fit right. Hopefully you have better luck. Torrid's Infinity War collection from Her Universe includes the Avengers Galaxy Sports Bra ($42.90) and leggings ($56.90).
ThinkGeek came out with a mini Infinity War-themed collection for men. This Groot Split T-Shirt ($19.99) (affiliate link: support these posts at no additional cost to you) brings something a bit more to a typical movie t-shirt.
Star Wars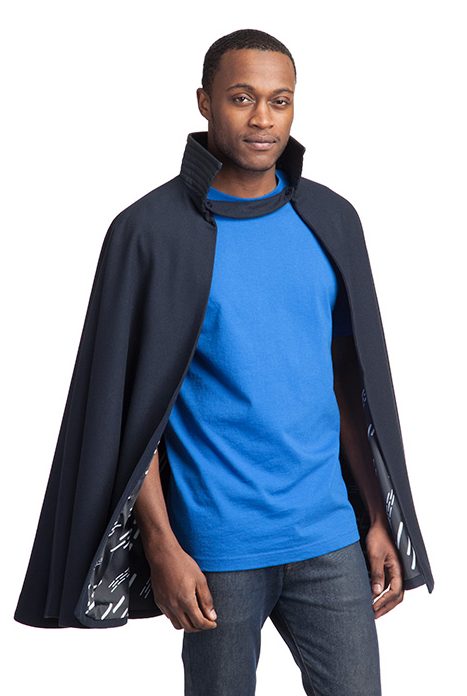 SOLO
The Solo: A Star Wars Story apparel merchandising train has left the station and since the movie is still nearly a month away there may be even more. Here's my picks from what we're starting with:
After The Last Jedi, there's more interest in Han Solo's dice than ever. Luckily, Solo is not skimping on incorporating it.
Solo: A Star Wars Story Dice Bracelet ($18.90) at Box Lunch
Solo: A Star Wars Story Dice Earrings ($12.90) also at Box Lunch
Millennium Falcon & Dice Layered Necklace ($12.90) at Hot Topic
Versions of the new Han Solo jacket can be found at Hot Topic in men's sizing from Our Universe ($59.99) and ThinkGeek – Han Solo Faux Suede Replica Jacket * ($99.99) brings something a bit more to a typical movie t-shirt.. At least one more company will have one but it won't be out until later this year.
Lando's cape also comes in two versions: The ThinkGeek Lando Calrissian Replica Cape * ($69.99) and the Hot Topic / Our Universe one ($59.90).
(*affiliate link: purchasing through this link may earn me a commission at no additional cost to you)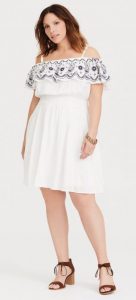 Also check out:
Po-Zu's Han Solo sneaker * ($96.56) currently on pre-order for late May delivery and they're new unisex low-rise Millenium Falcon sneaker * ($82.12) available now. (*affiliate links: support my fashion reporting at no additional cost to you)
Torrid's Her Universe Embroidered Mini Dress ($64.90) & Black Faux Leather Mini Skirt ($58.90)
Merchoid's Cap-tain Of The Ship Cap ($34.99)
Solo Millennium Falcon Cotton Hat ($19.99) at Entertainment Earth on pre-order for May
EMP's All New Millenium Falcon Shirt (£16.99), Chewie is My Co-Pilot tank (£14.99), & Imperial Patrol Dual Layer Shirt (£32.99). Urban Outfitter's Lando t-shirt ($29).
REST OF STAR WARS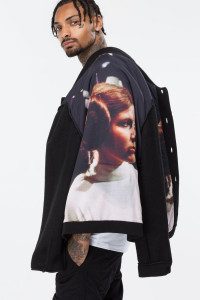 Musterbrand's Kylo longline cardigan is now available in red as a Praetorian Guard tribute ($129.99). Meanwhile their new Jedi Cardigan ($129.99) is on my wishlist.
UK clothing brand HYPE has a Star Wars collaboration featuring hats, jackets, shirts, joggers, and pins. This men's Leia Jersey Western Jacket (£59.99) features a huge image of Princess Leia inside – a pretty cool way to carry her with you. Also check out this Lightsaber Men's Crewneck (£44.99) and Far Away Dad Hat (£24.99).
Choose your side with Merchoid's Empire's New Clothes Praetorian Guard Hoodie ($56.99) or the 'Way Out Of Order' Finn Hoodie ($50.99). ThinkGeek has the First Order covered with this Tie Fighter Window Ring ($39.99).
Kipling's unisex Star Wars capsule collection has some fun bags. The Paola Small Backpack ($149) features some subtle Jedi imagery. And the Elin Pouch ($45) highlighting R2-D2 may make it easier to find something in your backpack.
Figrin Dan Slouch Hat ($19.99) found at Entertainment Earth can be pre-ordered for May.
And the magical reversible Sequin Star Wars Tote Bag ($39.99) from the Disney Parks that you may have seen on Instagram is now also on Shop Disney.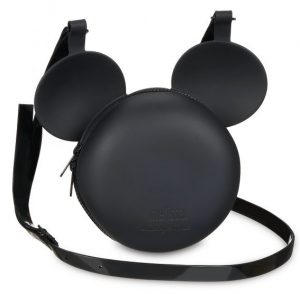 Disney
The sculpted Mickey Mouse Crossbody Bag by Melissa – Black ($114.95) supposedly smells like bubble gum.
There's a few pieces over at Shop Disney from Sugarbird as well including the Minnie Mouse Star Dress ($144.95) and the Mickey Mouse Hands Dress ($124.95).
Torrid has these cute Mickey Mouse shorts ($48.90) as well as this Her Universe Retro Lilo & Stitch Ponte Skirt ($48.90).  
Meanwhile Hot Topic has several new animated Disney movie dresses such as this Bambi Floral Dress ($49.90) and the follow-up to last year's cool Hercules dress – the Hades Maxi Dress ($49.90).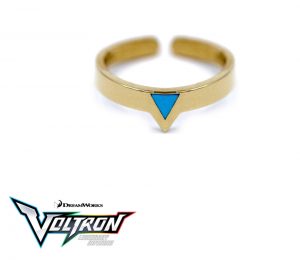 Further Adventures in Fandom
There's a cool company called Super Heroic empowering kids through shoes ($79) and play. Read more about them in SYFY's article.
Han Cholo launched a few new Voltron pieces: Blue Lion Ring ($275), the Paladin Symbol pendant ($180), and my favorite the Princess Allura ring ($150).
And ThinkGeek is letting you get your outer space love on with apparel and accessories that include the Twinkling Milky Way Skirt * ($59.99), Constellation Board Shorts * ($39.99), Constellation Glow-In-The-Dark Pajama Shirt and Short Set * ($39.99), and exclusive Constellations Messenger Bag * ($49.99). (*These affiliate links are a way for you to support the writer of this article at no additional cost.)
In Geek Fashion News:
The Toms x Disney 30-piece capsule collection features prints from the Walt Disney Archives and will arrive in groups starting this summer.
Unique Vintage brought back their Galactic Glam Collection in advance of May the 4th.
Getty Images fashion division featured photos from Disneyland's recent Dapper Day.
StarWars.com has a list of all the companies offering special May the 4th deals.
Hero Within shared a sneak peek of their first Marvel-licensed piece.
Looking for more? Check out my March and February picks.
Support my geek fashion reporting at no additional cost to you by visiting these retailers through these banners.