The Force Awakens Trailer, Girl Power, And Sharing Star Wars On Fangirls Going Rogue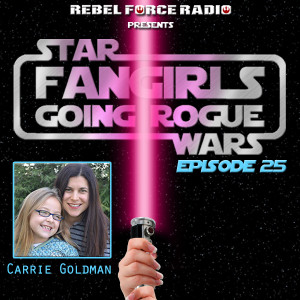 After The Force Awakens trailer was unleashed, is Teresa Delgado any closer to the answer to the question #WhatsaSnoke? She discusses that and more with her fellow fangirls Tricia Barr and Sarah Woloski as they share their favorite moments from the new Star Wars footage. Girl Power is everywhere in the latest marketing push for the movie. Sarah, Teresa, and Tricia break down the latest from Gwendoline Christie's admission of being a fangirl, Carrie Fisher's interview of Daisy Ridley, and the amazing Duracell commercial. Then they discuss the rumors of the Slave Leia costume's retirement. Fangirls Going Rogue listeners share their excitement over Star Wars Rebels Season 2 and Sarah Michelle Gellar's Seventh Sister. Wear Star Wars Share Star Wars Day is December 4 this year. Author Carrie Goldman stops by to explain all the ways fans can participate and gives us an update on her daughter Katie, who Star Wars fans rallied behind six years ago when she was bullied for being a fangirl. This month's character discussion ponders Rey's answer to the question "Who are you?" What about the line "I'm no one" makes her relatable to everyone?
Fangirls Going Rogue is available on iTunes. Note our new email: contact@fangirlsgoingrogue.com! Check back for info on our first LIVE episode on December 28th.
Fangirls Going Rogue: @FGGoingRogue
Tricia: @fangirlcantina
Teresa: @icecoldpenguin
Carrie Goldman: @CarrieMGoldman
Sarah: @JediTink
Sandra: @geekchic9
Facebook: Fangirls Going Rogue
Instagram: @FGGoingRogue
Tumblr: fangirlsgoingrogue.tumblr.com
Instagram: @FGGoingRogue
Voicemail: 331-21 Ewoks or 331-213-9657

Tricia Barr took her understanding of brand management and marketing, mixed it with a love of genre storytelling, and added a dash of social media flare to create FANgirl Blog, where she discusses Star Wars, fandom, and the intersection of women within Star Wars fandom. She is co-author of Ultimate Star Wars and Star Wars Visual Encyclopedia from DK Publishing, a featured writer for Star Wars Insider magazine with numerous articles on the Hero's Journey. Her FANgirl opinions can be heard on the podcasts Hyperspace Theories and Fangirls Going Rogue.

Tricia Barr's novel, Wynde, won the 2014 Independent Publisher Book Award Gold Medal for Best Science Fiction/Fantasy/Horror Ebook. She was also part of Silence in the Library's successful all-female creator science fiction and fantasy anthology Athena's Daughters, which is available now. For excerpts and tales of her adventures in creating a fictional universe, hop over to TriciaBarr.com.