Jennifer Lawrence And Nina Jacobson: Heroes Of Their Own Hollywood Stories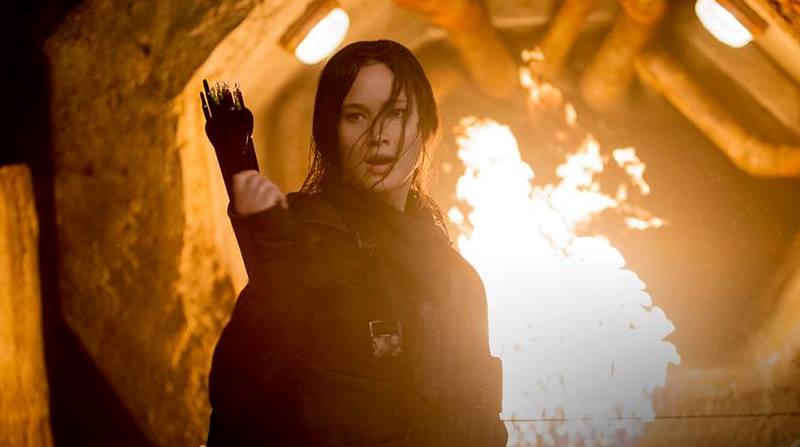 For those overwhelmed by the plethora of television spots unleashed last week for The Force Awakens, this is likely only the beginning if the Mockingjay Part 2 run-up is any indication. Yesterday a new 30-second spot, "Spectacle," hit television, followed by four new 15- to 30-second ads counting down to the movie release at the end of this week. Like each iteration of The Force Awakens spots, "Spectacle" reveals more footage of the Hunger Games' conclusion. The spots have hinted at the ending, but in no way spoil it. To date, Mockingjay Part 2 has three official trailers, three official clips, and nine official television spots with four days to release date.
The New York Times offered a fascinating article fleshing out the seemingly impossible hurdles of bringing the books to the movie screen.
"Having been a corporate soldier for most of my career, I was very aware of how scared big companies can get down the line," Ms. Jacobson said. "At Lionsgate, everyone was in the room from the beginning and knew exactly what they were in for."

One of those things was Ms. Collins's uncompromising vision of a heroine who is not friendly, funny, kooky or defined by a man. "A brilliant, possibly historic creation — stripped of sentimentality and psychosexual ornamentation, armed with Diana's bow and a ferocious will — Katniss is a new female warrior," Manohla Dargis wrote in The New York Times review of the first film.

Still, Ms. Jacobson insisted that there had never been any demands to direct the role differently. Mr. Lawrence agreed. "The conventional arc for this kind of movie would have been that she was petrified to go into the Games, and learns courage and triumphs," he said. "Instead she volunteers, is courageous from the beginning and is changed in other ways — and not always for the better. In the last movie, it is her fault that some of the loss of life happens."
While the New York Times piece discusses the controversy around the casting of Jennifer Lawrence, USA Today's piece on the actress "The Hunger Games Legacy: It's Jennifer Lawrence's world now" celebrates her resiliency as an actress, who has avoided being typecast, challenged the media's scrutiny and tackled Hollywood's gendered pay gap.
"The Hunger Games will be remembered as the franchise that launched the biggest movie star of this decade. There is none bigger, male or female, than Jennifer Lawrence," says Dave Karger, chief correspondent for movie ticket site Fandango.com. "There's something magical about the character of Katniss Everdeen and Jennifer Lawrence. These things together are so powerful."
For fans of the series, Fandango has a 13-minute behind-the-scenes featurette with interviews with the movie's cast and crew that I highly recommend.
Buy your tickets for Mockingjay Part 2 using the Fandango links below and you'll be supporting the maintenance costs of this site.
Buy tickets now and you could win a trip to London to see 'The Hunger Games' live in StageAround™. Ends 11/23 10AM PST. Terms apply.

Tricia Barr took her understanding of brand management and marketing, mixed it with a love of genre storytelling, and added a dash of social media flare to create FANgirl Blog, where she discusses Star Wars, fandom, and the intersection of women within Star Wars fandom. She is co-author of Ultimate Star Wars and Star Wars Visual Encyclopedia from DK Publishing, a featured writer for Star Wars Insider magazine with numerous articles on the Hero's Journey. Her FANgirl opinions can be heard on the podcasts Hyperspace Theories and Fangirls Going Rogue.

Tricia Barr's novel, Wynde, won the 2014 Independent Publisher Book Award Gold Medal for Best Science Fiction/Fantasy/Horror Ebook. She was also part of Silence in the Library's successful all-female creator science fiction and fantasy anthology Athena's Daughters, which is available now. For excerpts and tales of her adventures in creating a fictional universe, hop over to TriciaBarr.com.