Fandom Fashion Friday: Fitness Edition
The clothes you wear when you work out are another opportunity to show your fandom. A few companies out there have realized this. Whether it incorporates an image of a character/vehicle/robot or a play on words, you have options. Here are 5 places to help you get your Fandom Fitness Fashion on.
Activate Apparel
I've been favoriting tops from Activate since they were an Etsy shop. They're some of my go-to shirts when I want some extra motivation or a laugh. What's nice about these designs for both men and women is each usually has various style options – including 2 t-shirt cuts, 2 tank cuts, and 2 sweatshirt cuts.
As of the time of this post Activate Apparel is offering 25% everything site-wide. No code required.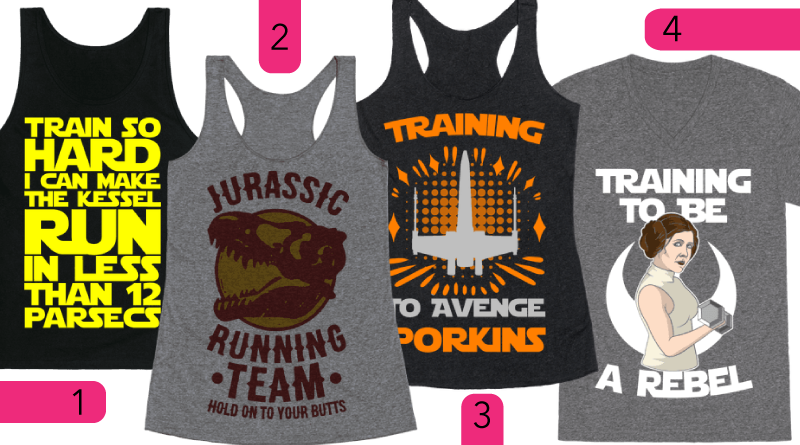 1: I TRAIN SO HARD I CAN MAKE THE KESSEL RUN IN LESS THAN 12 PARSECS  2: JURASSIC RUNNING TEAM  3: TRAINING TO AVENGE PORKINS  4: TRAINING TO BE A REBEL   Honorable Mention (not pictured): RUN LIKE YOU'RE THE MAIN CHARACTER IN A DYSTOPIAN TEEN NOVEL
Her Universe
Ashley Eckstein and company are just getting started on offering clothes meant for working out. Yoda-themed Yoga-wear is a clear-cut fit and part of the recent collection that premiered on the Home Shopping Network. Her Universe also has hoodie choices for wearing before and after your preferred fitness activity.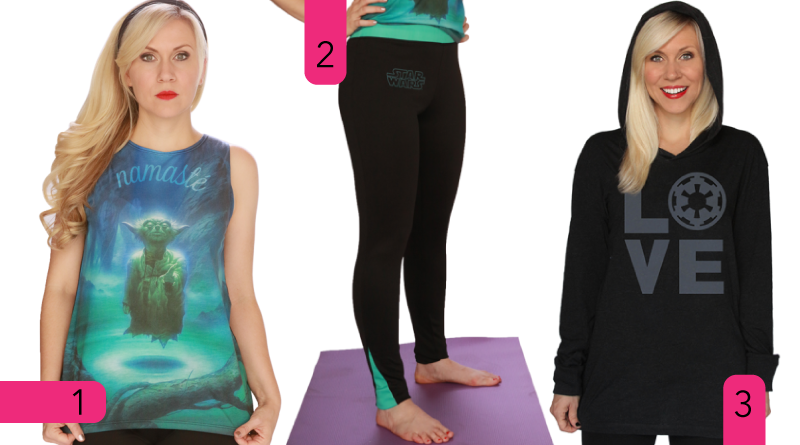 1: YODA NAMASTE MUSCLE TANK  2: TURQUIOSE STAR WARS LEGGINGS  3: IMPERIAL LOVE HOODIE
Stride Fitness Apparel
Stride is a recent find for me and I haven't had a chance to test any of their pieces out yet, but their website has a section called The Nerd Locker where you can find their geekiest designs. These offerings are focused on tees, tanks, and racerbacks with unisex and women's cuts.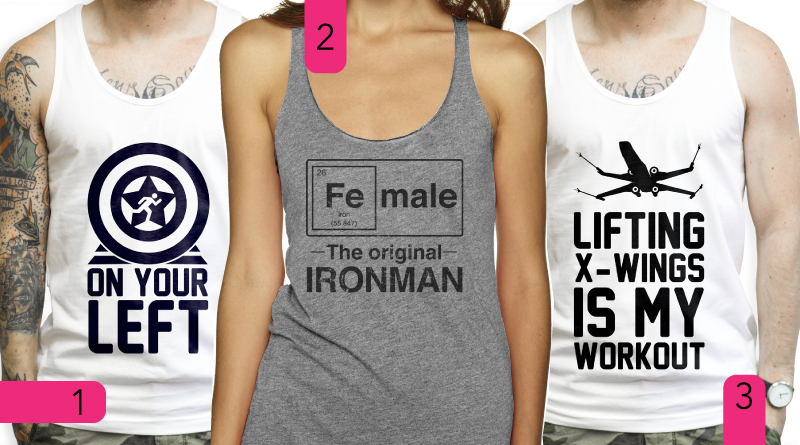 1: ON YOUR LEFT UNISEX TANK TOP  2: FEMALE – THE ORIGINAL IRON MAN ATHLETIC RACERBACK  3: LIFTIN X-WINGS UNISEX TANK
ThinkGeek
ThinkGeek probably has the most options for geeky workout bottoms. There's currently about 30 pant and pant-like choices on their website. What's more there's some variety in the style with capris, boot-cut, skinny, and leggings looks.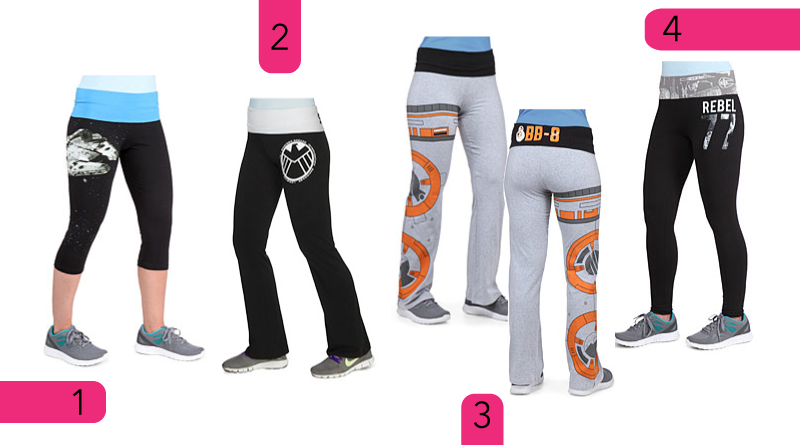 1: MILLENNIUM FALCON CAPRI YOGA PANTS  2: S.H.I.E.L.D. YOGA PANTS  3: BB-8 YOGA PANTS  4: REBEL 77 SKINNY YOGA PANTS
Under Armour
There was a time where Under Armour shirts were designed for characters in the Avengers movies and then were available for fans to purchase. The UA Alter Ego collection currently has designs inspired by both Marvel and DC characters. Shirts, compression pants, hats, gloves, socks, underwear, and even cleats are part of the 102 pieces available. As of this post 1 of those pieces are for adult women. 4 are for girls. The rest are categorized for men and boys. (Earlier this year there were a few more Alter Ego clothing items for women, but nowhere near as many for men.)
Additionally Under Armour recently introduced a Star Wars Imperial-themed collection. Unfortunately out of those 26 items exactly 0 are intended for women or girls. They're coming soon – right, Under Armour? Not sure if women can fit into the Men's Star Wars UA Dark Side Club T-Shirt for now.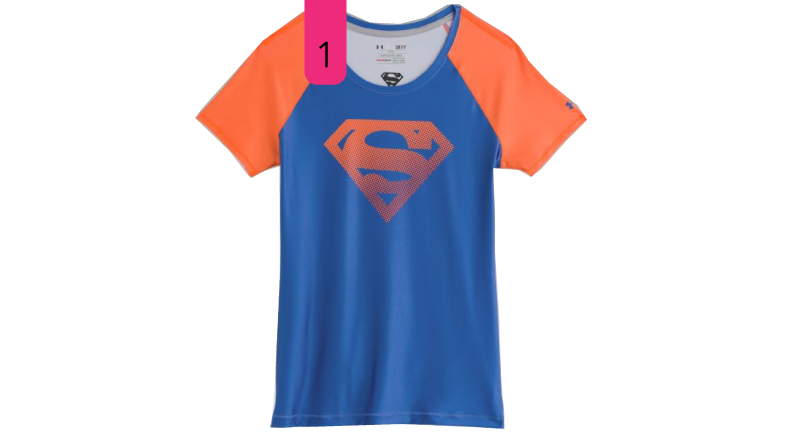 1: Women's Under Armour® HeatGear® Sonic Supergirl T-Shirt
A quick search shows I wasn't the only one disappointed. Mashable has an article on it – including this statement in response from the brand:
"Through our Alter Ego program, we continue to introduce key collections around iconic movies, music artists and superheroes. As part of our Star Wars collection, we will continue to introduce new styles across men's, women's and kids in the coming weeks."
I look forward to seeing what the collection includes and covering it for FANgirl.
How about you? Where do you like to get your geeky workout wear?