Activewear and More: A Look at the Latest from Her Universe
Her Universe has unloaded a whole bunch of new fandom fashion pieces in the last couple of weeks and there's still more to come this April with a collection inspired by The Force Awakens arriving at Hot Topic!
Everyday Wear
In late March two new zip-up jackets arrived at ThinkGeek before appearing for purchase at both C2E2 and WonderCon. These jackets ($59.99 each) represent Captain Marvel and Spider-Woman. They're brightly colored and nice quality, really taking on the appearance of these two ladies' superhero costumes. Also at C2E2 through the Reed Pop store there was a Her Universe BB-8 t-shirt, which was white print of an image of BB-8 with a white outlined Star Wars logo on a black shirt. It has not appeared online yet for purchase.  
The rest of the items in this release recently became available on the Her Universe website.
Adding to the Marvel options: AGENT CARTER DECO GOLD TEE ($20) | DEADPOOL PULLOVER ($45) and LEGGINGS ($30) | SPIDER-GWEN MUSCLE TANK ($30)
Star Trek: REMEMBERING SPOCK TEE ($20)
Doctor Who: PETER PAN COLLAR TEE ($35) | TARDIS/DALEK/CYBERMAN TOILE SKIRT ($35)
Star Wars: SHIP SKIRT ($75) | GRAFFITI COMIC SCUBA DRESS W/ POCKETS ($60)
OIL SLICK RETRO LOGO PLUS TEE ($25) / OIL SLICK RETRO LOGO TEE ($20)
HAN SOLO BLOOD STRIPE CARDIGAN ($50) | REBEL LOVE MUSCLE TANK ($25)
NEON HAN SOLO TEE ($25) / NEON HAN SOLO TEE ($20)
But wait! There's more!
Activewear
Her Universe has also teamed up with Marvel and Kohl's to bring a new ladies' activewear line inspired by Captain America: Civil War. These tanks, sports bras, shorts, and leggings are available in-store and on Kohls.com.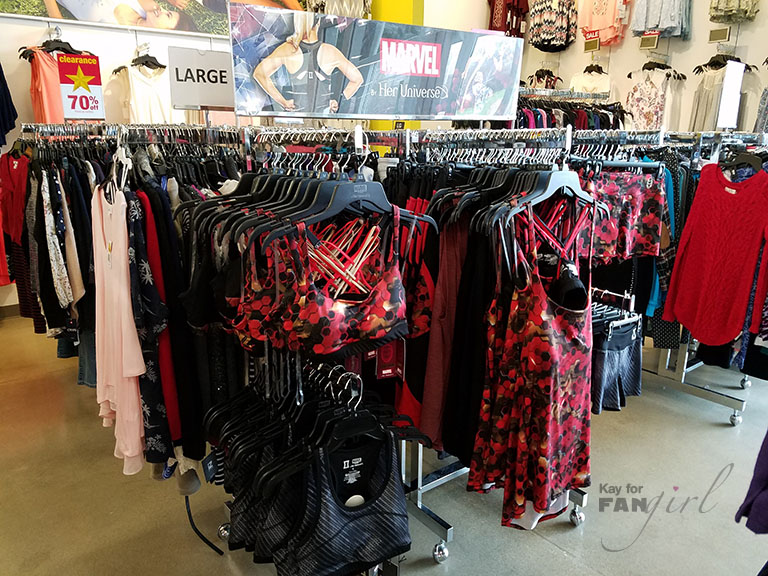 I stopped by a Kohl's to try on several pieces of the collection in Black Widow, Captain America, and Iron Man styles.
I've heard from some friends that the Iron Man items weren't in their stores. If you just see Captain America, check out other areas of the store.
In the Kohl's I went to some of the Black Widow items were with Captain America near one entrance and the rest of the Black Widow items were with the Iron Man pieces near another entrance. I'm not sure if splitting them up like that is intentional movie meta or just to get more eyes on the line but I got a good chuckle out of it regardless.
There are 28 pieces to this Her Universe Marvel collection with options that make it easy to mix and match based on what type of fitness clothing you'd prefer to wear. Each character set has two sports bras, two shorts, two leggings, and three sleeveless/tank tops.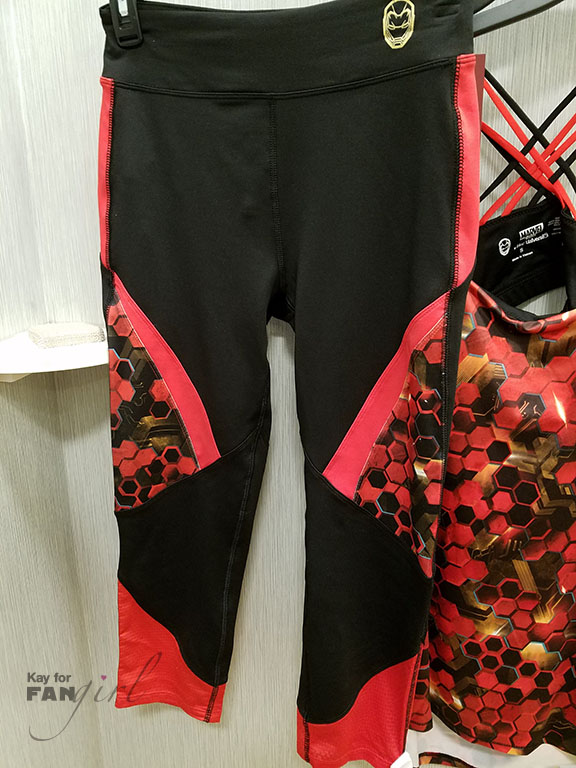 A few of the styles have seaming/stitching that cuts across the apparel in addition to typical side seams. That made me hesitant as I've found in the past in other activewear lines that those areas tend to rub and bother my skin if I move even slightly. So I was pleasantly surprised to find none of the piecing or extra stitching on these Her Universe pieces bugged me. Every item I tried on was supremely comfortable.
Tops that have any crisscross strapping were all clearly designed so they stay in place. Sometimes these kinds of designs look cool, but aren't practical. On this Marvel line though the straps don't have much leeway to move independently and that's a good thing. The pieces with fancy straps are also not a puzzle to figure out how to properly put on – another bonus. The extra straps on the Iron Man tops in particular are also soft so that helps too.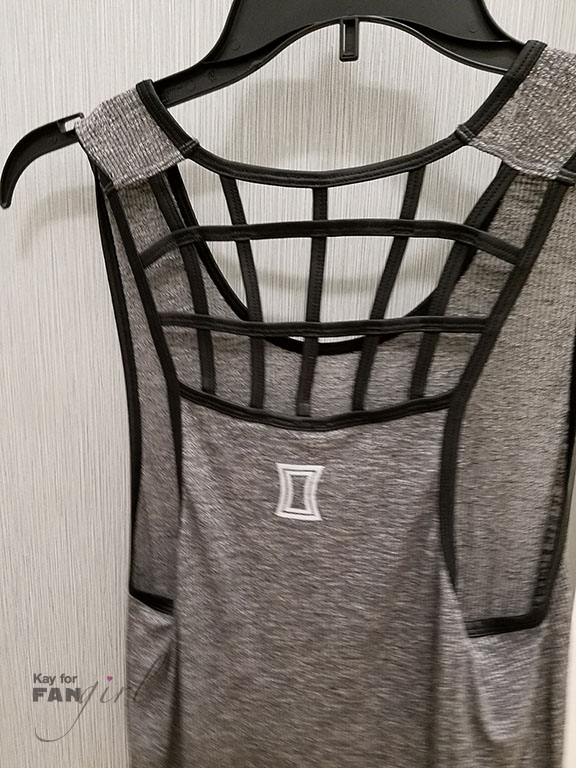 The web-like straps on one of the Black Widow tanks comes with an option of black or gray for the shirt's dominate color. And while the strap pattern looks neat, that particular polyester/rayon fabric doesn't seem to quite fit with the aesthetic of the rest of the line. It was the only piece I was disappointed in.
I actually found myself drawn to the Iron Man designs the most even though out of these three Black Widow is my favorite character. It's nice to have options for polyester/spandex or polyester/rayon for the tank tops. Something to note for the rayon ones is that the arm holes are cut low. This isn't uncommon in activewear tank tops but still a good thing to know if you're uncomfortable with your sports bra peeking through. The Her Universe sports bras can be fun pops of a solid color or patterns. Meanwhile the spandex tanks have a really nice drape to them that will make them more flattering than wearing stretchy fabric that's straight cut. It was almost tempting to wear the Captain America spandex blend tank as a tunic for everyday wear.
All the shorts in the Her Universe / Marvel collection are in the style of yoga shorts. A running short style might be a good additional option for any future geek fitness wear lines. The leggings' high rise is appreciated as is the fact that I there were no visible panty lines with any of the pieces I tried on. It may be in part attributed to the fact that these leggings aren't compression legging level of fitted. A key pocket for all the shorts and leggings would have been a nice addition but these geek activewear pieces have so much going for them it's not a deal-breaker.  
Be sure to note that the Marvel Her Universe activewear line is in juniors sizing. For me that ended up for some pieces I had to go up one size from what I might wear in general women's activewear sizing. Plus sizes are available too. If you can't find them in-store, check online. Kohl's "Pick Up In Store" option might be at your disposal as well. Prices on the collection range from $24-$36 and Kohl's often has sales and coupons you can apply to your purchase.
Overall I'm really pleased with the Marvel Her Universe activewear line. As I've highlighted on FANgirl before, the geek fitness apparel market is currently underserved. Ashely Eckstein and company did a nice job creating a collection that takes great advantage of using some of our favorite fictional characters to inspire and empower. I'm crossing my fingers for a Star Wars activewear line next.