Fandom Fashion Friday: The There's-So Much-New-Star-Wars-Stuff Edition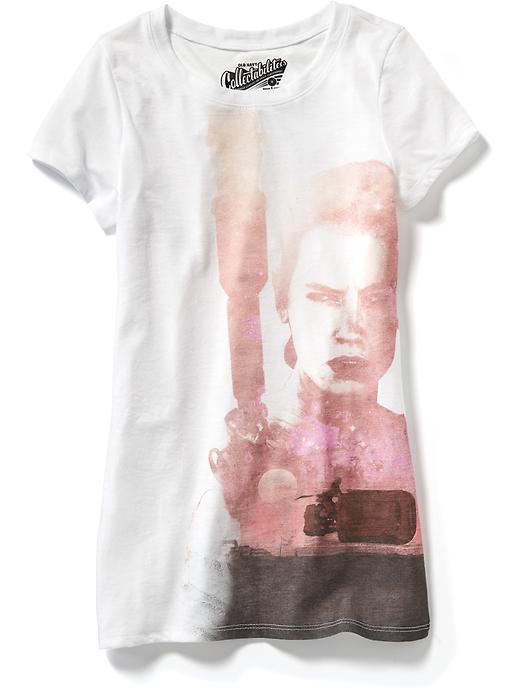 So much new Star Wars apparel and other wearables have come out in the last week that we're dedicating this week's Fandom Fashion Friday to new Star Wars stuff and only new Star Wars stuff.
Sorry, other fandoms.
Old Navy
First off, after much lamenting by me and probably many other female fans, Old Navy finally has Star Wars shirts for women and girls. Guys, there's several men's styles there already you might want to check out, including The Force Awakens shirts.
In the girls' section is one of my favorite Rey shirt designs I've seen to date ($16.94). Look at that watercolor-y thing of beauty pictured to the left. A few other women on Twitter and I immediately looked at the Old Navy sizing charts to figure out if we could fit in one of the bigger sizes.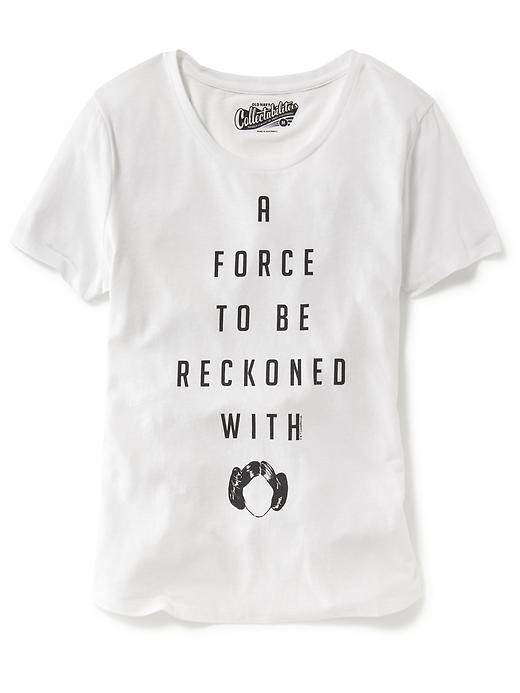 Old Navy, if you're reading this, please make this Rey shirt in adult sizes too.
There are three designs made for women also retailing at $16.94. This Leia t-shirt is pretty great; it comes in girls' sizing too as a long-sleeve. The women's version is pictured to the right. There's also the Star Wars Logo shirt and the blue and purple Stormtrooper helmet graphic shirt. Two out of three are pretty modern in their design so that's a nice change of pace. Old Navy's collectable shirts line (which these are part of) are tagless and tend to be super soft so there are some added bonus points for you.
Kay Jewelers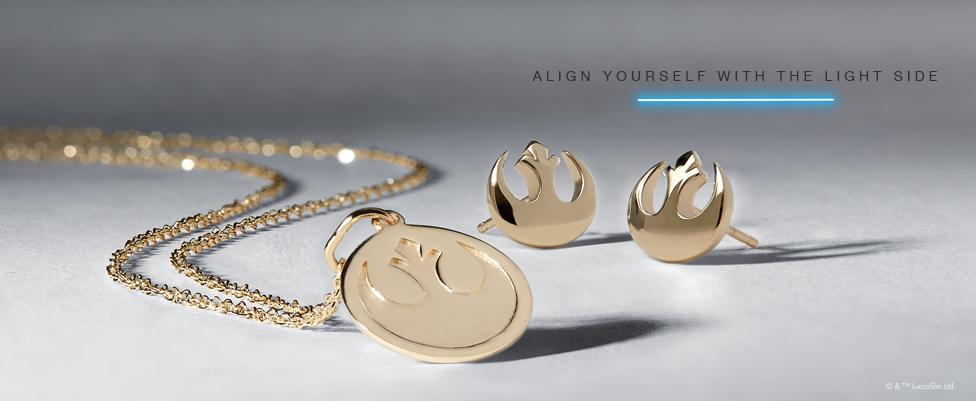 Continuing the choose the light or dark side messaging we've been seeing all over merchandise as well as at Disneyland's Seasons of the Force, Kay Jewelers asks you to embrace the dark side or align with the light side with their recently even further expanded offerings. There are earrings, necklaces, charms, and rings at a range of price points ($34.99 – $439) with pieces intended for women or men. Some of their items are online only or limited edition for the holiday season so it's best to check their website for the full selection.
Her Universe at Hot Topic
The much-teased Star Wars by Her Universe Limited Edition Fashion Series is now in select Hot Topic stores and online. The collection page on the website currently has 7 items listed. They include two sweaters (R2-D2 and Vader), The Force Awakens Tour Raglan, two bomber jackets (BB-8 and Boba Fett), a faux leather Vader jacket, and the Vader cape dress HU Founder Ashley Eckstein was spotted wearing at NYCC. Prices range from $24.50 to $68.50 but Hot Topic has been known to have sales pop up on their website. According to Ashley via Twitter, the Princess Leia dress will be available in December. Plus sizes should also be available then as well.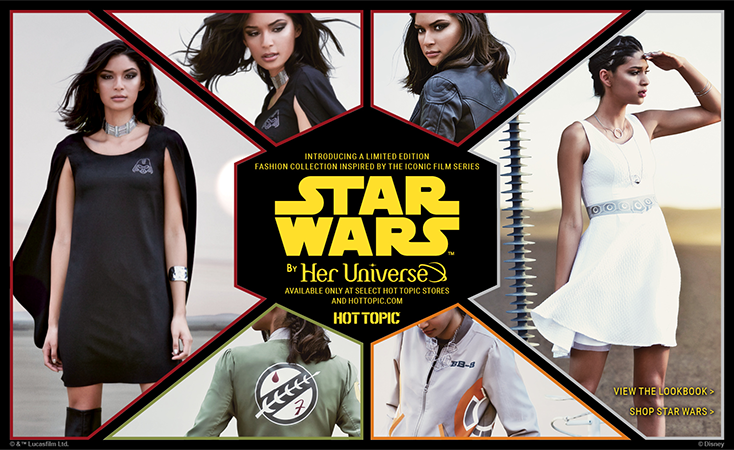 Hot Topic's site is also hosting a look book for the main pieces of the collection which is something new. I got to see the Vader cape dress and jacket in person and was surprised that the dress' fabric looked even nicer in person than it does in the photos. The embroidery details on the jacket are neat and keep the design a little more on the subtle side. I'm holding out for the Leia dress for now though. And if you haven't already, check out our friend Lisa Granshaw's interview with Ashley about the launch over at the Daily Dot. It's neat to hear about how she's incorporating modern fashion into the latest round of designs. I hope to see more and more of that in Star Wars geek fashion in the months ahead.
ThinkGeek
ThinkGeek has been fairly steadily rolling out a few new pieces of Star Wars merchandise here and there. This week's fandom fashion additions include an exclusive Rebel Ladies' Dolman Cardigan ($49.99). You may recognize this design that's also come out for the Avengers, Black Widow, Captain America, and S.H.I.E.L.D. Another exclusive piece is a new Star Wars Kaleidoscope Dress ($44.99) featuring Darth Vader and stormtrooper helmets on the bodice. They've also included ever-popular pockets. It's a design that from a distance people probably won't be able to tell is Star Wars, which means you'll be operating in stealth mode.
A shiny raglan Hey BB BB-8 tank can be yours for $24.99. There's several new kids' shirts, including a BB-8 one ($12.99). (That's right – ThinkGeek kids' clothes are genderless. Yay!)
And my pick of the whole bunch is the Darth Vader Tapestry Leggings ($29.99). It's such a cool pattern that incorporates Vader of course but also Imperial cogs, star destroyers, lightsabers, the Death Star, TIE fighters, and stormtrooper helmets. There's velour involved for softness and it's another design for stealth fellow-Star-Wars-fan-finding times. Without a doubt, these are going on my wish list.
The accessory game is still going strong over at ThinkGeek with two new sunglasses options now available ($19.99 each) – the very stylish and subtle Darth Vader aviators  and the R2-D2 Lenticulars.
Her Universe
But wait, there's more! On Thursday Her Universe released even more clothes on the Her Universe website. Pullovers and t-shirts for Doctor Who, Star Trek, and Marvel are part of the release. Some of the aforementioned Hot Topic collection is also available there. Plus a few items cross over with ThinkGeek – the Chewie Snow Pullover ($40, similarly priced at ThinkGeek) and the BB-8 A-Line Dress ($50, back view available at ThinkGeek). On top of all that there are a few new Star Wars items that are currently heruniverse.com-only.
My top picks are the First Order Stormtrooper Circle Skirt ($50) and the Captain Phasma Muscle Tank ($30). I'm really loving Star Wars patterns right now and the First Order troopers are primed for this kind of thing. It's also nice that there are photos of the skirt pulled out to see the pattern as well as how it'd normally hang. And then the Phasma tank is tough, shiny, and chrome! Just looking at it makes me want to go work out. It'd be a good fit in our Fandom Fashion Friday collection from last time: Fitness Edition. Although I'd wear it to breakfast too.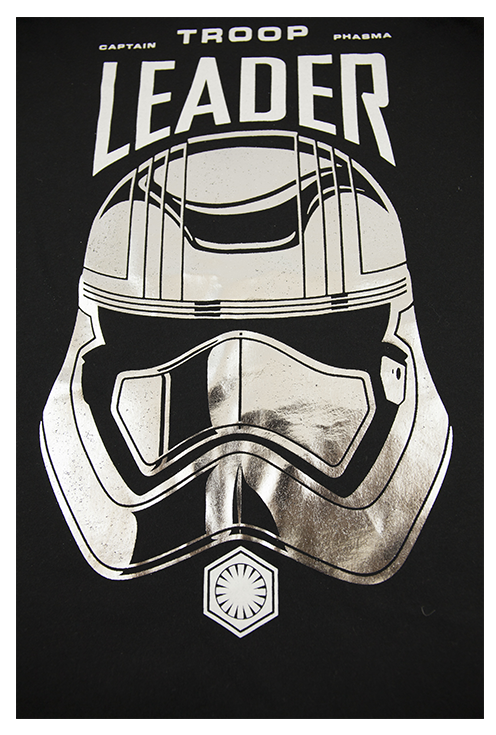 Also available in the new release:
Rey Resistance Youth Tee ($22)
Trilogy Poster Muscle Tank ($25) – that's the OT
Caroling Heroes Pullover ($30) for your Holiday Special vibes
Galaxy Rey Chiffon Top ($35) with a wedge cutout first seen in the HSN collection that adds another level of style
BB-8 Muscle Tank ($30)
Rey Swing Dress ($60) an all-over print with a special appearance by BB-8
Of note: more recently the Her Universe sweatshirts/pullovers have been unisex and super comfy.
Loungefly
In case you haven't had your Phasma fill yet – Loungefly's Phasma accessories came out this week.
There's the embossed coin bag ($21), the embossed dome bag ($70), and the embossed wallet ($40). Clearly all that embossing is because Captain Phasma's a boss. (You're welcome.)
Also don't forget when choosing your The Force Awakens accessories – "Phasma goes with more outfits."
Musterbrand
This company came out with a collection of licensed coats and jackets. Some of the pieces are limited edition; some aren't. Some come in women's versions too; some don't. If you ever wanted a Luke Dagobah/Bespin style jacket, theirs is pretty nice. Not sure the Sith coats are that flattering though. I was surprised that they incorporated some pleating as a nod to Kylo Ren and then named it a Sith coat when we've been told officially that he isn't one. There are also some scarves. Their various stormtrooper helmet t-shirts come in men's and women's cuts.
---
It's been a crazy week for Star Wars fashion. You can also check out my article on this week's other big fashion development for the fandom – Force 4 Fashion. We're finally getting more options than ever before and with less than a month to go to The Force Awakens… we're just getting started.