Star Wars Vanity Fair Digest: The Last Jedi Edition
With four different collectible covers, Star Wars: The Last Jedi gets the spotlight in the summer 2017 edition of Vanity Fair magazine. Content has been released on different days and at different times so like back in 2015, I'm here to guide you through with another edition of Star Wars Vanity Fair Digest.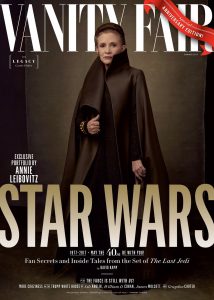 The Covers!: See each of the 4 covers (The Force, The Dark Side, The Resistance, The Legacy) as the tradition of Annie Leibovitz photographing Star Wars for the magazine continues. Read a little about what each cover photo depicts. The issue hits newsstands in New York and LA on June 1st and the rest of the US on June 6th.
The Portrait Portfolio: This 14-photo set from Annie Leibovitz includes returning characters such as Rey, Luke, Poe, Leia, Kylo, and Finn as well as new characters including Kelly Marie Tran's Rose Trico, Laura Dern's Vice Admiral, and Benicio Del Toro's mystery "shifty" guy.
For me, two photos stand out for being more emotional than Leibovitz's usual shots – even though she couldn't have known at the time how emotional. Both include Carrie Fisher. One with Mark Hamill is reminiscent of a promo shot from 40 years ago. The other is of Carrie and her daughter Billie, emanating love and comfort.
Cover Story: Star Wars: The Last Jedi, the Definitive Preview: This one is the whopper. Make sure you have some time set aside. Filming, set decisions, Mark Hamill's bread and butter habit, Hamill thoughts on The Force Awakens, the mindset of Rian Johnson as scriptwriter, where the story is at this point in the trilogy, a smidgen of post-production, another character reveal, some Rian Johnson directing background, the Kathleen Kennedy support system, reflection on Carrie Fisher and Leia's role in this set of films – it's all here. With quotes from Daisy Ridley, Oscar Isaac, John Boyega, and Kiri Hart, writer David Kamp gathers even more than to what I've alluded.
Behind the Scenes of Annie Leibovitz's Perilous and Poignant The Last Jedi Cover Shoot: They've broken the behind-the-scenes of these photos into two articles. This one gives some written context about the May 2016 shoot mainly in regards to the photographer. It's also another place to see the 14 photos.
Behind the Scenes of One of Carrie Fisher's Final Star Wars Photoshoots: Check out this one for behind-the-scenes video showing Leibovitz's on-set photo shoots. Insights are included from director Rian Johnson as well as Daisy Ridley, Oscar Isaac, and Mark Hamill. Of course there's footage of the late, frickin' amazing Carrie Fisher being photographed. Gif-able moments abound.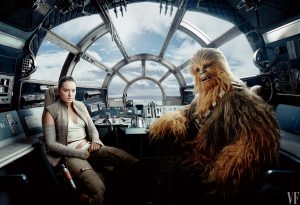 Star Wars: The Last Jedi Photos: Which Secrets Are Revealed?: It's like the Vanity Fair quick version of the Visual Dictionary as Joanna Robinson talks to the Lucasfilm Story Group's Pablo Hidalgo. Pablo divulges tidbits about what you're seeing in the photo portfolio. Want to learn a little about Phasma's new weapon, Ahch-to dwellings, or casino patrons?  This is your article.
Benicio Del Toro and Laura Dern's Star Wars: The Last Jedi Characters Revealed: Another spot to check out the photos; otherwise there's not really anything here that you can't find in another article.
Star Wars: The Last Jedi: So, About That Title . . .: An amusing David Kamp entry where he tries to get Kathleen Kennedy and Rian Johnson to reveal the meaning of the movie's title. Don't worry; you won't get any surprises spoiled by anything here.
What's in Star Wars: The Last Jedi—and What's Not: David Kamp is back with an annotated list of 5 things that are in the new movie and 5 things that aren't. Some of the info is already shared to a certain degree in other articles, but some of it is not. I'd say there's nothing planet-shaking here, but that depends on what you were hoping for. Don't want to know? Don't read it. It could help manage expectations a little though.
Inside the Troubled Past and Exciting Future of Rey's Lightsaber: Joanna Robinson is back talking to Pablo Hidalgo about lightsabers. Read it for insight into how they're thinking about lightsaber ownership and practical reasoning inside Lucasfilm. The news about marketing and Rey's lightsaber was also shared on The Star Wars Show. Some feelings have erupted on the internet about it as it's easy to forget that within the story the characters can still refer to the lightsaber however they need to/want.
Here's How Seriously Adam Driver Takes Playing Kylo Ren: The short answer here is: very. Hear from Mark Hamill and John Boyega as well as Adam Driver himself in this brief piece from David Kamp.
Star Wars Nerds, Mark Hamill Is One of You: Everyone wave to writer and interviewer David Kamp again. If you're a fan of Mark Hamill or would like to learn a little more about him, check this piece out. Bonus points for Mark Hamill essentially coming up with his own Star Wars fan fiction.
Kathleen Kennedy on Carrie Fisher's Death and the Future of Star Wars: Excerpts from a conversation between David Kamp and Kathleen Kennedy show the relief of well-received newer movies and the decisions that still need to be made.
Whew. There you have it.
If more content becomes available, we'll update this page accordingly. Happy reading!
If you'd like to learn more about Kathleen Kennedy or Rian Johnson, check out the following episodes of our podcast Hyperspace Theories: