Women Illustrating Women: Indie Artist Kell Smith Draws Attention to New Female Comics Characters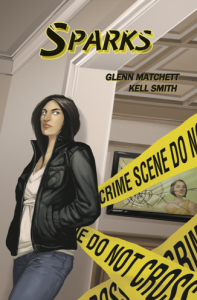 Indie comics are bigger, better, and getting more of the market share than ever before, as evidenced by the rise of Image Comics.  That means more opportunities for talented artists and writers to get their books to market, and hopefully, more diversity in the comics we will be reading.
Last December I interviewed Glenn Matchett, Executive Editor and Writer for GrayHaven Comics, about Issue 1 of his mystery series: Living With Death. In that book Glenn showed his enthusiasm for strong female lead characters by writing them incredibly well. Now, there is reason to cheer. A new and gutsy female stars in Glenn's next book release.
"SPARKS" will be available from GrayHaven Comics during the first week of April. It is a "CSI-type" detective story that Glenn has been developing for more than a decade. As eager as he is to see this story in print, Glenn is genuinely thrilled to credit the realization of his long-time dream to young breakout artist/illustrator, Kell Smith. He feels that she has interpreted his SPARKS story so well, that he claims: "This is as much Kell's project as it is mine."
Since we love to see women succeed, I recently spoke with Kell about her artwork, her creative partnership with Glenn, and the development of this new book, to catch a glimpse of how she became, as Glenn puts it, "the reason SPARKS exists."
"SPARKS" (GrayHaven Comics)
Written by Glenn Matchett
Illustrated by Kell Smith
Release Date: Early April 2014
---
Mary is a retired Registered Nurse who specialized in Trauma and Emergency medicine. She loves the space opera of Star Wars, most Science Fiction, Fantasy, Adventure, and comic books. Mary can be contacted at galacticmatters@mail.com or visit her blog galacticmatters.