Kay Reviews Muppets Most Wanted
Oh, my dear Muppets, this simply won't do. You let me down with Muppets Most Wanted. There's a certain self-awareness to all the Muppet movies, but starting the movie with a song about the fact that you're doing a sequel (and having a line specifically about how sequels aren't as good as the originals) was a gamble you did not have the cards to win.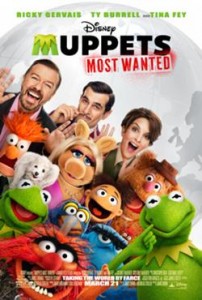 Having watched VHS tapes of The Muppet Show as a little kid, I hold the Muppets in high regard. I wanted to like this movie so much. There were little glimmers here and there of the delight I got from watching the show and the other movies, but they were fleeting. The last ten minutes of Muppets Most Wanted brought a moment where laughter erupted from other adults and kids in the theater with me. Suddenly I realized that was the first time there was wide-spread laughter from the audience for the entire film. The funniest bits were used up in the trailer and commercials, leaving little wide-appeal comedy to go around. While the Muppets themselves were originally intended for adults, wide-appeal is part of their renown.
As the credits rolled, I knew there were other elements that caused the unsettled feeling I sat with, but had trouble pinning them down at first. Everyone on screen seemed to do their best with the material given; it turns out the structure they were standing on was too weak. The main human character's whole shtick revolved around him being resigned to do anything. Combine that with a character who looks just like loveable Kermit but is mean, violent, and grating, and it's just hard to engage with that, especially when it gets so much screen time. And the way the story jumped between plot lines made for glacial pacing. Oh, and the CGI – Muppets and heavy CGI do not mix well. The Muppets are supposed to exist in the real world, and previous films like The Muppet Movie went to great lengths to keep up that appearance.
Bret McKenzie did a really nice job with the songs once again, though. There's nothing quite as touching as "Rainbow Connection" or "I'm Going to Go Back There Some Day", but the songs are catchy and lyrically clever. It was also nice to see Jermaine Clement, McKenzie's Flight of the Conchords partner, singing and dancing as Prison King. In fact there were so many cameos, it was almost difficult to keep up with them all.
I'm starting to wonder – was Jason Segel the secret sauce that made this new era of the Muppets work? The same director, one of the writers, and song writer from 2011's The Muppets worked on this film, but not Segel. He had nothing to do with Muppets Most Wanted. I don't know if he could have saved it, but I like to think so. I still love the Muppets and I hope things go better the next time around.
Muppets Most Wanted was, sadly, part of my Top Ten Movies to See in 2014 aka Only Grand Captain Mockingjays of Future Tomorrow.
---
Kay grew up wanting to be an astronaut. After seeing Star Wars, she wanted to be Princess Leia, Han Solo, and an astronaut. Life's taken her on a bit of a different path for now, but she's still a Star Wars fangirl at heart who enjoys surprising people with how geeky she really is. Currently a photographer who also specializes in communications and marketing, Kay spends her free time reading, cooking, writing, learning and, of course, making pew pew noises. You can follow her on Twitter.