Success for Women in Indie Comics: Part One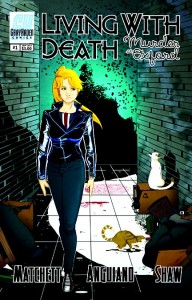 While mainstream comic superheroines like Wonder Woman remain mired in controversy over updated costumes and movie potential, women are forging ahead as creators and protagonists in independent ("indie") and genre comics. In growing numbers they are writing, editing, drawing, inking, and lettering books in this sector of geek culture where gender seems less of a leveraging factor than quality of story and imagery.
Sexism and harassment persist in industries where men have historically held power – like comics. Dark incidents have recently been topics of conversation across social and mainstream media – and they need to be discussed openly if we are to move toward meaningful change. Yet there are also positive places for women in fandoms and we hope to encourage their growth by highlighting a selection of optimistic stories.
On numerous occasions, FANgirlblog has shone its spotlight on GrayHaven Comics. There, an expanding group of independent creators are proud to promote new talent regardless of gender. With a list of alumni that includes Gail Simone, and editors/writers Elena Andrews and Erica Heflin, GrayHaven is a model for promotion of women in comics.
Following up on Tricia Barr's recent interview with GrayHaven's award-winning publisher, Andrew Goletz, FANgirl contributor Mary Sheridan presents a series of posts that examine different ways in which the company encourages not only new talent but female roles in comics. She begins with a review of the new release, "Living With Death: Murder at Oxford" – which has two female protagonists – and then interviews the book's writer, GrayHaven Editor Glenn Matchett. The third post takes a look at comics illustration as Mary chats with Amanda Rachels, a self-described "scribbler" whose beautiful artwork brings to life books from another great indie company, Inverse Press. And to wrap this series, Mary will give readers her insider's view of GrayHaven's inaugural Apprentice contest in which men and women competed without prejudice for a single prize: their own book title to be published by GrayHaven next year.
Away from the echelons of mainstream comics where old politics and discrimination are still making headlines, there are places where women receive support and encouragement; where hope exists for those who want to make their marks in geek culture. While acknowledging that no workplace is perfect and bad behavior can happen anywhere, we choose to call attention to some people – male and female – who are getting it right. In doing so, we might all take a few steps into a larger world.
---
Mary is a retired Registered Nurse who specialized in Trauma and Emergency medicine. She loves the space opera of Star Wars, most Science Fiction, Fantasy, Adventure, and comic books. Mary can be contacted at galacticmatters@mail.com or visit her blog galacticmatters.