Mary Interviews Troy Denning – Part One
Interview by Mary Sheridan
Like Han Solo coping with the Falcon's mechanical problems, Troy Denning wants fans to know: "It's not my fault!"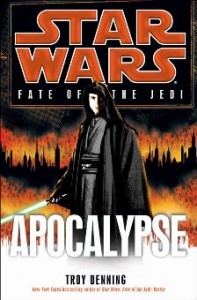 At Celebration VI, the veteran Star Wars author talked with FANgirl Blog about a wide range of subjects. I prepared myself to meet a serious writer known for layered, clever, and sometimes shocking novels with controversial content. A part of him is that person, but Denning is also a self-confessed Fanboy – with a capital "F."
His eyes light from within when he talks about his love for that galaxy far, far away. The thrill he experienced as he leapt at the chance for his first Star Wars writing job (Galaxy Guide 4, 1989) is still delightfully visible.
In a little more than an hour, I learned how he feels about his reputation as "the hit man" for having written the deaths of two high-profile Expanded Universe characters (Anakin and Jacen Solo), and that, despite those unfortunate events, Troy Denning wouldn't trade his place in Star Wars history for anything.
Whether he is working on a Star Wars novel or in a fantasy realm of Dungeons & Dragons, he grows more animated with enthusiasm and excitement. If that doesn't grant him Fanboy status, I don't know what would.
Denning is obviously energized by and cares deeply about his work.
In Part I of this Celebration VI interview, Troy talks about the increasing number of fangirls, feedback from fans, his place in Star Wars culture, and taking part in a new Dungeons & Dragons series.
Part II, which will go up in the new year, includes our discussion of specific Star Wars characters from several generations and hints about his next book.
Get comfortable. Imagine that you're sitting on a bench at Celebration, swapping stories and laughing with another Star Wars fan, and that fan is Troy Denning.
I hope that you enjoy getting to know him better as much as I did.
---
Mary is a retired Registered Nurse who specialized in Trauma and Emergency medicine. She loves Science Fiction, Fantasy, Adventure, and comic books, and Star Wars is her hands-down favorite. Mary can be contacted at reach.sheridan@gmail.com.