Kay Reviews Razor's Edge by Martha Wells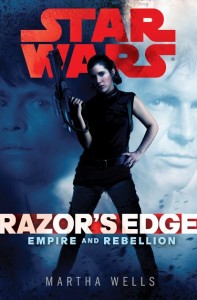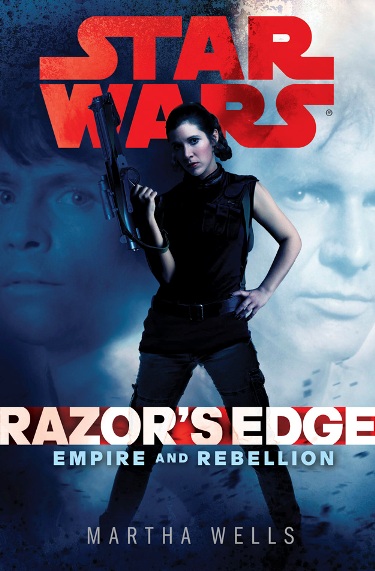 Last week FANgirl hosted the Razor's Edge art reveal, featuring excerpts from the book, links to interviews with author Martha Wells, and an interview with artist Magali Villeneuve, who created the stunning artwork inspired by a scene in the book. Here is recap of the fun:
Today, I review the book. My thoughts:
Star Wars: Empire & Rebellion: Razor's Edge focuses on Princess Leia Organa, but it also includes classic movie characters Han Solo, Luke Skywalker, and Chewbacca as well as a whole slew of new faces. If you've read my bio here on FANgirl, you know I'm a huge fan of both Leia and Han. So the fact that Leia gets a majority of the page time in this book, and Han seems to be the runner-up, was really exciting for me. What's more, Wells really has a handle on these movie characters, making it easy to believe they'd say what they say and do what they do in the book. And while the relationship between Leia and Han is by no means a primary focus of the story, it is incredibly well portrayed and great fun to read. Their romantic tension is so thick, you can only just barely see through it. I'd love to say more but I don't want to spoil the entertainment.
For my full review check it out here.
---
Kay grew up wanting to be an astronaut. After seeing Star Wars, she wanted to be Princess Leia, Han Solo, and an astronaut. Life's taken her on a bit of a different path for now, but she's still a Star Wars fangirl at heart who enjoys surprising people with how geeky she really is. Currently a photographer who also specializes in communications and marketing, Kay spends her free time reading, cooking, writing, learning and, of course, making pew pew noises. You can follow her on Twitter.