Kevin Feige is Working on a Star Wars Movie
On September 25, reporter Kim Masters at The Hollywood Reporter broke an incredible news exclusive, confirmed on the record by Walt Disney Studios co-chairman Alan Horn: Marvel Studios president Kevin Feige is working with Lucasfilm to develop and produce a Star Wars movie. No specifics, such as subject matter or in-universe timeline placement, were revealed. With the next Star Wars film currently slated for December 2022, however, it is possible that Feige's project could be the next Star Wars theatrical release.
Feige is a lifelong Star Wars fan, and has spoken repeatedly about how Star Wars has influenced the stories told in the Marvel Cinematic Universe under his leadership. In late April 2018, coinciding with the release of Avengers: Infinity War, Feige appeared on The Star Wars Show to discuss his passion for the franchise.
As a producer, Feige has recently concluded an unprecedented storytelling achievement in cinema, leading the MCU through an interlinked story told over the span of 11 years and 22 movies from the first Iron Man to Spider-Man: Far From Home, including four tentpole Avengers films and eight movies each surpassing one billion dollars in global box office. A huge part of the MCU's success has come from its focus on character arcs, characterization, and story progression over time. To help maintain this emphasis, Feige assembled the Marvel Studios Parliament, a group of storytellers that included key creators from Marvel Comics as well as movie storytellers and executives.
Feige also has a proven track record in supporting increased diversity in key creative positions. In its initial years, the MCU was rightly criticized for its over-reliance on white male superheroes. At that time, however, Marvel Studios fell under the authority of the broader Marvel Entertainment company owned and led by Ike Perlmutter, who subsequently became a major supporter of Donald Trump's campaign and presidency and who used his corporate authority to block efforts to include women and people of color as featured characters in the MCU. In September 2015, when Feige threatened to quit over continued impediments, Disney CEO Bob Iger removed Marvel Studios from Perlmutter's oversight and instead enabled Feige to report directly to Horn and Iger instead. In his newly published memoir The Ride of Lifetime, Iger confirmed that he personally had ordered Perlmutter to stop obstructing Feige and permit Black Panther and Captain Marvel into production prior to the formal split. Since attaining corporate independence, Feige has moved forward with projects including: the Wasp as titular co-lead of the Ant-Man sequel; Taika Waititi's Thor: Ragnarok and Thor: Love & Thunder; Ryan Coogler's Black Panther and an untitled sequel; Anna Boden & Ryan Fleck's Captain Marvel and an untitled sequel; Cate Shortland's Black Widow, co-written by Jac Shaffer; Chloe Zhao's The Eternals; Destin Daniel Cretton's Shang-Chi and the Legend of the Ten Rings, written by David Callaham; and several Disney+ series with diverse leads and creators, including Falcon & the Winter Soldier, WandaVision, Ms. Marvel, and She-Hulk.
Some have expressed disappointment about the inclusion of another white man as a key player in Star Wars. Feige, however, is coming on in a role equivalent to Kathleen Kennedy as an executive producer – the one who is making the hires for the roles of writer or director, not the one undertaking them. That is why it is important to evaluate Feige's record in hiring creative talent compared to Kennedy's.
And over those four years since he has been clear from Perlmutter's oversight, Feige's record in diversity far exceeds Kennedy's in her seven years leading Lucasfilm. For theatrical films, counting both official announcements and reporting by reliable Hollywood trade publications, Kennedy has hired over 20 white men to writer or direct Star Wars films – but zero women and only one man of color (Phil Lord), who was fired. For over 90 episodes aired to date, two animated series have had white men as showrunners, no women episodic directors, and only 4 episodes written by 2 women. Of the three Disney+ series announced, two have white men as showrunners, although the The Mandalorian has more diversity among its episodic directors and Lucasfilm announced on September 27 that the untitled Kenobi series will be directed by Deborah Chow and written by Hossein Amini.
While Kennedy is rightly lauded for her impressive career of producing a wide variety of iconic and successful films over more than three decades before joining Lucasfilm, her leadership at Lucasfilm ultimately has failed to live up to that standard. In the course of releasing five Star Wars films from 2015 to 2019, Kennedy fired the directors hired for three movies and functionally replaced a fourth; both A Star Wars Story films required massive reshoots late in production, and Solo became the first Star Wars movie to fail to make a profit from its box office receipts. Although Kennedy was brought aboard in 2012 with the aspiration of rebuilding Lucasfilm into a film studio releasing one or more movies each year, after 2019 the next slated Star Wars theatrical releases are 2022, 2024, and 2026 – the number of films Marvel Studios usually releases during one year.
In light of these struggles, the timing of the Feige news probably is not a coincidence. At Star Wars Celebration Chicago in April, The Hollywood Reporter's interview with Kennedy included mention of the plan to hold a summit in May to plan future Star Wars films. In last week's article in THR reported that "Feige had discussed a foray into the Star Wars universe in a late summer meeting with Kennedy and studio co-chairmen Alan Horn and Alan Bergman, sources say." Although it is not clear whether Feige's project is a replacement for, or in addition to, ideas discussed at the earlier summit, the THR article also recounts another possibility: that Feige's role in the future of Star Wars may be greater than simply developing and producing one Star Wars movie.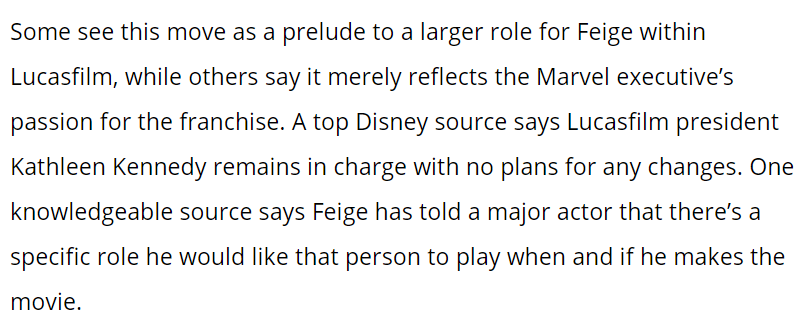 Time will tell which sources will prove to be more accurate.
No matter how he's involved, Star Wars and its fans hoping for more inclusion will only benefit from Feige's participation in the franchise. Likewise, for potential diverse directors and writers of future Star Wars films, Feige's record of fostering creators like Coogler, Waititi, and Boden should instill confidence, whereas diverse creators who had expressed early interest in Star Wars have been vocal about their wariness of Lucasfilm's commitment to inclusion based on their experiences. In the meantime, fans can await The Rise of Skywalker in December before the next phase of live action Star Wars truly begins.
Related Links: