Update: Let There Be Rebels in Razor's Edge Art
"Troopers and Rebels: Behind the Magic at SDCC 2013" by Lawrence Green is a recent piece at the Star Wars Blog that really highlighted that Star Wars is for everyone. Scroll through the images of 501st and Rebel Legion cosplayers at this year's San Diego Comic-Con and you'll see why. Yesterday, FANgirl featured pirate Caline Metara as the first character visualized in artwork inspired by Empire and Rebellion: Razor's Edge.
Today, we went rebellious mixed with a little heroics and a touch of badass. Presenting Sian Tesar.
The Rebels have recaptured the main base from the pirates and are monitoring the signal – code word: #RazorsEdgeArt. When they believe there are sufficient forces amassed Sian Tesar will be revealed in full.
At Blog Full of Words, Megan Crouse asked Martha Wells about Sian Tesar. Wells says, "I feel like Sian and Anakaret in particular could be the protagonists of some great adventure stories.  I'd really love to see Sian go on an a mission with Wedge Antilles, or Anakaret maybe eventually getting involved with the Rebellion, and meeting Leia again." The interview covers the author's first impressions of Leia, the chemistry with Han, diversity and fanfiction.
Empire and Rebellion: Razor's Edge by Martha Wells will be available on September 24, 2013. For more news on Star Wars Books from Del Rey check out their Facebook page.
Update: Lots of great feedback on Sian today! Here's how she fits into the overall image.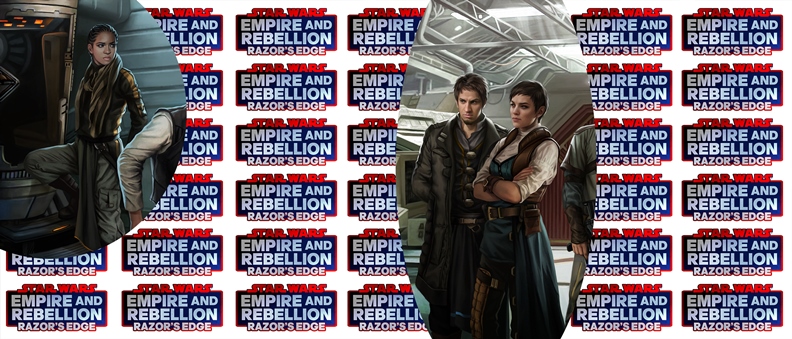 ---
For updates on all things FANgirl follow @FANgirlcantina on Twitter or like FANgirl Zone on Facebook. At times she tries the Tumblr.