FANgirl Blog 2012 Year in Review
Lex here with the blog's year-in-review for 2012. Tricia is putting the final words to the page on Wynde, but we couldn't let the end of the year pass without acknowledging the many highlights for the blog and fangirls.
From the beginning, one of the main goals of FANgirl Blog has been to provide a venue where fangirls can make their voices heard. With that in mind, in 2012 the blog dramatically expanded its roster of regular contributors. Linda has shared her experiences playing Star Wars: The Old Republic and reading the tie-in novels, and has conducted several interviews. Mary also has conducted interviews and written reviews, Megan provides a weekly review of The Clone Wars, and Kay has reviewed several Expanded Universe novels and contributed to the Hapan and Fel roundtables. And of course we all miss Racheal and her positive voice here and at her own blog. FANgirl also featured several guest posts from Priya and others – with a special shout-out to Abby DarkStar for garnering nearly 6,000 hits for her commentary on cosplay – and interviews with Victoria Schmidt, Shea Standefer, Erica Heflin, and Katrina Hill. It's safe to say the goal was accomplished this year!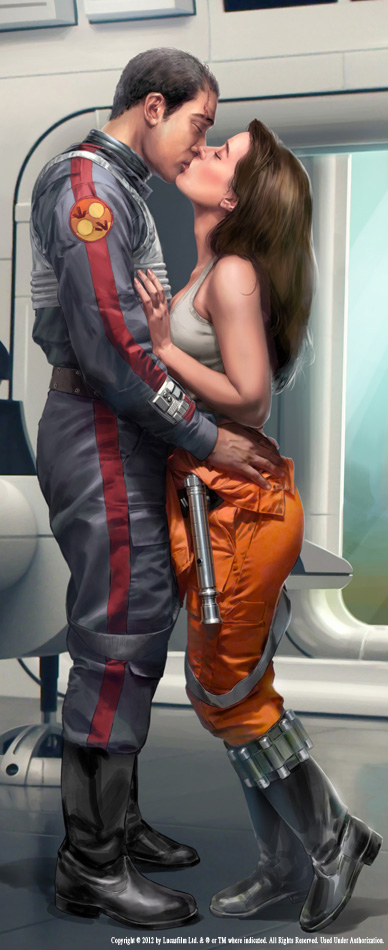 Of course, Tricia had a great year for her own fangirl voice, too. Her first two official Star Wars publications were interviews with Aaron Allston and Timothy Zahn for Star Wars Insider. She provided great posts for Suvudu, and had a chance to provide her insights with an early fan read of the The Essential Readers Companion – with the best possible synergy, seeing the Jaina-Jag and Tyria Sarkin Tainer art created for Suvudu printed in the ERC. A huge thank you to Erich Schoeneweiss and Frank Parisi at Del Rey for making all that happen, as well as opening several incredible opportunities at Celebration VI. Tricia also made several more appearances on the ForceCast, was a guest on Star Wars Report to talk about Star Wars Weekends, and guest-posted twice at ActionFlickChick. And at GeekGirlCon she hosted the featured Saturday Star Wars panel to standing-room-only attendance and highly favorable reactions.
Although I may not be a biological fangirl, I've been delighted to continue serving as editor of FANgirl Blog and Wynde this year. Thanks to Tricia and all of our contributors and guests for making my job easy most of the time. I've enjoyed contributing posts of my own, as well, and will be making more in the year ahead. And I'd like to give a nod to Ian Miller for his guest post comparing Revenge's Emily Thorne to Batman.
Aside from all these accomplishments for Tricia and the blog, 2012 also was a great year for female characters, strong women in real life, and fangirls in the fandom. From movies to television we saw many heroines as hitmakers, further dispelling the notion that female-led stories can't thrive in the marketplace. Topping them all, obviously, was The Hunger Games and Katniss Everdeen, whose journey to heroism and supportive team of friends and allies became not just one of the bestselling books in recent years, but also one of the highest-grossing movies of all time. The Legend of Korra also earned excellent ratings, including with boys. Brave, Joss Whedon's The Avengers, and Fate of the Jedi: Apocalypse let female characters shine, as well. We also watched women excel at the Olympics, serving as role models in and out of competition. Within genre fandom, women's voices are making themselves heard more than ever, too. Bogus fears about "fake" geek girls now are roundly dismissed from a wide variety of perspectives, and female Star Wars fans rallied together to denounce another appearance of the ridiculous idea that the Star Wars franchise is "for boys." Once again, the fandom spoke up to say Star Wars is for everyone. With the Sequel Trilogy now on the way, that welcoming message to fans of all kinds is more important than ever.
Speaking of Episode VII, no doubt 2013 will bring huge developments in the process of creating the new Star Wars movies. It's impossible to predict the timing, but we'll likely learn the movie's director fairly soon. With pre-production on tap for the spring, casting can't be far behind – which means we'll begin to discover the featured characters and maybe the basics of the setting, antagonist, and plot. Although FANgirl Blog isn't a news site, we'll certainly have commentary and analysis on Episode VII developments throughout the year.
But 2013 won't be limited to Episode VII in its excitement, of course. The Expanded Universe will continue to provide tales about old favorites and perhaps create some new ones. We'll continue to talk about our favorite characters, starting with the conclusion of the Fel Roundtable. The Clone Wars will conclude Season Five and enter Season Six, The Hunger Games: Catching Fire will hit theaters, and much more. Tricia has exciting news in store for 2013, too, but I'm not authorized to say anything about it just yet.
Finally, thanks to all of our readers throughout the year. We'll do our best to make 2013 even better.