Olympics, Storytelling, and All Things Being Equal
This year in the Summer Olympics women will represent all 204 Olympic committees, which International Olympic Committee President Jacques Rogge called a "major boost for gender equality." On NBC's News Blog some of the significant achievements were noted:
Saudi Arabia, Brunei and Qatar had been the final holdouts; the flag-bearer from Qatar, for instance, Bahya Mansour Al Hamad, a shooter, is female. The 529-member American delegation featured more women, 268, than men, 261 — a consequence of 40 years of Title IX, the landmark federal law that prohibits discrimination in school and sports. One of those 268 women, Mariel Zagunis, the gold medal-winning fencer, led the American team into Olympic Stadium — cheered on by, in part, First Lady Michelle Obama.

… Roughly 45 percent of the 10,500 athletes taking part in the London Games will be female. All 26 sports on the Olympic program will feature female competitors. Boxing, at last, will feature female competitors in three weight classes.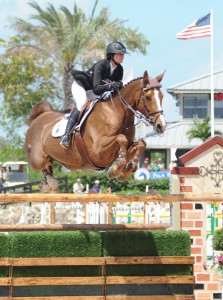 Previously I've discussed my competitive pursuits with horses, and that experience has allowed me to observe the ways both genders approach an athletic endeavor differently and still view everyone as an equal. As with the lower levels of equestrian sports, men and women compete head-to-head in the Olympics. This year the United States show jumping team is two men and two women, and they are riding two male and two female horses.  Among all the equestrian disciplines, six women and seven men have been selected to represent the United States. Sixty years ago the first women were allowed to compete in Olympic equestrian events, and since that time women have been proven equal to men at the highest levels of the sport.
Who knows what the landscape of Olympic competition may look like sixty years from now, but I predict it will move further toward gender blindness. Even observing competitive events outside the Olympics, female athletes like Danica Patrick in NASCAR have been part of the exception, not the rule. For athletic endeavors, just as in geekdom, it's about giving women the opportunities that will open more doors for the next generations. The more real life female heroines we see, the more fictional heroines will populate storytelling.
At this point I'm sure you're wondering how a blog about Star Wars, female characters, and fandom got so off target. There is a connection, though. I'm not sure what draws equestrians to Star Wars, but I have met many fans of the franchise who share my passion for horses and sporting events. As the Olympics have hit their stride, the members of the Cantina have noted the interesting and disappointing ways that NBC has pushed its coverage – overhype of Olympic moments from Lochte to the men's gymnastics team that haven't quite panned out, and brazen claims such as Phelps being the greatest Olympian of all time. Over the past few years, the network has time and again managed to spin potential gold into public disasters – Ann Curry and Conan O'Brien coming to mind. The Olympic pre-competition hypes seem to fall into the same trap, where NBC doesn't actually seem to understand that a network can't create Olympic moments with hours of pre-recorded video. Instead, tales of Olympic greatness happen in the blink of an eye. Network coverage needs to remain agile and flexible enough to allow these stories to unfold, then share the triumph or travails with its audience.
Ultimately telling Olympic stories is no different than any other type of storytelling. Great stories exist in the hearts of the people that create them; they can't be manufactured.