Can Luke Skywalker Avoid Character Apocalypse? Follow-up to Luke Skywalker Must Die
In May, my blog post Luke Skywalker Must Die generated a lot of discussion within the fandom, and even caught the attention of the guys on the ForceCast. Remarkably, although there were varying opinions on whether Luke should stay or go, for the most part people agreed with my sentiment that both Luke and the post-Return of the Jedi Expanded Universe novels are stuck in a rut – and that to get out of that rut some things have to change, including how Luke's character is used.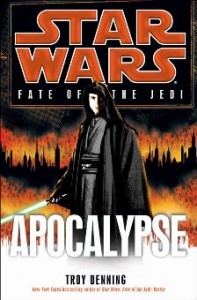 Since then, the cover of the final book in the Fate of the Jedi series has been revealed, and guess who was on it?  Granted, as I stated before, I don't take issue with Luke being on the cover of the last book in a series premised around the Luke/Ben odyssey. But I think it's fair to ask why Luke had to be on four covers (three front, one back) when there are so many other great characters landing on the Dramatis Personae time and again and yet not getting covers.
As a longtime fan, I keep going back to the Fictional Frontiers interview where Shelly Shapiro, Del Rey's Star Wars editor, noted that she doesn't do market research and produces books she likes.  It's obvious she likes Luke, as do most other Star Wars fans, but it is possible to have too much of a good thing. Nothing highlights this more than the fan reaction to the cover of Apocalypse.  It should be an event to see the hero of Star Wars on a cover – and the goal should be a cover that draws universal cheers, not a truly mixed bag, with some dread-filled, of reactions.
At the time I wrote Luke Skywalker Must Die, I understood that my proposal was going to raise a few eyebrows and cause some readers to bristle, and for that reason it required a more concise post instead of expanding each and every idea.  Too much detail initially would just have diluted the broader message. But now, a few weeks later, I feel it's worth adding a bit more elaboration on a few topics.
And I'd like to end this post by discussing how staying the course in the storytelling design will result in characterization apocalypse.
Nullifying Universes
Consider asking George Lucas the following question –
Can the GFFA exist without Luke Skywalker?
He can't give the answer "no."  It's simply impossible. Here's why: if a hero's death nullifies the universe he lives in, that he suffers to save, then the universe wasn't worth his sacrifice in the first place.  Think about it.
Then think about what Lucas has set up for the next generation of Star Wars fans with The Clone Wars.  Their hero will fall to the dark side, kill his friends, and preside over two decades of tyranny, then die. But the GFFA goes on. TCW is proving that good storytelling can actually enhance a character – by the time TCW finishes its fifth season, Lucas will have added over 100 episodes to Anakin's story beyond the fewer than 10 hours in the prequel movies. But I think Lucas also has a pretty good sense of how, and for how long, he can extend Anakin's tale.
So the GFFA can go on without Luke, too.
The Arrogance of the Gods
Right now, what is Luke's biggest characterization flaw?
Mythic storytelling often invokes the arrogance of the gods to inflict flaws on characters. This goes beyond the basic notion of ego that's present in every person, to a heightened sense of self-importance and indispensability that drives heroes to believe that everything depends on them alone. Sometimes it's taken one step further, to the quest for immortality and what that does to the sense of self.  It's when heroes begin to believe in the necessity of their immortality that they can experience literally fatal flaws. True, Luke has never overtly expressed a desire for personal immortality in the books, but he is definitely driven by an inflated sense of his own indispensability as the galaxy's savior.
George Lucas has also shown this arrogance of the gods existing in the Jedi Order, and he makes the quest for immortality a crucial dynamic in Anakin Skywalker's fall.
You have much wisdom, Anakin. But if I were to die, all the knowledge you seek about the true nature of the Force will be lost with me. Learn the power of the Dark Side, Anakin. The power to save Padmé. ~ Palpatine, Revenge of the Sith

Love won't save you, Padme. Only my new powers can do that! ~Anakin Skywalker, Revenge of the Sith
It is the arrogance of the gods that creates the circumstances around Anakin's fall; the Jedi's blindness to the situation around them and his personal quest to use the Force to prevent death. And what redeems him in the end? His acceptance of the necessity of his own mortality to save Luke and defeat the Emperor.
The question is worth asking, though – would the Luke of the films believe he's indispensible, or has his portrayal in the EU made people believe that? The peril of writing twenty-plus post-NJO books with Luke as the go-to-guy is that even readers know that every hero has flaws.
The Achilles Heel of the Everyman Hero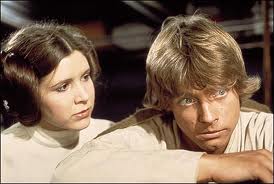 To really understand Luke and his role in Star Wars, you have to start by looking at how Lucas molded him as a character. Orphaned, Luke and Leia are sent to two very different situations and thus, even as twins, they become completely different archetypes.  This is a classical mythical storyline that Lucas adapted to serve his universe. Leia is educated on a rich planet in the ways of language, arts, diplomacy, and philosophy. Luke's life starts on a backwater planet; his education is family values and work ethic, short on philosophy and intellectual reasoning.  This is why we never see Leia struggling with her role in the universe; she simply takes the tools and discipline from her young life and uses them to do what she must.
Luke, on the other hand, is shooting womprats from his T-16 and hanging with his friends, dreaming about places Leia has already seen and experienced, so when his hero's call comes he is thrust into his adventures as an everyman.  Once he breaches the barrier between youth and his adult heroic life, there will always be an epic struggle for him to contend with. It is impossible for Luke to ever catch up to Leia's experience and wisdom, and that has had dire consequences for Luke's own life and for the young Jedi he's led.
Luke Skywalker's Legacy – The Rise and Fall of the Next Generation as Embodied in Jacen and Jaina Solo
These contrasting archetypes exist throughout Star Wars. Two of the most similar to Luke and Leia are Obi-Wan and Anakin and Jaina and Jacen.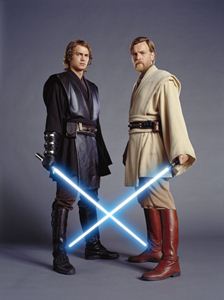 Much like Leia, Obi-Wan is immersed in classical training; he is groomed from birth to understand his place in the universe. He has been taught Jedi values and philosophy and much more in his education as a youngling, then has a practical apprenticeship as a Padawan to a Jedi Master. This background gives him the tools to determine his own course, to decipher solutions out of situations that pose difficult tests to morality.  He's been given a means to keep his soul intact, even though he kills and carries out the will of a government that isn't necessarily free from dubious motivations.  As a Jedi, Obi-Wan is the learned wizard archetype that is played out across myth and legend.
Anakin, on the other hand, is everything that Obi-Wan is not in this regard, and it all comes to a head in the showdown on Mustafar. He grew up a slave boy in an environment of desperate self-preservation for himself and his mother, where pragmatic choices about how to endure and survive trumped concern for higher moral principle. His sense of duty and obligation flowed only to his family and friends, not broader society or the galaxy at large. When he faces the chance to end a terrible war and the threat of losing his wife, Anakin is unable to recognize the arrogance of the gods in himself, and cannot rationalize his own place in the universe in any way except being willing to sacrifice anyone and everything to achieve his desperate goals. Without the moral compass meant to be instilled by a full upbringing in Jedi training, he takes a tragic turn from everyman hero to terrifying villain.
The same dynamic exists with the Solo twins in the EU. The irony is, the superficial aspects of their character arcs might make it look like Jacen would be the learned Jedi wizard and Jaina would be the everyman mechanic and pilot. In actuality, the opposite is true. Prior to becoming Darth Caedus, Jacen went on the sojourn; he had the mad Force skillz!1!  But who fell? And who had to kick his ass into the afterlife?  His sister Jaina.
But wasn't Jacen the thinker of the two? Wasn't he the one always seeking more knowledge of the Force and the philosophies of other Force sects? Yes, but that's not what being a learned Jedi wizard, in the archetypal sense, is all about. As Dex tells Obi-Wan in Episode II, there's a big difference between knowledge and wisdom. Jacen acquired a lot of knowledge of the Force, but he lacked the discipline and wisdom to know how to use it. Jaina, on the other hand, knew exactly what being a Jedi meant, and that's why she had the emotional fortitude to do her duty, even when the personal toll was extreme.
Why did Jaina have such a stronger moral compass than her twin? Because she is actually on the path to becoming the Jedi wizard – the one who had accepted the teachings of Jedi training and apprenticeship, and who had internalized an understanding of her role in the galaxy and the duties and obligations of her responsibilities. The team writing the Legacy of the Force series understood this; where they went astray was thinking that setting up Jaina as Kenobi to Jacen's Vader wasn't an interesting enough story to develop across the whole series. Instead, they crammed Jaina's arc into only the last three books and didn't give it enough page time to give it the emotional power of something like the sibling showdown in the Mortis Trilogy. I guess for some authors writing deranged Sith is much more fun than writing strong-willed Jedi doing the right thing, and they forsook really diving into the meat of Jaina's arc right when women were starting to clamor aloud about the lack of strong females across scifi and fantasy storytelling. Too bad; it's my opinion Legacy of the Force would have been much more epic had they focused on the diverging paths of the twins' lives throughout the entire series.
Jacen – A Jedi Without Discipline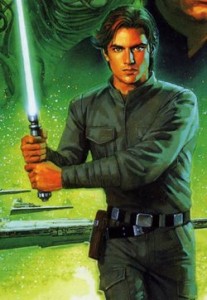 So what went so wrong with Jacen? We have to start by looking at who exactly trained and educated him. The Solo twins had basically the same upbringing prior to the Yuuzhan Vong war. In the early days of the war, though, Luke allows Jacen to flounder in a moral soup, catering to a teenaged boy's pacifistic fantasies instead of forcing him to train as the Jedi Knight the galaxy needed him to be. After the Myrkr mission, Jacen was heavily influenced by his time in captivity. Upon his return, Luke, still trying to reach his own wizard potential, is mystified by Vergere. And the cunning little bird plays the earnest everyman like a fiddle.
Unable to grasp where all this leaves Jacen by the end of the war, Luke allows his nephew to venture out on his own, to find himself like some college graduate stalling for time before buckling down to find a real job. Then when Jacen returns again, Luke simply accepts him back, handing over his own son to Jacen's charge without ensuring Jacen's own moral readiness first. In other words, Jacen's principal tutors were a Farmboy and a Sith. I'm never been sure why anyone was shocked by the rise of Darth Caedus.
We never even see from Luke that beautifully done scene from Episode III where, pondering Anakin's readiness with Mace and Obi-Wan, Yoda rubs the palm of his hand across his brow. In other words, as a character Luke hasn't yet truly questioned his own role in Jacen's fall.  Instead, as Fate of the Jedi rolls out, he's off in search of what experiences or encounters made Jacen fall – when in reality the question Luke should be asking is why Jacen didn't have the mental and emotional skill set he needed to keep himself from falling, regardless of what happened to him.
Jaina discovered she'd inherited from her parents the narrow belief that it was her role, her family's role, to be saving the galaxy. The fact was that their actions were crucial, but it was the hundreds of thousands of sapient beings that made up the Rebellion that had been able to capitalize on and maintain the victories others had won. Blowing up the Death Star certainly eliminated threats to the galaxy, but it hadn't liberated a single Imperial planet.

~ Jaina POV, Dark Tide: Ruin by Michael A. Stackpole, page 99
Jaina – A Jedi Warrior
So who taught Jaina? It's an interesting combination of people.  First Mara, the reformed Emperor's Hand.  There's no one better to teach the importance of a strong moral compass than someone who's struggled so much to build her own. Mara sets Jaina down an uncompromising path.  Mara knew all too well how a person could be twisted into an instrument of evil. After training with Mara, Jaina enlists in Rogue Squadron and serves under a strict command structure. Next is Kyp. His influence was short, but the impression was long-lasting because he taught Jaina by example. Despite having suffered the loss of his brother from his own dark deeds, Kyp persisted and found purpose, even joy, in his life. Another green-eyed Jedi, her mission partner Zekk, had also at one point fallen to the dark side and is portrayed with rigid personal standards and a strict code of ethics that he uses as a barrier against another turn.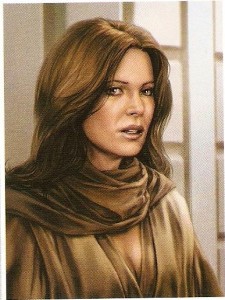 But Jaina didn't learn only from Jedi. Jagged Fel, her on-again off-again love interest, has brought Jaina the furthest along her wizard path. He's not a Jedi, but he is still highly intelligent, well-educated, and keenly aware of the tragic turns that befall heroes when they stray from the right path.  Like Leia, he simply deals with each obstacle to his life as it appears, but he doesn't waver from his sense of duty and obligation or his internal moral compass. (His morality might not be the same as a Jedi's, but it is solid and uncompromising in its own way.) Allston probably showed this best as he mapped out the relationship between Jaina and Jag in Legacy of the Force. He went back to themes he had used in the Enemy Lines duology, where Jag out-reasoned Jaina into thinking further about her use of Force tactics against the Yuuzhan Vong. In Fury, that's exactly what Jag does to Jaina again; even though he loves her, he puts a physical beatdown on her in the meadow and successfully embarrasses her into realizing she's at risk of training all the humanity out of herself and becoming a horrible Jedi. When Jaina does take time off from battle in Legacy of the Force, it is to completely immerse herself in her studies with Boba Fett.  Her ability to submit to his training isn't in avoidance of her Jedi duties, or a goal simply to learn a new Force-trick before dashing off like we see from Luke in Fate of the Jedi.  Her submission to the Mandalorian training required humility and diligence; she had committed to enhancing her skills to fulfill the role she was expected by the Force to play in the upcoming battle.
When Jaina and Jacen fight to the death, what enables her to win is her ability to set aside her arrogance, her personal pain, and everything she wants from life. To the bitter end, Jacen is selfishly trying to save his ambitions for the galaxy or his daughter. Jaina, though, has the strength to let go of herself and do her duty. She prevails because she latches onto the one thing that made Luke Skywalker more than your average run-of-the-mill hero: a belief in something beyond self that makes heroes mythic.
Passing the Torch
So what does all this have to do with Luke? His lack of character growth beyond the everyman archetype we first saw in the movies has dragged the Star Wars EU into a quagmire of boring, repetitive storytelling. Like his father and his nephew, Luke has floundered at acquiring the wisdom and understanding of what it truly means to know and accept his place in the universe and his role in the galaxy. Without that, his character will always be compromised and his personal successes will always be paired with broader failures for his students. For a long time now, the new Jedi Order has needed a wise, learned Jedi wizard at its helm.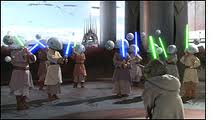 So if Yoda was a sage, badass Jedi, why do we see him teaching younglings in the Jedi Temple, posing silly questions about missing planets to children who can't even wield more than a training blade? Because his role was to teach the next generation everything he knew and to instill physical, moral, and mental discipline that will keep them in the light. With Yoda, there was always a lesson.
So why isn't Luke Skywalker of the EU Yoda yet?
For the most part, the people writing the recent EU books still look at Luke as the Farmboy or Everyman, so it's been difficult to transition Luke into the Yoda role. This is probably the biggest reason the novels have struggled with the character. When he should have been becoming a wise tutor, he's constantly on the front lines. What's missing is a character bible – probably even going back to Lucas himself for input on how to shift the archetype. I've never bought into the notion that Lucas wouldn't indulge the writers with some time to talk about the hero of the Original Trilogy if he were asked. More likely, it seems to me, the writers and editors in their fannish zeal wanted to seize control and make Luke in the image they wanted for him.  So they just didn't ask.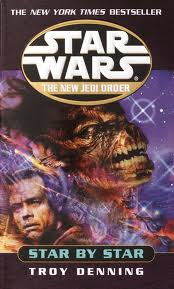 No moment in the EU better points toward Luke's inability to deal with his great responsibilities than the Myrkr mission in the NJO.  The consequences of the mission have shaped the flagship EU storyline more than any other event. The crux of the mission was that the voxyn queen must die or the Jedi are doomed – and with them the galaxy. So if those are the stakes, why doesn't Luke go? Why does he send mere children in his place?  For a lot of reasons, some of them valid.  In fact, I think it was a good storytelling choice. The interesting dynamic, which has never been explored on the page, is that perhaps it was this very decision, and all the failures surrounding the young Jedi who had been sent on that mission, which left Luke feeling as though he had to take the weight of the galaxy back into his own hands. If Luke's refusal to pass the torch came from his own self-doubt about the consequences of having tried to do it once before – now that would have been interesting characterization and storytelling.  But we never see this from Luke, or even see him struggle at all internally or externally with the tragic twists that played out in the galaxy at the hands of the Myrkr mission Jedi.
In all his years since the end of Return of the Jedi, Luke has faced one battle after another.  In the films, he never submitted to the discipline of the military – he came and went as he pleased – nor did he listen to the wisdom of his Jedi Masters. And nothing has ever really changed in that portrayal of him; Luke Skywalker is never truly shown accepting discipline like his sister or her daughter.  It also goes without saying that while he's intelligent, Luke has the education of a farmboy raised on Tatooine, just like his father. Yes, he studied briefly with some Force sects, believing he was broadening his powers and his knowledge.  Without a solid foundation in understanding his duty and his Jedi compass, though, each bit of new knowledge only added more muddle to the moral soup. Luke doesn't have the tools – a spoon, in this case – to drink from the cup of wisdom, so he takes the bowl and puts it to his lips, and it spills all over the place, making a mess.
Have you ever stopped to think about how many darksiders and Sith that Luke has now trained in the ways of the Force?
Everyman to Wizard – An Opportunity Lost
The great thing about the book storytelling format is that it operates more like a serial television show than a movie. The serialization of Luke's story would have been a perfect opportunity to transform Luke from the Everyman archetype to the Wizard archetype.  In fact, it would have been epic.  First and foremost Luke would have to recognize his arrogance and ego – most importantly, his failings as the new leader of the Jedi – during a philosophic odyssey.
Fate of the Jedi was a Luke/Ben odyssey born from a premise pitched by Shelly Shapiro. The name of the series suggests a higher level struggle even than Legacy of the Force's unraveling of Jacen's soul. Actually, upon first look, one might get the impression that this is a series where the founder of the New Jedi Order might die, and so the fate of his Jedi becomes in doubt.  But the Powers That Be knocked that level of suspense right off the table straight out when they told us no major character would die.  So then perhaps Fate of the Jedi might have suggested an identity crisis for the Jedi Order itself, which has to be played out primarily through Luke's role. But it hasn't been that, either.
Let's step back momentarily and think in broader terms about the flagship EU books. The NJO is an era; it actually has a beginning, middle, and end. Next comes the Legacy era, which, if it wants to succeed as a successful serial era, must too have a beginning, middle, and end.  We know the end of Legacy, at least in part; I think it's unclear if the comics are the beginning of the end or the end of the end. Given what Lucas gave us this year with the Mortis Trilogy, where he depicted masterfully his vision that the universe and the Force exist in an ever-constant state of flux, the dynamics in the Legacy comics isn't surprising.
Some fans screamed and shouted about the implications of having the end before the middle from the moment Legacy was first announced, but the irony is we're fans of a movie series that started at Episode IV.  We knew the end of Episode III in 1977.
Good serial television is the easiest example to explain why knowing the endgame is a good thing for storytelling.  First off, if the storyteller doesn't know the end, the journey is screwed from the start.  Shows like Lost and How I Met Your Mother highlight one of the biggest problems that can hurt serial stories, even when they have strong fan appeal.  The first seasons of Lost were epic, but then it started to meander, not really having a purpose other than to tell stories. The creators actually had an endgame, but they didn't know when it would be.  As soon as the creative team signed the deal for a fixed number of seasons, how much time was left to tell the story, Lost returned to its old form.  Currently, How I Met Your Mother has lost many fans, who are simply tired of awaiting more than the barest of hints toward resolution for the title character.
There is no better example of a meandering serial story with no true purpose than Fate of the Jedi. We know a few things – by 130 ABY there will be three distinct Force-using factions: Jedi, Imperial Knights, and Sith. In Fate of the Jedi we have two Force factions: one light, one dark. Where does that other faction come from?  Is it born out of a Ben/Vestara love child? The frightening thing is, with the level of storytelling we've been given recently from the flagship series, it doesn't seem that far-fetched.

Unfortunately Ben and Vestara are the obstacles within the odyssey that will keep Luke from transforming out of the Everyman archetype and into the Wizard.  Revisiting his old Force sect hangouts has been a plot device to introduce more tricks, not more wisdom or self-reflection.  Luke has been watching out for his son, mourning old loves, partnering with Sith – he's more Erica Kane than Yoda.
Within the text, he hasn't truly acknowledged that he is in part responsible for Jacen, Alema, Raynar, and a whole host of other disasters that have befallen the galaxy. Instead he still fears his own role and relationship to the Dark Man from his visions during Legacy of the Force. He's even made the classic deal with the Devil in order to defeat an evil beyond the reader's imagination.
There is enough evidence in the text to make fans wonder if Luke has succumbed to the arrogance of the gods and is slipping over to the dark side without even realizing it.
Worse yet, by isolating Ben from everyone else during their journey in Fate of the Jedi, Luke has actually set Ben down the same path toward failure. Even with all the tricks he knows, Ben is, like his father, Force-knowledge rich and Jedi-philosophy poor.
Ben's been trained by a Sith and a Farmboy. Sound familiar to anyone else we know?
Luke to Yoda and Back Again
There is more than one set of fans not happy with Luke's character development. The Luke fans who hang out in TFN's Save Our Skywalker discussion thread take issue with his grayer portrayal. Fans of other characters, like Jacen and Jaina fans, take issue with Luke's role as a failed mentor, or with Luke continuing to dominate the limelight at a grandfatherly age.  For the most part, all of these fans have one thing in common: we'd like Luke to remain that beacon of hope we fell in love with in the movies.
Undoubtedly the more stories that are told, the more opportunities for Luke Skywalker to make a mistake and tarnish his mythic reputation.  I don't think Star Wars fans expect Luke to be perfect, but more and more he's done things that rightfully can be construed by some fans as something worse than simply mistakes or humanity-induced blunders.
When the NJO started, it clearly had a goal to develop new heroes' journeys. With nineteen books, it succeeded in bringing the stories of three heroes to life – Anakin, Jaina, and Jacen.  Whether they did all three equal justice is debatable, but that's another blog for another day.  At the time the NJO was being written, fans knew the creative team had a story bible and character arcs mapped out.  Luke was definitely beginning his shift to Jedi Grand Master.
In the Dark Nest trilogy Luke declares himself Grand Master, but his elevation was imposed by circumstances introduced by a writer who prefers to explore the grey side of Star Wars.  In all fairness to Denning, Lucas himself believes that light and dark exist in all characters, but I think most fans of Star Wars want and need Luke to lean strongly into the light. The story bible method was abandoned about this time, too, and the flagship series EU became a process of pitches.  It's evident to many fans that while continuity of facts ruled the day, continuity of characterization started to wane.
Even as Luke performed more and more ruthless, and what some might consider morally questionable, acts during Legacy of the Force – allowing Ben to be captured, reading the future with the Force and manipulating the projection of the future in the Force, tricking Jaina into believing he had died – the storytellers were using other characters' point-of-view to prop up Luke's characterization as the galactic hero even as much of the story relied on his superior Jedi skills to outwit, outlast, and outplay Darth Caedus. At the close of Legacy of the Force, the story design had created Sith Lord Jacen Solo powerful enough to kill Mara Jade Skywalker, but Jaina's converse heroic arc as the Sword of the Jedi still needed the helping hand of the Jedi Grand Master.  Interestingly enough, Luke didn't act much like a shepherd to his Jedi protégé in Invincible; in fact, he was more a manipulator than a wise counselor throughout the course of the book, going so far as to invade her mind without her knowledge or consent to even the playing field in the battle to defeat his nephew.
Most recently, Fate of the Jedi opened with Luke removed from the role of Jedi Grand Master, a move that by design could have afforded the veteran Everyman hero the opportunity to finally fulfill his rise to the epic Wizard level.  At this point in the series, though, it doesn't look like that's what we're going to get, and if we do, it won't be consistent with the mishmash the series has delivered in its pages.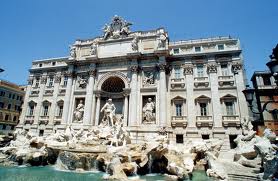 The movies might be Luke's and Anakin Skywalker's journeys, but undoubtedly there are hundreds of more heroes' journeys – and yes, even some falls – that existed under Yoda's tutelage, and there's no reason we can't see the same for Grand Master Luke in the EU. The books and comics of the EU are serial storytelling, not two-hour movies, and that creates a much broader canvas. Imagine being taken to see Trevi Fountain in Rome and the tour guide tells you to stand in one spot and the only thing you could see was the grand statue of Ocean set in the middle, yet you knew there were some spectacular sculptures of male and female characters and horses rising from the water not to mention the fountain itself… Sure, it'd be cool to see that one part, but you'd leave knowing there were a lot of other things you would have liked to have seen.  That's what the recent flagship EU has been like for many fans.
Luke doesn't need to pack up the Jade Shadow and live a pauper's life on a backwater planet. And like Yoda, when the time calls for it he should be ready to pick up his lightsaber and fight. But the time to pass the torch is long past.
Proposing Luke's death was the easiest and most dramatic – all right, you got me: melodramatic – way to shine a spotlight on the too-narrow focus of the post-NJO EU.  Fate of the Jedi hasn't yet built a foundation to shift Luke's role into the shepherd of the next heroes of the galaxy, but I think in the near future it is imperative that change occur.  Too much more of the status quo risks nullifying the fanbase of the Expanded Universe in which Luke Skywalker exists.
---
The next excerpt for my upcoming space opera novel will be posted on Monday, June 27th. Now that I'm moving further into the process of revealing my book and its story, I'll keep the focus of FANgirl Blog on my thoughts and commentaries on storytelling, fandom, and fangirls, as I've been doing so far. My new author website, triciabarr.com, will focus on my novel – and I'll post the next excerpt there on Monday.