Fangirls Around the Web: May 6, 2013
It's a few days since May the Fourth, so let's start off this edition of Fangirls Around the Web with some Star Wars.
On the Expanded Universe front, LucasBooks senior editor Jen Heddle wrote another wonderful blog post for the Star Wars Blog, talking about the storytelling elements that make up a great Star Wars story. Del Rey announced that the audio book of Tim Lebbon's Dawn of the Jedi: Into the Void will be read by a woman for what appears to be the first time. Roqoo Depot shared an interview with Star Wars author Patricia A. Jackson. And I enjoyed this fun video review of the Jaina Solo bishoujo statue from Kokobukiya, which is due for a re-release in the fall. Mara Jade is up next!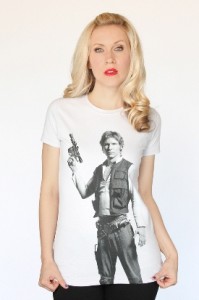 Ashley Eckstein garnered a lot of attention in her appearances at the recent C2E2 convention in Chicago. She sat on the Fierce Females of Television panel with Jane Espenson and Janina Gavankar (Space Gypsies has the full video), got a behind the scenes tour, sat down for a chat with RebelForce Radio and other media, and took lots of pictures with fans.
The latest fangirls featured as Fangirl of the Day for Year of the Fangirl are: Meagan, Heather, Savannah, Joyln, Kimmie, Mary, Elizabeth, Alyssa, Diana, Sarah, FANgirl contributors Priya and Megan, and fandom heroines Mary Franklin and Consetta Parker. Also be sure not to miss the wonderful article Mary Franklin wrote for Bantha Tracks in the most recent issue of Star Wars Insider magazine, featuring the young ladies who founded and grew the Lakehouse Forums as a safe place for fangirls to share their passion for Star Wars.
Elsewhere in the genre, Annalee Newitz at io9 reports on industry data gathered by Strange Horizons illustrating a gender imbalance in the books and authors featured by prominent reviewers. Ester Bloom at Slate debunks the persistent (and pernicious) conventional wisdom, insisting that the publishing industry has to Stop Saying That Men Don't Read Women.
One year after launching the highly successful first All Women edition of The Gathering, GrayHaven Comics has just released The Gathering: All Women Issue #2. Editor Erica Heflin once again uses her considerable talents to compile a book that offers the work of up-and-coming female writers and artists alongside contributions by experienced creators such as Gail Simone. GrayHaven continues to be an industry leader by encouraging and promoting women writers and artists in comics. Head on over to their website and check it out – along with their other great comics!
Elizabeth Plank at PolicyMic reports on the not-to-be-missed amazing Facebook evisceration (some language Not Safe For Work) by actress Aisha Tyler of the trolls who took issue with her appearance at the E4 gaming convention, notwithstanding that she's a lifelong gamer. Also be sure not to miss Wil Wheaton's fantastic exposition on why it's awesome to be a nerd, recorded for a baby girl.
MSN Money reports on Warren Buffett's remarks urging male business leaders to invest more in their female counterparts.
Kay and Priya are big fans of the USA Network television show Psych, and shared that a recent episode – "Juliet Wears the Pant Suit" – was written and directed by women and also featured a female character (Juliet) as the center of the storyline. Juliet is not only the self-rescuing type, but she's also good at rescuing others. And she's been kicking butt while dealing with normal things all women go through.
We'll end where we started: with Star Wars. Slashfilm linked to a ScreenSlam interview with Lucasfilm CEO Kathleen Kennedy, and made note of her comments about the level of secrecy fans might expect for the upcoming Episode VII. I particularly liked these comments, too:
So my feeling is, you need to embrace that, especially with the fans around something like Star Wars. You need to recognize they're important to the process and acknowledge there are things you're gonna want to make sure they get to know. So I think that's something we're going to monitor, pay attention to and think differently about.