Fandom Fashion Finds: May Recap
There are so many really good-looking geek fashion items that came out in May that we better just get started already.
WONDER WOMAN
On the Wonder Woman front we have the much-awaited Her Universe x Hot Topic collection designed by the three winners of last year's Her Universe Fashion Show. This eight-piece set has a lot of red, white, and blue but also gold and black in its two jackets, two dresses, sweater, romper, skirt, and tank top. Pieces are in stock on the websites of Hot Topic, Her Universe, Torrid, and a couple are at Box Lunch. A few items are also in select Hot Topic stores.
Since I gravitate towards subtle, my must-have pieces are the Wonder Woman Lasso Dress ($69.90/$78.90), the Wonder Woman Off The Shoulder Cowl Neck Sweater ($54.90/64.90), and the Wonder Woman Armor Faux Leather Jacket ($79.90/$88.90). All three were designed by Hannah Lees-Kent, who is clearly on the same style wavelength.
What's also cool is designer Camille Falciola got to incorporate something in a similar vein to the disappearing ink of her winning Harry Potter dress into the Wonder Woman Ombre Skirt ($49.90/$54.90). Its UV-reactive ink reveals a Wonder Woman pattern in the sun. Meanwhile Jesse Thaxton brings the look of Diana's Themyscira costume into the Wonder Woman Themyscira Romper ($49.90/$58.90). While I haven't tried it on yet myself I'm hearing that the romper fits longer-torsoed gals better than previous HU rompers.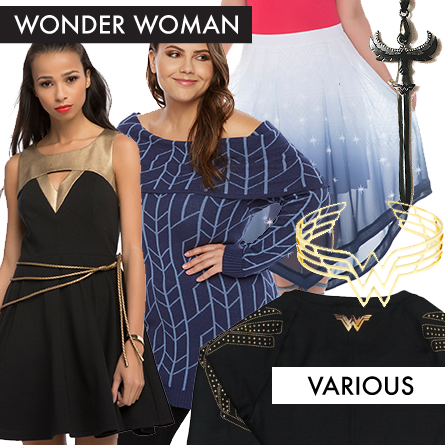 To accessorize with the new collection you'll also find at Hot Topic is this crossbody bag with her shield design ($29.90) and a three pair earring stud set ($7.90). If you're really committed you can get these amazing 3-piece Wonder Woman Cosplay Wedge Boots ($134.90) at Hot Topic as well so you can decide how much of the boot you want to wear.
Love and Madness has three colors available for their Wonder Woman Madness Wrap ($40) featuring stars and a hanging WW logo. My favorite Wonder Woman accessory so far though may be the Love and Madness Sword of Athena Necklace ($60), which is offered in three colored metals for pre-order shipping June 1st.
Over at Box Lunch they also have this lovely gold-tone Wonder Woman Cutout Cuff Bracelet ($14.90) as well as this Wonder Woman White Mini Handbag ($49.90). The purse has star-print lining. Together these accessories could be part of a sophisticated-looking power outfit. Bioworld also has a rather versatile brown Wonder Woman wallet that has a small lasso wrist strap. You can find it on Amazon currently ($26.99).  
GAP has some Wonder Woman clothing for babies, toddlers, kids, and women as well. Red, white and blue dominates the offerings for the younger group. There's some cute items like this graphic cape t-shirt ($29.95). The GapFit Wonder Woman Sports Bra ($39.95) and Lasso Leggings ($69.95) are the standouts for women with their bold black and gold playing up the Wonder Woman logo.
If you're want for more black and gold Wonder Woman apparel hasn't been satisfied, you're in luck. Nuyu has a 11-piece warrior athletica collection that includes this fitted studded dress ($185). Outside of the color scheme Nuyu's Wonder Woman 75th Anniversary selection has a variety of athlesiure apparel.
And don't forget the Wonder Woman fashion that was already included in the April recap. And there's even more coming in June!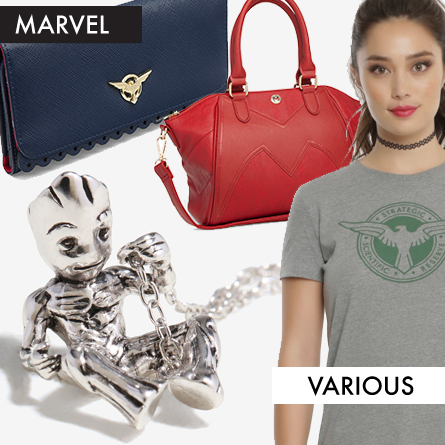 MARVEL
Rock Love Jewelry came out with their Guardians of the Galaxy accessories. Two earring sets, a necklace, and a ring all center around the character Groot and are currently available for pre-order. The Sterling Groot Slider Necklace ($70) is amazingly adorable. She also has Dancing Groot Stud Earrings ($60) that not only represent a potted Groot, but are actually designed to dance around as you move. You can also find some of the collection on Box Lunch.
(Allison has also designed a licensed Twin Peaks line, so be sure to check that out if you're a fan of the show.)
Bioworld made a great hat, wallet, and keychain that feature the Guardians shield logo. I haven't seen these for sale anywhere though. Let me know in the comments if you've spotted any of them.
And Loungefly has been doing more and more patches that can be a great way to add your fandom to whatever piece of apparel you'd like. Their Guardians of the Galaxy Iron-On Patch ($4.90) is available at Hot Topic.
Agent Carter still lives on with three new pieces this month. The Her Universe Marvel Agent Carter Wings T-shirt ($24.90) sports the SSR logo. An Agent Carter Crossbody Satchel Bag ($69.95) and Agent Carter Vegan Leather Wallet ($34.99) have appeared on ThinkGeek's site. Both are made by Loungefly as nice subtle geek wardrobe additions. Scarlet Witch is now also fairly subtly represented via Loungefly purse: Scarlet Witch Vegan Leather Convertible Purse ($69.99).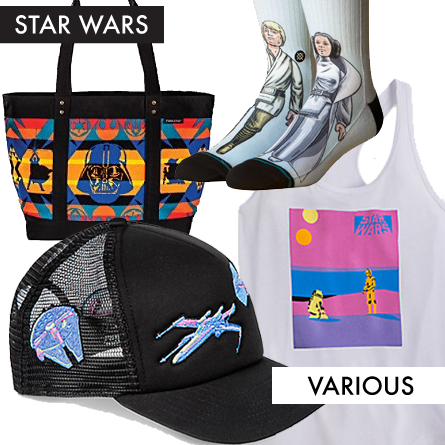 STAR WARS
With May being the home of the semi-official Star Wars holiday-of-sorts May the Fourth, new Star Wars wearables appeared. Nixon added to their extensive watch collection with the limited edition Boba Fett Diplomatic; find out more about it in my article. GOZOO launched 4 new poster shirts on the 4th with additional ones that came out on the 25th for the 40th anniversary of Star Wars: A New Hope. Uniqlo put out their quirky 40th Anniversary artists shirt collection for men.
Pendleton released a new design for the 40th anniversary that's available on some bags ($49.50 – $159). Bioworld announced their Hoth Collection which features bags and accessories in two designs: the Empire and Han Solo. Word is they'll be debuting them at Comic-Con and then they'll be available at retailers. While you're waiting, check out their similar Endor Commando Backpack ($39.99) and Hoth Commando Backpack.
Stance debuted their anniversary sock collection which features illustrations of some of the early Star Wars action figures ($20). Also Neff Headwear's new neon and pastel color-blocked offerings are now available exclusively at Disneyland inside Star Traders and on the Disney Store's website. Neff has a few more Star Wars items already on their site including this Rogue One cropped fleece ($44.99). You can also find these Disney Parks Authentic pop-art-meets-3-D-color-shifting Darth Vader leggings ($36.99) online.
In further geek fashion news:
Givenchy has brought back their Bambi print design for the movie's 75th anniversary. Find more about the history of the design at Disney Style.
Po-Zu's Star Wars shoes and boots are now available for pre-order on their website.
The Wonder Woman pieces from the DC by Her Universe activewear lines are now also in stores.
Hero Within is shipping out pre-orders of their latest collection – including the Wonder Woman shirt and jacket for men.
Pirates of the Caribbean has tie-in collections for juniors and girl 7-16 at Kohls, a well-themed Pirates of the Caribbean: Dead Men Tell No Tales Makeup Collection by LORAC ($26 – $52), Pirates-themed accessories at HSN, and Dooney&Bourke purses.
Check out @GeekFashionGalaxy on Instagram for this kind of fashion news and findings as it happens.