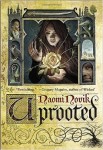 "Here. You'll like this," he said, practically shoving the book into my hands. It was by Naomi Novik, an author I wasn't familiar with and it felt a little strange to be holding a book I hadn't known was coming out. While a majority of the books I review on here these days have to do with Star Wars, I occasionally peruse the coming soon lists of other areas of interest too. I'm used to knowing author names, what else they wrote, and what the story was generally going to be about.
But holding Uprooted, I had no clue. I was tempted to ask why he thought it'd be a good fit for me, but I held my tongue. This was a chance to go into a book fresh and I was going to take it.
I quickly learned the story is told from the perspective of a 17-year-old girl named Agnieszka, who lives in a valley near a dangerous wood. Once every ten years the local wizard arrives to choose a girl who will serve in his tower for the next ten years and in turn he protects the villagers from the wood. Everyone is sure the next to be chosen will be Agnieszka's best friend Kasia, who is practically perfect in every way. But events don't proceed as everyone expects.
The rest of the plot, I will leave for you to discover when you read this book–because I highly encourage you to read this book. Naomi Novik . . . → Read More: Kay Reviews Naomi Novik's Uprooted