Reviewing the MeUndies Star Wars Underwear Collaboration
The dark side and the light come together on MeUndies first Star Wars collaboration. So dark sider fan and fellow contributor Linda and I, a light sider fan, have come together to review them.
MeUndies is an underwear company known for their bold prints, self-expression, and their membership option. Neither Linda nor I had tried their products before. A Star Wars print isn't a bad place to start.  So let's take a look.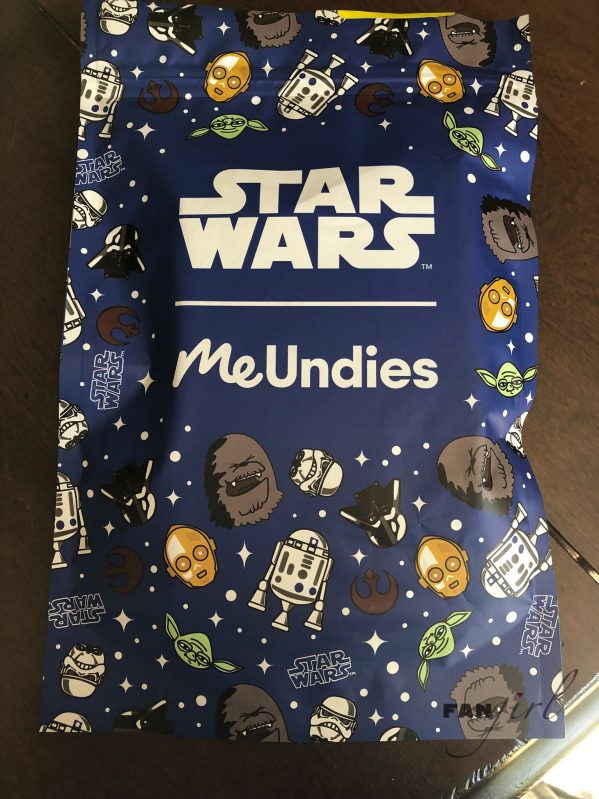 Packaging
Linda: The MeUndies came in a super cute package with the design matching the cute hand drawn Rebellion and Empire characters of the underwear on a dark blue field with stars and the Star Wars logo.
Kay: The packaging made it feel like a fun present. Plus it's easy-open.  
Fabric
Linda: The undies were soft to touch and the designs are vibrant. The fabric is light and stretchy.
Kay: Yeah, the fabric is lighter weight than it looks but still feels nice. They're 92% MicroModal® 8% elastane and modal is known for its softness.
Linda: I like that MeUndies in general are sustainably made from Lenzing MicroModal, which is made from beechwood, though I don't have any experience with this particular fabric to know how it lasts with repeated washing. I also like that MeUndies states it is a company that is dedicated to fair wages and audits the factories they use.
Kay: They definitely get bonus points for that. Like a lot of garments it depends on what the modal is blended with. Here with the elastane I wouldn't expect any pilling. That kind of fabric is known for resisting shrinkage and holding color over time too, which is great because it'd be a bummer if this bright blue faded. Following the washing instructions printed on the underwear should also help it last.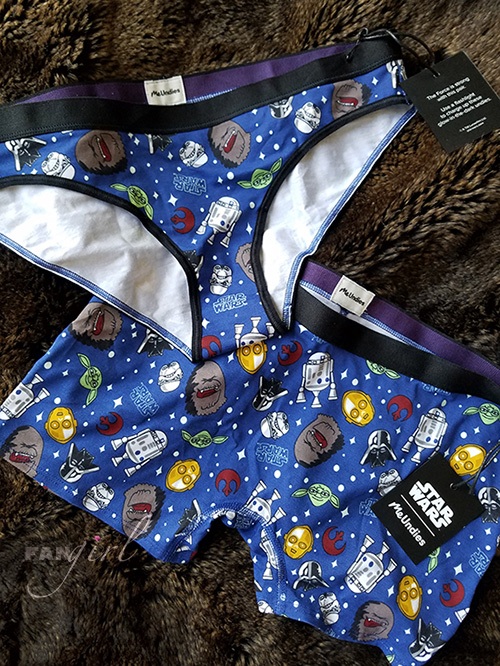 Style & Fit
Kay: We each received the women's bikini and boyshort cuts. Did you prefer one over the other?
Linda: I tried both and I don't generally like boyshorts, but between the two styles, I found the boyshorts to be more flattering and comfortable. The bikini came to an awkward place on me and rolled, resembling something ultra low rise. They stayed comfortable, but weren't particularly flattering. The boyshorts, though, much to my surprise, were flattering and because of the lightness of the fabric, stayed comfortable throughout the day.
Kay: It's funny that my experience was pretty much the opposite. I was expecting to like the boyshorts more for coverage reasons, and while the other parts of the pair I tried felt nice, the leg openings of the boyshorts were slightly uncomfortable due to tightness. Plus the way they stretched over my upper thighs visibly made the design look lighter right at the edge. It wasn't what I was expecting and I wonder if after a few wears the issue would lessen. Meanwhile I loved the bikini. It had enough coverage in the back (which was my biggest concern) and they stayed in place pretty well.
Linda: There's also a cheeky bikini (as well as a men's line) available on the MeUndies website.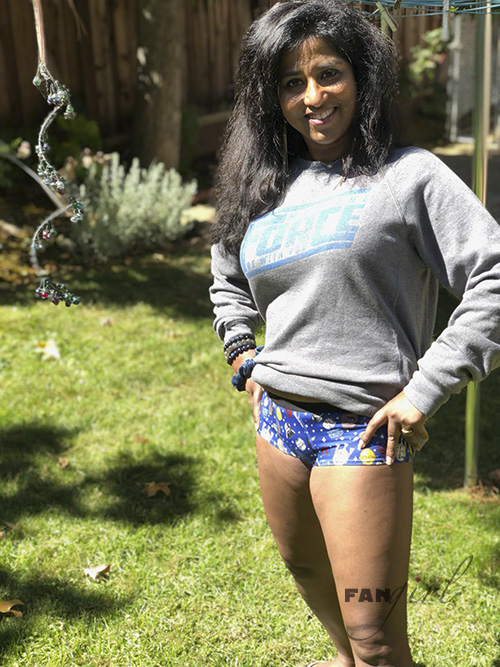 Sizing
Kay: I followed the sizing chart to pick my size and I think they were accurate. Even with the slight tightness on the boyshorts the rest of that pair fit fine, so I don't think I'd want to go up a size.
Linda: The MeUndies were true to size on me.
Design
Linda: In addition to the aforementioned cuteness this Star Wars design also glows in the dark. To get the full effect, you're supposed to shine a flashlight on them. I used my iPhone flashlight on them for a couple of minutes and stepped into a darkened room at home. The stars on the undies were definitely glowing, which was fun and made me giggle. I'd love to see a tank top as well– I love matching tops and undies.
Kay: This is actually my first pair of Star Wars underwear ever. When I was younger I never saw an option for girls. I know there are some on the market now but I've haven't really sought them out. I'm laughing as I type this but in some ways this feels like a new level of dedication to the saga. It's a bold jump in.
Linda: These could be a cute addition to any Star Wars addict's wardrobe!
The Star Wars & MeUndies collaboration is a limited run available now through the MeUndies website. Pairs retail at $18 each and $14 for MeUndies members.  
Thanks to MeUndies for sending us pairs to review. As usual opinions here are our own.
P.S. The fuzzy blanket is faux.