MeUndies x Star Wars Strikes Back With Disco: A Review
MeUndies is back with another Star Wars collaboration and this time disco is king!
UPDATE September 20th 2019: The three prints mentioned in this article are available again! After high fan demand, MeUndies is bringing them back in women's sizes XS-2XL and men's sizes S – 3XL. Find out more on their website. And now back to the original article.
Last year Linda and I reviewed the first MeUndies Star Wars venture where the light side and the dark side joined together. Now the underwear company known for their bold prints, self-expression, and their membership option has three new limited prints in honor of May the Fourth: Lightsabers, Death Star Disco and Yub Nub! Plus the options of items to get them on has expanded to include onesies and lounge pants in addition to underwear.
This time Linda took a look at the onesie in the Death Star Disco print while I tried out the women's lounge pants in Lightsabers. Neither of us had tried these specific MeUndies styles before so let's get started:
Packaging
Linda: Like last time, the package came in a cute envelope which felt like receiving a gift– with this drop, it featured a large disco ball Death Star. I like it so much I'm going to figure out a way to repurpose it for my office.
Kay: Not only is the packaging fun, I really appreciate how easy it is to open. No scissors required.
Fabric
Linda: I expected the onesie to be heavy– it's a full body fit– but the combination of the low impact dye, ethically sourced, elastane and micromodal fabric is light. It was soft, almost like a fine silk jersey, to the touch.
I haven't washed these yet, but I expect them to hold up well if they are like my other MeUndies.
Kay: This fabric is so nice in so many ways. It defintely has a nice softness to it. It's thin but still feels substantial enough and remains opaque.
Like the onesie, the lounge pants are 92% MicroModal®, 8% elastane and I think the drape of that fabric lends to it feeling like a quality piece. It being natural fibers and ethically sourced is a cherry on top.  
Sizing / Fit
Linda: I ordered a M/L in the onesie, because I wanted an oversized fit, but I could have easily gone down a size (for reference, I usually wear a size 6). With the lightness of the fabric, though, it didn't really matter; everything just draped comfortably. The elastane in the fabric gives it a good amount of stretch.
Kay: I was right on the border of the measurements for the women's pants' small and medium sizing so I went with the medium. Going with the small might have been the better choice. When I tried them on right out of the bag, they were sliding down. The issue is the waistband being too big; the rest of the pant are a comfy fit – not tight and not too baggy. So I washed them and then dried them at one setting warmer than the instructions recommend and they were staying on better. But after wearing them around they started to slide again. Folding over the waistband once seems to fix the situation. You can see the purple inside on the waistband in one of the photos. The length is good. 
Style / Design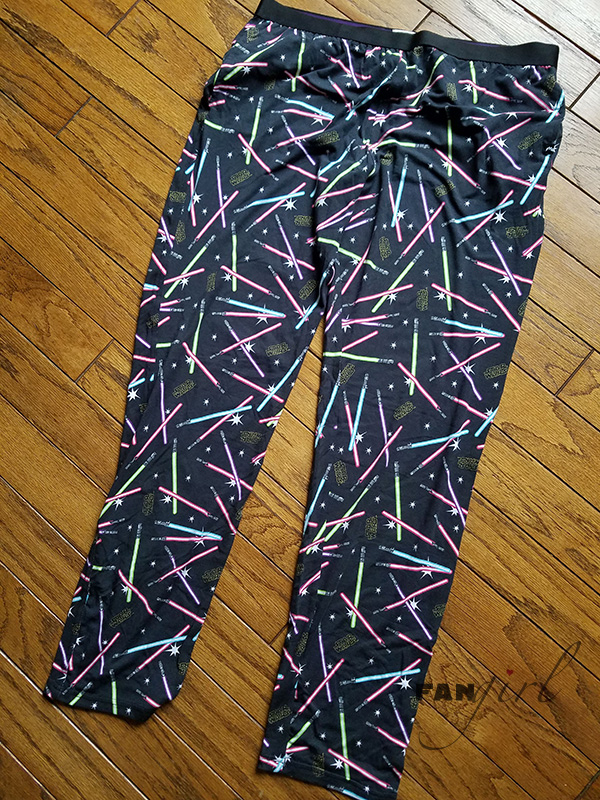 Linda: This onesie is made for Netflix binging. The hoodie adds a snuggle factor and the long zipper makes it easy to get in and out of. The biggest plus? Pockets! The onesie features deep pockets on both sides.
So while I said they are perfect for lounging at home, I can see myself tossing on a jacket and slipping on Uggs to make an ice cream/Nutella run in these. In fact, I wish I had these at Celebration, because I could totally see having breakfast at the Marriott in these. Next year.
Kay: I'm already imagining putting on these lounge pants right after finishing Thanksgiving dinner. Movie watching in them would also work. They really live up to the lounge name. Plus these pants have pockets too – 4 pockets!
I probably won't need to use all four while lounging but I'm happy they're there. The ones on the sides are deep enough to carry a pen. And when I put my phone in one of the back ones I was surprised that the structure of the pants supported the weight of the phone pretty darn well.
I also like that the pant legs taper slightly at the bottom. The print may be disco but the style is still modern.
Linda: The pattern I got is the Disco Death Star, a bright turquoise background featuring Stormtroopers and Scout troopers, some appearing to do the Hustle in front of white stars and…disco ball Death Stars. The colors are bright and vibrant without veering into a childish palette. Plus, dancing Stormtroopers, who I love as much as I love having pockets in my clothes.
Kay: They really lived up to the Lightsabers pattern name too. It's an artful mess of lightsabers on a black background with some scattered Star Wars outline logos and white starbursts. I love lightsabers so this is a good print for me. There's red, blue, green, and even the Mace Windu purple blades. It was fun to spot the Anakin/Luke/Rey hilt as well as the Vader one. I think one of these red ones might even be half a Maul hilt. Kylo Ren was not invited to this disco.
All of the new Star Wars designs are available now on the MeUndies website with shipping to the US and Canada and prices ranging from $45 – $78. You can find the unisex onesie Linda tried here and the lounge pants I tried here. You'll see there is a men's cut of the lounge pants as well. These prints are also on eight styles of underwear but take note that while you can pick your print for the onesie and pants, the underwear all only come in three-packs with one of each limited print.
Thanks to MeUndies for sending us each an item to review. As usual opinions here are our own.