Canto Bight – Star Wars Book Review
The stunning images from Vanity Fair that depicted guests of Star Wars' Canto Bight casino made me want to go there, Canto Bight, the four-story novella collection, made me want to reconsider.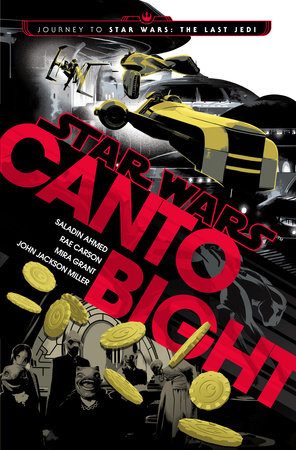 Much like the the Takodana stories of  Tales from a Galaxy Far, Far Away: Aliens – Volume I, Canto Bight reveals the darker side of Cantonica's jewel city. All four stories have high stakes for their characters while showcasing the glitz and depths of the location set to be featured in The Last Jedi.
Saladin Ahmed's Rules of the Game is perhaps the harshest look at the dangers of being a Canto Bight newbie but the most predictable as soon as you gather the thread. The most straightforward of the four, it's a tale that'll give you a good look at the layout and systems at work in the area.
Mira Grant's The Wine in Dreams floats by after it stops hitting the nail so hard on the head early on. Ultimately a story about storytelling, it provides a glimpse at how casino guests aren't the only ones who can feel like they need to make their own luck.
In Hear Nothing, Say Nothing Rae Carson provides a tale of a masseuse stuck between a rock and a hard place. There's a great emotional core here with a parent/child relationship you might not expect to feature in a glamorous casino city.
Wrapping up the set is The Ride by John Jackson Miller, which is definitely the most ridiculous of the stories but positively entertaining. When its message became clear it was a pleasant reminder in a heavy world. All three of the other stories aren't exactly uplifting so The Ride allows a wrap-up of sorts for the book that can end on a lighter note.
Having featured characters in one story appearing as a compliment in another worked well. And the book has a nice altogether balance with female and male characters as well as a vast majority of non-humans.
If From A Certain Point of View was a buffet, Canto Bight is a 4-course chef's tasting menu. Overall an interesting read, the stories each stand on their own as well as work together as one larger world-builder and scene-setter.
Journey to The Last Jedi: Star Wars – Canto Bight is out now in hardcover, e-book, and audiobook formats from Del Rey. The publisher provided FANgirl a copy of the book for review purposes.