Journey to The Force Awakens: The Books You're Looking For

In the weeks since Lucasfilm announced its ambitious publishing program "Journey to The Force Awakens" for this fall, a lot of individuals have asked about my opinion. Additionally, many friends and acquaintances who quit reading Star Wars books have stopped by FANgirl over the years to see if things have changed. Now that some writing commitments are out of the way, I've had time to pull together my thoughts.
It appears that one good outcome from the Expanded Universe purge is I'm now seeing a bit more recognition for the fact that some Star Wars fans found their niche in published material. Last week, Priya Chhaya offered a bittersweet farewell as she welcomed the new Star Wars stories. As she noted, we will all get to experience the rollercoaster ride of discovering characters, places, and events together, and that's exciting!
Here are some details on the 20+ book plan revealed on StarWars.com:
Novels for young adults, focusing on Luke Skywalker, Han Solo, and Princess Leia, will be published by Disney-Lucasfilm Press in North America and distributed internationally. The young adult novels have notable talent attached, including Cecil Castellucci (Boy Proof, Tin Star), Greg Rucka, New York Times bestselling author (Detective Comics and 52), Jason Fry (The Clone Wars: Darth Maul: Shadow Conspiracy, Star Wars Insider contributor) and New York Times bestselling author Claudia Gray (The Firebird trilogy and Evernight series).

Some book and comic titles have been revealed, and they offer fans a fun glimpse into the possible stories within: Star Wars: Aftermath (Del Rey), Lost Stars (Disney-Lucasfilm Press), Smuggler's Run: A Han Solo Adventure (Disney-Lucasfilm Press), The Weapon of a Jedi: A Luke Skywalker Adventure (Disney-Lucasfilm Press), Moving Target: A Princess Leia Adventure (Disney-Lucasfilm Press), Star Wars: Absolutely Everything You Need to Know (DK), Star Wars: Journey to the Force Awakens (Marvel Comics), Star Wars: Journey to the Force Awakens–C-3PO (Marvel Comics), and Star Wars: Ships of the Galaxy (Studio Fun International).
In a month that has included some bad and ugly, a whole lot of good arrived in this one announcement. It is the first big publishing news since Carol Roeder left Lucasfilm; quotes are provided by Andrew Sugerman, executive vice president, Disney Publishing Worldwide, and Michael Siglain, director, Creative Franchise, Lucasfilm, Disney Publishing Worldwide. I believe we are finally seeing positive signs of a holistic change in how Star Wars publishing will be approached, and that makes me enthusiastic about the "Journey to The Force Awakens."
These are some thoughts generated by this news:
1) According to the EW.com article, where the news first broke, "The books—which range in target age from children to adults—will be loaded with foreshadowing about the upcoming movie, including new starships, planets, characters, and clues about what happened with Luke Skywalker, Princess Leia, and Han Solo in the months following the Return of the Jedi." Mary Ann Zissimos of Disney Publishing reiterated that the books will contain clues but not spoilers, for those who are wary of having their movie experience tainted by knowing too much. As we have discussed on our speculation and storytelling podcast Hyperspace Theories, the Disney|Lucasfilm team, led by the Story Group, ideally has been laying out their worldbuilding groundwork that will be used by the writers going forward. They have brought in sharp authors, and a discerning reader could have some fun clue-hunting. But if you're just in it for a good Star Wars read, it appears the breadth of books will provide ample opportunity to do so without getting spoiled for December's movie.
2) It was noticeable to me that the bulk of the fiction is staying in the House of the Mouse. I raised concerns several times recently about how licensees – from toys and merchandise to the adult prose novels – can negatively impact the Star Wars brand message. In a recent appearance on The ForceCast, I stated my belief that if the Star Wars franchise wants to sell itself as a "Force for Change," then it is perfectly within its rights to expect licensed products to reflect the message of inclusion, diversity, and socially responsible storytelling that Disney sells as a brand. Empirical data is now proving that diversity – or as ABC stand-out creator Shonda Rhimes would prefer to call it, normalizing – sells. Members of the Story Group seems to think along similar lines as Rhimes. Putting a majority of the storytelling under Disney's umbrella helps ensure their corporate mindset get a chance to work.
[tweet_embed id=578297256702394368]
3) It appears YA is going to be the point on the tip of this publishing spear. A few years back, the Fate of the Jedi series hop-skipped over a generation of fan-favorites characters, attempting to shift their storytelling focus from the Big Three of Luke, Leia, and Han to Ben, dead-Jacen, and Vestara. Del Rey's attempt at putting a YA-meets-the-talking-dead spin fell flat for numerous reasons, but most importantly because the series did not utilize the tools that make YA popular. Using Homer's Odyssey and Shakespeare's tragedy Romeo & Juliet as models tripped up the story design from the concept stage. Del Rey also utilized genre authors who didn't understand the YA conceits, and two of the three authors didn't understand or care what paying fans wanted. This time around, though, Star Wars appears to be going full bore with proven authors who have written in the YA style. Notably, there is an even split on the male to female author ratio. While I'm not familiar with Cecil Castellucci and her work, I am with the other three YA novel writers. The two male writers, Greg Rucka and Jason Fry, have proven they have chops on gender issues in storytelling. When the announcement came down I was already well into reading Claudia Gray's A Thousand Pieces of You. Her Twitter and Tumblr pages prove her an advocate for feminist values, and the plot of her novel is far more intricate than Heir to the Jedi, which many reviewers have panned for being middle grade fare. Anyone who is worried they will be reading overly simplistic YA needs to take a breath. We're all fine here. (And it's okay to admit the Young Jedi Knight series was fun, even if it was for kids.)
4) Since the initial announcement some book blurbs with a bit more detail have been revealed. Lost Stars by Claudia Gray is a star-crossed Rebel/Imperial romance against the backdrop of major Star Wars events during the Rebellion. The Weapon of a Jedi, the Luke book by Jason Fry, and Smuggler's Run, the Han Solo book by Greg Rucka, are set between A New Hope and The Empire Strikes Back, while Moving Target, the Leia book by Cecil Castelucci, takes places between Empire and Return of the Jedi. Chuck Wendig's Aftermath will be the first post-Return of the Jedi adult novel from Del Rey in the new canon. We also learned about Shattered Empire, a post-Return of the Jedi comic series from Marvel.
5) Interestingly enough, Wendig expressed his interest in writing Star Wars on Twitter on the same day in 2014 that his book is scheduled to come out in 2015. He was pointed toward Lucasfilm editor Jen Heddle by way of Gary Whitta. The public maneuvering is interesting, but it's impossible to tell if Wendig was already in Del Rey's sights or if he felt like he needed to break down some walls. If nothing else, Wendig's Twitter stream as he is writing Aftermath is fun, and a marked change from what fans have been accustomed to seeing from the adult novelization authors. I'm still disappointed in the whiteness and maleness of the authorial line-up; the one female author, Christie Golden produced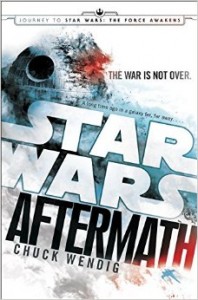 the weakest novels of the poor performing Fate of the Jedi series. If the diversity score of the Star Wars Insider short story authors is mixed into the equation – no women have written a short story since the canon reboot – Del Rey's track record on diversifying their writer line-up is even worse. With so many successful female SFF authors available – check out the responses to Jen Heddle's tweet in early December asking for women to express their interest in writing Star Wars – it is incomprehensible more women haven't written for Del Rey. With that said, Wendig is a win in the "Star Wars is for everyone" category, as he is the first author in the new canon authorial team who is a vocal advocate for equality and puts his actions to deeds. He can explain storytelling, he understands the dynamics of the science fiction fantasy community, and he isn't afraid to wade around geek fandom and interact with it. Based on the presales for Aftermath on Amazon – the book was already higher ranked than any of the previously new canon era novels – this novel will hopefully prove what an author of Wendig's caliber can do for Del Rey Star Wars. Specifically, earn some new fans, win back their many lapsed fans who have given up on them, and in the process make them lots of money. This is the win-win I have been advocating for.
---
Tricia Barr took her understanding of brand management and marketing, mixed it with a love of genre storytelling, and added a dash of social media flare to create FANgirl Blog, where she discusses Star Wars, fandom, and strong female characters. She is one of four authors on the upcoming Ultimate Star Wars from DK Publishing, has written several feature pieces for Star Wars Insider magazine and is a contributor for Her Universe's Year of the Fangirl. Her FANgirl opinions can be heard on the podcasts Hyperspace Theories and RebelForce Radio Presents Fangirls Going Rogue.
Tricia Barr's novel, Wynde, won the 2014 Independent Publisher Book Award Gold Medal for Best Science Fiction/Fantasy/Horror Ebook. She was also part of Silence in the Library's successful all-female creator science fiction and fantasy anthology Athena's Daughters, which is available now. For excerpts and tales of her adventures in creating a fictional universe, hop over to TriciaBarr.com.
For updates on all things FANgirl follow @FANgirlcantina on Twitter or like FANgirl Zone on Facebook. At times she tries the Tumblr.