Building Character: Writing The Heart of the River
by Priya Chhaya
"In every story that you read / A heroine or hero fills a need."
At the end of January I finally hit publish on a children's book three years in the making. 
The Heart of the River tells the story of a young explorer who searches for wonder at the heart of the River Idira. Along the way she encounters a fearsome dragon and uncovers her own ability for courage and kindness.
But this isn't about my accomplishment, as excited as I am to share the news. Rather it's a conversation on process, about how I wanted to create a world that was inclusive, but also a world where the main character would be the embodiment of all the writing and reading I had done over the past five years on what made a strong female character.
In my acknowledgements I talk of how this story started as a tingle in my fingers and romanticized how it poured out of me with a life of its own.
But that's a lie. Sort of.
In 2013, upon news that I was going to become an aunt, I decided I wanted to create something special, something that would last a lot longer than a onesie that the baby would quickly outgrow. So in doing what I do best, I decided to write her a story.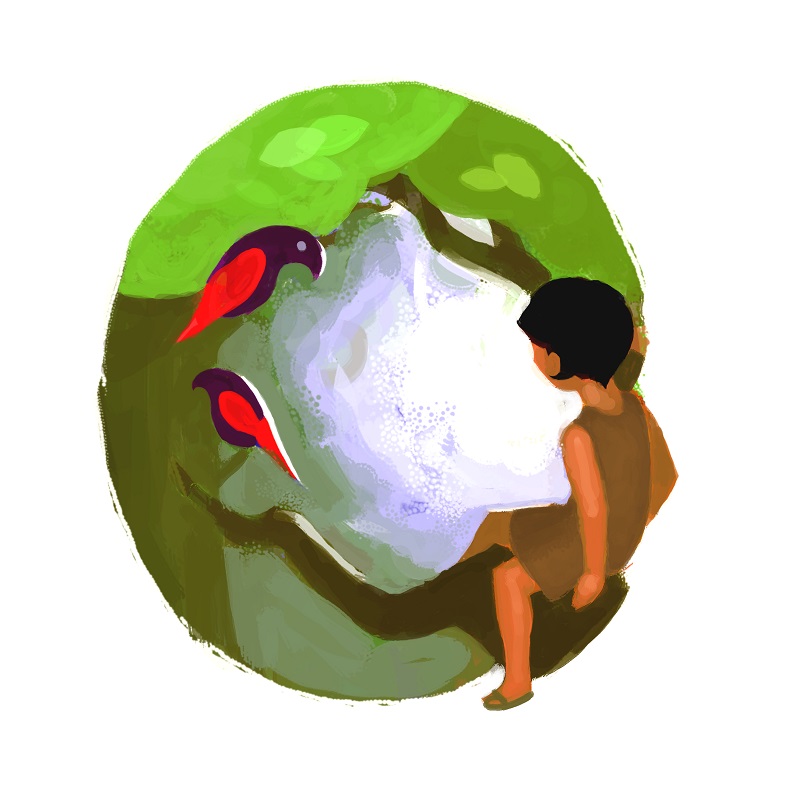 Up until that moment I had never tried to write a children's book. I love rhyming and song parodies but most of my stories were longer in form (NaNoWriMo, or epic Star Wars fanfiction), so I really didn't know where to start. What I did know was that the main character would be a girl and that she would have the same name as my niece.
"Once upon a time, in a land filled with starlight.

There lived a little girl named Arya.

Arya was no ordinary girl. Was she a princess? No.
Was she a star — or a constellation? No.

Arya was an explorer."
As one of the opening passages of the book, it was important to me to set up the character as one who did not fall within a standard trope. Arya had no pedigree or fame, but rather was an ordinary girl who loved looking for wonder.
Also as part of that goal, I wanted her to be independent, yet recognize that while she doesn't have to have all the answers she does have the skills to problem solve and navigate tough situations. So while she set out on her adventure – and we all know that adventures always start the same way; with one foot in front of another – with a specific purpose in mind I wanted her obstacles to test her mettle in more ways than one.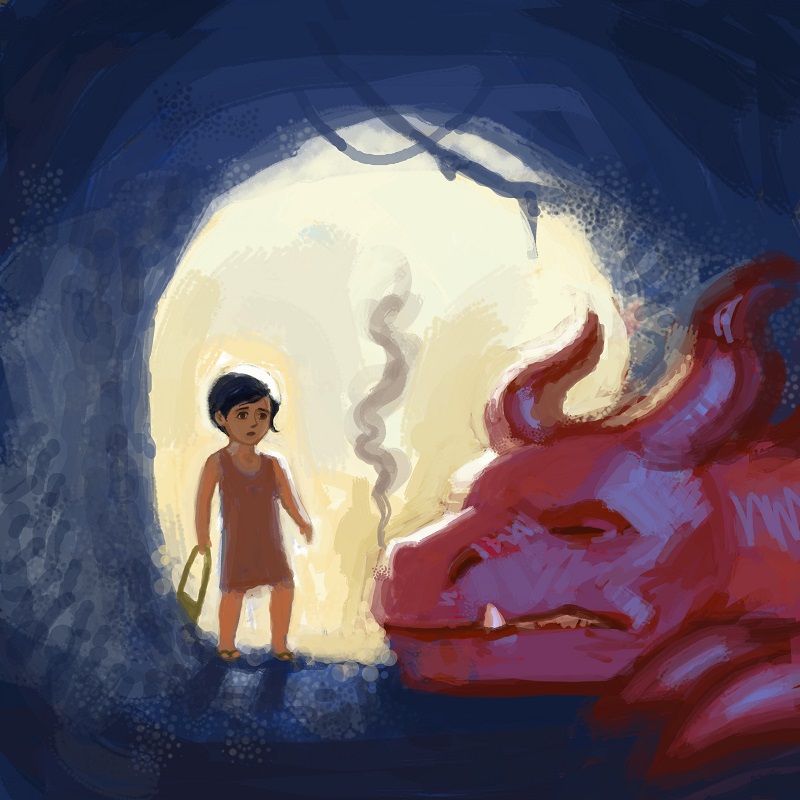 Enter Grog, a dragon whose tail is stuck underneath some rubble and consequently is blocking the pathway through a tunnel. It's pretty clear up front that this isn't a problem Arya can solve by herself. In order to help Grog she has to get over her fear of the dark tunnel and recruit some other travelers for aid.
Here is how she accomplishes both:
"As an explorer, she wasn't supposed to be afraid of anything, but she was afraid of the dark.

But what does Mother always say?
Courage is not about not being afraid.
It's about not letting your fear make you fade,
For if you look the fear right in the eye,
you'll find that maybe the darkness is just shy."
And later to Orion, Ashwin, and Zorn – the travelers who believe that "dragons are dangerous and bad luck," she says:
"Dragons can be dangerous, that much is true
But they can feel pain, just like me and you.
Poor Grog has been stuck for a very long time.
Won't you help set him free? So all will be fine?"
In some ways both of the generalities of these passages were intentional. I wanted her to take advice to overcome her fear, and then use that knowledge to convince others to help her free Grog. But in my first drafts these two sections felt forced because, I realized, I was making Arya larger than life. It wasn't until I stripped my lengthy prose to its roots that the words above came together. To quote Sarah, my editor, I found Arya's empathy.
Then there was my secondary goal, to develop a story that was also inclusive. You can argue that I solved this problem almost immediately because, like myself and my niece, Arya is not white. However, while Arya, for most of the story, is the only character on the page it was imperative, not only as a historian who believes in telling a full accounting of the past, but also as an Aunt and storyteller, that the other individuals not be homogenous. In short, I wanted the three travelers to be representative of the real world.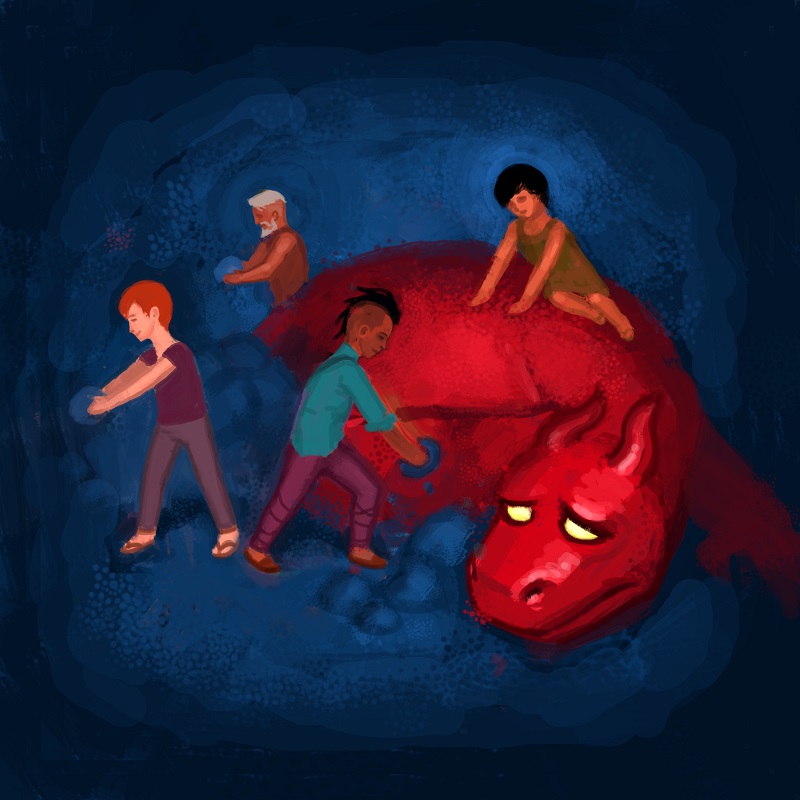 After an initial discussion my illustrator, the wonderful Shane Talbott, created three distinct characters that are varied in age and features. I was excited to see how Ashwin, the female archer, was of a different race from Orion the shipbuilder and how Zorn, the farmer was an older man. We live in a time when conversations about race are all around us — and I wanted Arya (my niece) to read about interactions that were about working together on equal footing.
In some ways I know that sounds idealistic, since I know the real world does not work that way. But as the official campaign site for #weneeddiversebooks says we need more books that "reflects and honors the lives of all young people," and this was my attempt to add to that conversation.
A few weeks ago I sat with the real Arya and showed her the book for the first time. While I realized almost immediately that she still has to grow into the prose it was amazing to tell her the story and have her react to what was on the page. Here is a short sample of our conversation.
Me: "Who is this?"

My niece: "That's Arya!"
While The Heart of the River isn't perfect, that moment alone is worth all the stars in the sky.
---
The Heart of the River was published using CreateSpace. It is available for sale on that platform or via amazon.com or Barnes & Noble. Learn more about the book and the author at www.theheartoftheriver.com. For more stories by the explorer Arya follow her on Instagram @talesfromidira. You can learn more about the author at www.priyachhaya.com and on Twitter @priyastoric.
Latest posts by Priya Chhaya
(see all)