Tesla and Star Wars: The Power of the Female Dollar
Earlier this month I was at the Tesla Model X launch at the Fremont, California, Tesla factory. It was an impressive event with music, cocktails, Model X demo drives, and a live presentation of Model X by Elon Musk.
Musk showed off many of the salient features and discussed the safety rating of the X. Highlights included the car's internal air filters, including a biohazard mode which keeps the internal air "as clean as a hospital operating room;" falcon wing backseat doors designed to decrease back strain if you are leaning into the car dealing with car seats; and the ability of the X to tow up to 5,000 pounds while carrying a family of seven family, plus the attendant luggage, groceries bags from Whole Foods, as well as a twin extra-wide stroller. Last, he mentioned the Ludicrous Mode, where the car zoom from 0-60 in about three seconds.
Many people called the launch a marketing disaster. While I agree that starting two hours late on a school night was annoying, I thought overall Tesla's marketing was pretty brilliant.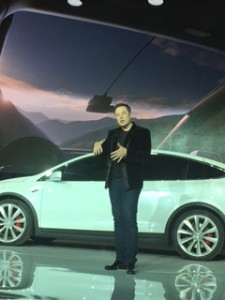 Tesla already has a strong market with a certain male demographic interested in performance cars and luxury. But they are unlikely to be the group who is going to care the most about rollover safety, air quality for passengers inside the car, and back strain while leaning in and out of backseats. That demographic is the people doing the groceries, the school runs, the soccer games, hauling things in and out of the car, including carseats and kids – the demographic comprised mostly of moms. Don't get me wrong, I'm a mom who still wants Ludicrous Mode. Rocketing onto an empty highway with the sensation of 1g pushing me into my plush leather seat seems like a blast. But at the launch, Musk emphasized my concerns as a responsible parent. With that, Tesla just doubled their consumer base.
Let me explain the tie in to Star Wars: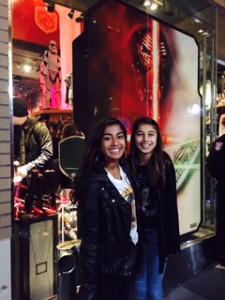 Force Friday was on September 4. Since Padawan's school hadn't started yet, my friend and I decided it would be fun to go to the Disney Store in San Francisco at midnight with our daughters to be first to get our hands on all the new tie-in toys. The evening was a blast, and we came home loaded with all sorts of goodies: Kylo's lightsaber, Star Wars logo sweatshirts, a BB-8 cup, and the special posters the Disney Store was giving away. We downloaded the new Princess Leia middle school adventure book, Moving Target, and Claudia Gray's YA novel Lost Stars. The next morning, Padawan and I headed out to Target and picked up a Captain Phasma figure and found a couple of Rey figures as well as Furbacca. Later, we stopped by Hot Topic and we found cute shirts with Rey and Phasma on sale and some cute plushies of Chewie and C-3PO.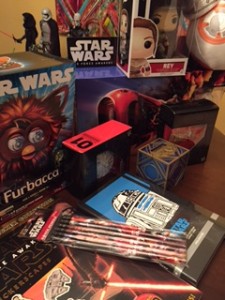 Over the month of September, I've been pleasantly surprised by the sheer amount of Star Wars merchandise everywhere. Kohl's has always carried Star Wars items, but now there are women's pajamas, leggings, and sweatshirts. Pottery Barn Kids have upped the visibility of Star Wars sheet sets. The stationery store has Star Wars notepads and Moleskine notebooks. And the Walmart ads! I don't know which I like better – the mom and daughter doing yoga or the little girl describing of Leia as unfettered by limitations a bygone era!
Even just walking at the farmer's market, there seems to be a profusion of Star Wars tees on people, including men, women, and kids. Finally we have items for women to purchase, and purchasing we are!
Star Wars is estimated by Fortune to bring in $5 billion dollars in branded merchandising in 2016. That's a lot of merchandise, and I'm glad to see that my favorite franchise, like Tesla, has awakened to the powerful force of the female consumer.