Fangirls Going Rogue Episode 24 Is LIVE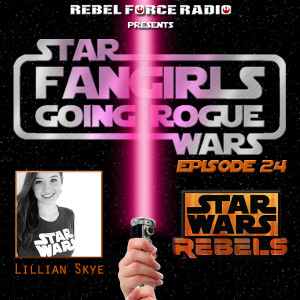 Star Wars Rebels is back! Sarah Woloski recaps the Los Angeles Season 2 press conference with Dave Filoni, Ashley Eckstein, Freddie Prinze, Jr., Vanessa Marshall, and Dee Bradley Baker. Listeners are in for an early Halloween treat with great audio from the panel discussion. Teresa Delgado brings word of Drew Karpyshyn's return to Bioware and what that means for Star Wars: Knights of the Old Republic. Tricia Barr shares details from Star Wars and Heroine's Journey panels at GeekGirlCon, where she read Ultimate Star Wars to Kylo Ren during her book signing for Star Wars Reads Day. The fangirls discuss girl power marketing and the empowered actresses working for the franchise: from Daisy Ridley and Gwendoline Christie in The Force Awakens to Sarah Michelle Gellar in Rebels. Lillian Skye joins the show to share her experience working on the new Kohl's Star Wars fangirl campaign. The character discussion takes a particularly monsterific turn with the creatures of the galaxy far far away as the topic.
Fangirls Going Rogue is available on iTunes. Note our new email: contact@fangirlsgoingrogue.com! Check back for info on our first LIVE episode on December 28th.
Fangirls Going Rogue: @FGGoingRogue
Tricia: @fangirlcantina
Teresa: @icecoldpenguin
Lillian: @LillianSkye
Sarah: @JediTink
Sandra: @geekchic9
Facebook: Fangirls Going Rogue
Instagram: @FGGoingRogue
Tumblr: fangirlsgoingrogue.tumblr.com
Instagram: @FGGoingRogue
Voicemail: 331-21 Ewoks or 331-213-9657