Linda on Waiting For Star Wars
[Tricia's Note: Recently I followed up with my fellow panelists from the GeekGirlCon Star Wars panel to ask them
What Star Wars Needs to Hear from its Female Fans
. Linda found she had more to say, so her response took a little longer to arrive. And I'm glad she took the time to share her reactions with everyone.]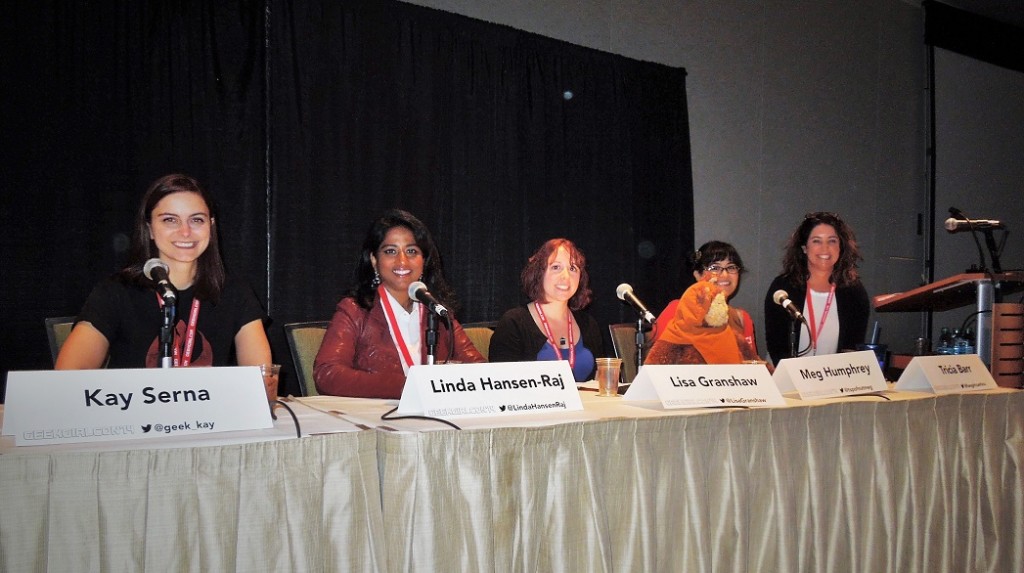 A street vendor is peddling goods without a license. He is approached by a group of heavily armed peacekeepers. They begin to harass the unarmed vendor, manhandling and violently dragging him off to be arrested, despite his pleas to be left alone. This may sound like the Eric Garner case, which it very well could be, but is actually a scene from the first episode of Star Wars Rebels – a scene demonstrating why one of the main characters, Ezra Bridger, despises the Imperials and their overbearing ways on his homeworld.
In filming Star Wars, George Lucas borrowed heavily from Akira Kurosawa. Darth Vader's costume is based on samurai armor, Darth Maul's double bladed lightsaber comes from Chinese martial arts. The concept of the Force is based on Asian philosophy; Yoda's teaching resembles the methods employed in Zen Buddhism. In The Clone Wars, Ahsoka's name comes from India's King Ashoka. Yet… where are Asian actors in the series? What main characters are they portraying? And no, sorry, aliens don't count in representing diversity.
In 1977, when Star Wars was released, the United States was in the late years of the second wave of feminism. Now, it is routine for women to be serving in the military, working as engineers, physicians, lawyers, pilots, and leading corporations and even countries – as it is for them to choose the equally important task of staying at home and raising a family. Yet, nearly forty years later, we are still asking for equal representation in entertainment. We still need to make argument – and prove with profits – that women can carry movies as action heroes.
Star Wars has always been about standing up and doing what is right. We may love Sith Lords, channel the dark side from time to time… but the timeless appeal of Star Wars is the theme that heroes are not afraid to follow their beliefs and do what is right.
Recent current events, from video-tapes of police violence to the Sony leaks, highlight the difficulties that women and minorities face. The Sony emails reveal the entrenched obstacles women and minorities face in being represented, compensated, and presented in equal and positive ways. The allegations of police brutalities show us why stereotypes – both about minorities and police officers – matter. The shocking racist comments made about John Boyega remind us that Star Wars sometimes isn't so different from real life. It's easy to be discouraged. It's easy to forget that there is good in everybody.
I remain hopeful about Episode VII. We have seen prominent roles for women and at least a minority male in the teaser. But it is important to not be complacent – and I remain optimistic, that as Star Wars fans, we will continue to work together for our ideals.
---
Linda has been a Star Wars fan from the time she saw Episode IV in the theatre with her parents and insisted on being Han Solo while playing with the neighborhood kids. She's now a fangirl who splits her time learning to twirl a bo staff like Ray Park, jumping horses, writing fanfic she dreams up on her commute to work, and spending time with her husband and their own feisty Padawan version of Ahsoka. She can be reached at Linda.HansenRaj@gmail.com and on Twitter.