Happy New Year!
The month of January is so full of exciting developments I'm almost at loss where to start. Here are a few things to look forward to:
---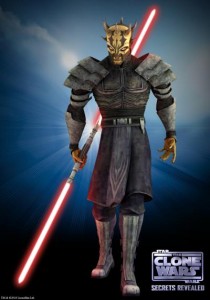 The Clone Wars: Season 3.5 – The second half of Season 3 starts off with a bang. I've been lucky enough to have a head start on the first story arc after attending the Atlanta Screening. I'm sure the next three episodes – kicking off Friday, January 7th, at 8:30pm on Cartoon Network – won't disappoint. If you want a sneak peek, be sure to check out the January 2011 Star Wars Insider and Clone Wars Magazine, where secrets are revealed.
---
Fanfiction – the missing demographic – Star Wars fanfiction resources, for any number of legal reasons, have long been avoided by the Powers That Be of the Expanded Universe. As a longtime fanfiction writer, it's my opinion that understanding the wants and desires of this group may be the key to creating stories that appeal to a broader base of fans.
---
REVIEW: Legacy: War, Issue #1 – While some of the EU has been struggling, the Legacy comics actually appear to be gaining a significant female following. My review of the first issue of the Legacy: War will offer insights into why this is one story Star Wars fans don't want to miss.
---
January is a scifi/fantasy fan's delight – Here are some of the additional events we're looking forward to:
New Star Wars Books
Knight Errant, by John Jackson Miller – January 25th
New Star Wars Comics
Knight Errant: Aflame # 4 – January 12th
Legacy: War # 2 – January 26th
New Television Shows
The Cape – premieres Sunday, January 9th on NBC
Being Human – premieres Monday, January 17th on Syfy
Television shows coming back from the midseason break
V – returns Tuesday, January 4th on ABC
Fringe – returns in a new timeslot on Friday, January 21st on Fox
The Vampire Diaries – returns Thursday, January 27th on The CW
Nikita – returns Thursday, January 27th on The CW
Smallville – returns Friday, January 28th on The CW
Supernatural – returns Friday, January 28th on The CW
New Movies
Season of the Witch – opens January 7th
The Green Hornet – opens January 14th
No Strings Attached – opens January 21st
New Releases on DVD
The Social Network – January 11th
Dark Skies: The Complete Declassified Series – January 18th
Secretariat – January 25th
Red – January 25th
Latest posts by Administrator
(see all)