Fangirls Around the Web: San Diego Comic-Con 2013 Edition – Part One: Star Wars
In advance of San Diego Comic-Con this year, the L.A. Times Hero Complex reported on the "new wave of strong female-led sci-fi" with movies like Catching Fire and Divergent leading the way.
Katniss Everdeen never intended to become an icon for a struggling people. Yet the scrappy, resourceful heroine at the heart of Suzanne Collins' bestselling "The Hunger Games" trilogy, with her signature braid, incomparable archery skills and defiant spirit, became a rare sort of pop-culture touch point precisely because she came to be embraced by a sometimes lost, sometimes achingly restless tribe: adolescents.

But the wily teen, played by Jennifer Lawrence, who trades places with her sister only to emerge as the unlikely victor in a battle to the death, didn't only inspire Collins' readers and the filmgoers who turned up for Gary Ross' 2012 movie adaptation of "The Hunger Games" to the tune of $408 million. Her success has also helped fuel a continuing, voracious appetite in Hollywood for sci-fi inflected tales featuring young women in empowered roles.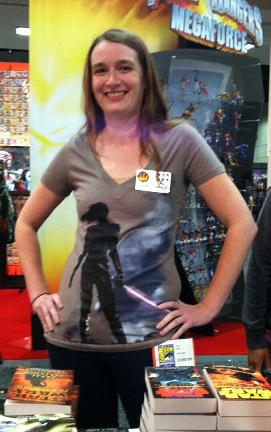 We kept watch of the happenings at the annual geek convention that has turned into Hollywood's premiere event for showcasing what's to come. This week's Fangirls Around the Web – there's so much we've broken it out into three days' worth! – spotlights the many ways San Diego Comic-Con proved this voracious appetite for empowered young women exists. Today's edition will focus on Star Wars, Wednesday's on the opposing tacks by Marvel and DC, and Thursday's on everything else in movies and television, plus geek girl spotting galore.
A picture is worth a thousand words, so here's my favorite from SDCC, by Erich Schoeneweiss of Del Rey, who photographed Lisa Curtis in her Jaina Solo shirt. The Her Universe limited editions went fast online, with the Jaina shirt sold out by Saturday and only a few of the Mara shirts remaining online as of this posting. Curtis, cosplaying Zayne Carrick, presented John Jackson Miller with his honorary membership into the Rebel Legion. (via Club Jade) When contacted for permission to use her image, Curtis responded, "I love the Jaina shirt, it's the shirt I've wanted since I was 14." Our own Mary tweeted herself posing in the Jaina shirt as well.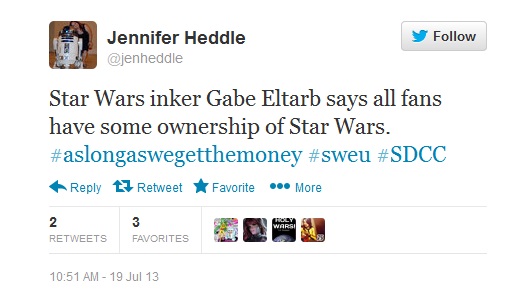 Jennifer Heddle reminds us that fans have to put their money where their mouths are when asking for changes. That doesn't mean simply purchasing what we like, but also sharing the word about diverse and female-centric stories. Shirts like the Her Universe Limited Editions of Mara and Jaina present fans with a chance to double down: first, by purchasing the shirt we have shown commitment to the product, the character, and the franchise, then second, by wearing the shirt around, we share our fandom with others who might not be aware of these awesome female characters.
We already posted about the exposure female characters in Star Wars were getting recently.  Of the two Star Wars Expanded Universe panels, Solo descendant Ania received attention in the comics panel, as did Jaina and Leia in the books panel. Between both panels, though, only one female writer was represented: Corinna Bechko. Fans have expressed concerns about the diversity, including in recent weeks. Author Troy Denning's comments regarding Jaina Solo's storyline and use of Tahiri Veila in the flagship series have reignited the conversation about female characters, which swelled with Crucible, especially when it comes to agency and the attitude toward sexuality. FANgirl Blog has addressed these concerns since its inception three years ago.

The numerous links point to just some of the other discussions of the issue around the web. While there have been notable improvements over the past year, especially with the racial diversity in the Dark Horse comics and the move to give more female characters leading roles in the books, it will be increasingly difficult to address these concerns when fans are presented with panels that are predominantly white male writers.
Fortunately, many positive signs exist that Lucasfilm is embracing a more diverse cast. This week's character of the week represents racial and gender diversity in Star Wars.
Most of the Star Wars licensees could be found at the Lucasfilm pavilion. Mary Franklin gave fans a sneak peek over at the Star Wars Blog. Hasbro unveiled its new Star Wars action figures; Slave Leia, catsuit Mara, and fully-clothed Luminara create slim pickings for fans of female characters. On the other hand, Star Wars' Twitter feed caught a young Leia cosplayer who is in no need of rescuing.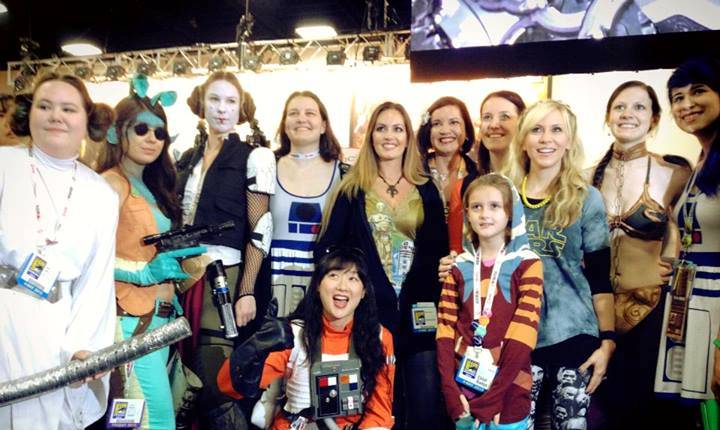 Stephanie and Katie of Becker&Meyer! gave all the details on The Bounty Hunter Code to James from Club Jade in a short video. Ashley Eckstein shared this great image of fangirls of all types posing at the pavilion. Eckstein also joined Bonnie Burton on MTV to create Star Wars crafts. The Course of the Force wrap-up from San Diego featured Chris Hardwick and three female cohosts, Ashley Eckstein, Carrie Keagan, and Alison Haislip.
Before Leia was forced by Jabba the Hutt to wear the slave costume, she walked into the middle of his den posing as Boushh. Consetta Parker got married in her Boushh costume, and this weekend The Big Bang Theory's Johnny Galecki suited up in it for a panel. CBS videoed the transformation! Interestingly, Star Wars Insider contributor and fangirl extraordinaire Amy Ratcliffe noted in a tweet, "Slave Leia costumes – maybe 3, TARDIS dresses – I stopped counting after 15. #SDCC."
Otherwise, news was scarce about the Star Wars franchise at San Diego. Lucasfilm had already curbed expectations with a statement earlier. Celebration Europe II will have the "biggest Star Wars convention presence," with possible Rebels news from that panel and Kathleen Kennedy set to speak on Saturday.
For Part Two of our Fangirls Around the Web: SDCC 2013 coverage, where we tackle Marvel versus DC, check here.
---
Tricia Barr took her understanding of brand management and marketing, mixed it with a love of genre storytelling, and added a dash of social media flare to create FANgirl Blog, where she discusses Star Wars, fandom, and strong female characters. She also writes about Star Wars for Random House's science fiction and fantasy blog Suvudu.com and Star Wars Insider magazine and is a contributor for Her Universe's Year of the Fangirl. She has recently joined Beyond the Screens podcast as a regular contributor.
Tricia is putting the finishing touches on her first novel, Wynde – a military science fiction with a fantastical twist that features heroines Vespa Wynde and Gemini Reed. For excerpts and tales of her adventures in creating a fictional universe, hop over to TriciaBarr.com.
For updates on all things FANgirl follow @FANgirlcantina on Twitter or like FANgirl Zone on Facebook.